Which sleeping bag is the best for me?
With a sleeping bag in your luggage, you can enjoy nature to the fullest by day and night and at any time of year. Whether for a demanding tour or a camping vacation with the family - VAUDE offers different variants of sleeping bags that are precisely tailored to the areas of use.
Requirements
The choice of your sleeping bag depends on the intended use. Depending on the use and activity, there are different requirements for material and workmanship, cut and filling material or temperature range.
Before buying, you should think about what exactly you want to use the sleeping bag for. For example, if you are traveling in (high) alpine terrain, you need a particularly lightweight model. For tours in the cold season you need a high thermal performance. Or maybe it should be the robust and easy-care version? Space requirements and weight are also important factors in the decision. The models differ according to your personal requirements.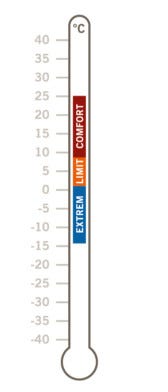 Temperature specifications
For the choice of your sleeping bag it plays an important role in which climate zones you move. These can vary from humid to dry and warm to cold.
The European standard EN 23537 ensures a uniform regulation of temperature specifications among sleeping bag manufacturers in Europe. This makes it easier for you to compare different products. Three temperature ranges are distinguished under normal conditions of use: comfort, limit and extreme. It is intended that one person lies in the sleeping bag dressed in long functional underwear.
Comfort
In this temperature range, a sleeper fully wrapped in the sleeping bag in a relaxed posture should not freeze and comfortably sleep through the night. By default, this value refers to a 25-year-old woman with a body weight of 60 kg and a height of 1.60 m.
Limit
In this temperature range, a sleeper fully wrapped in the sleeping bag in a curled-up position should just not freeze. By default, this value refers to a 25-year-old man with a body weight of 70 kg and a height of 1.73 m.
Extreme
In this temperature range, the sleeping bag still provides protection from freezing, but there is a risk of hypothermia. It is assumed that a woman with the above standard height and weight can withstand the cold load for six hours in a rolled-up body position.
Thermal balance
The thermal balance of the sleeper depends on various physical factors, which must be taken into account accordingly when choosing a sleeping bag.
Tip: Sleeping bag and clothing are closely related. Functional textiles such as a down jacket can significantly increase the thermal performance of a lightweight sleeping bag while keeping the overall weight of the gear down.
Physiology
A sleeping bag cannot generate heat itself, but stores the sleeper's body heat. The user's perception of warmth is therefore highly dependent on his or her individual physical characteristics. Important key figures here include body weight and height, but also gender and age, as well as current physical condition:

Strong people with a higher body fat percentage or a lot of muscle mass cool down more slowly than slim people. Due to the insulating layer of fat or the heat generated during muscle activity, they are less likely to freeze. Women generally freeze more often and faster than men, because the fat reserves are distributed differently, the blood pressure is lower and as a result the body has a lower blood circulation. It should also be noted that metabolism and muscle mass decrease with age and thus less heat is produced. Trained people who spend a lot of time outdoors are also better accustomed to the cold. And a recovered organism produces more heat than an exhausted one.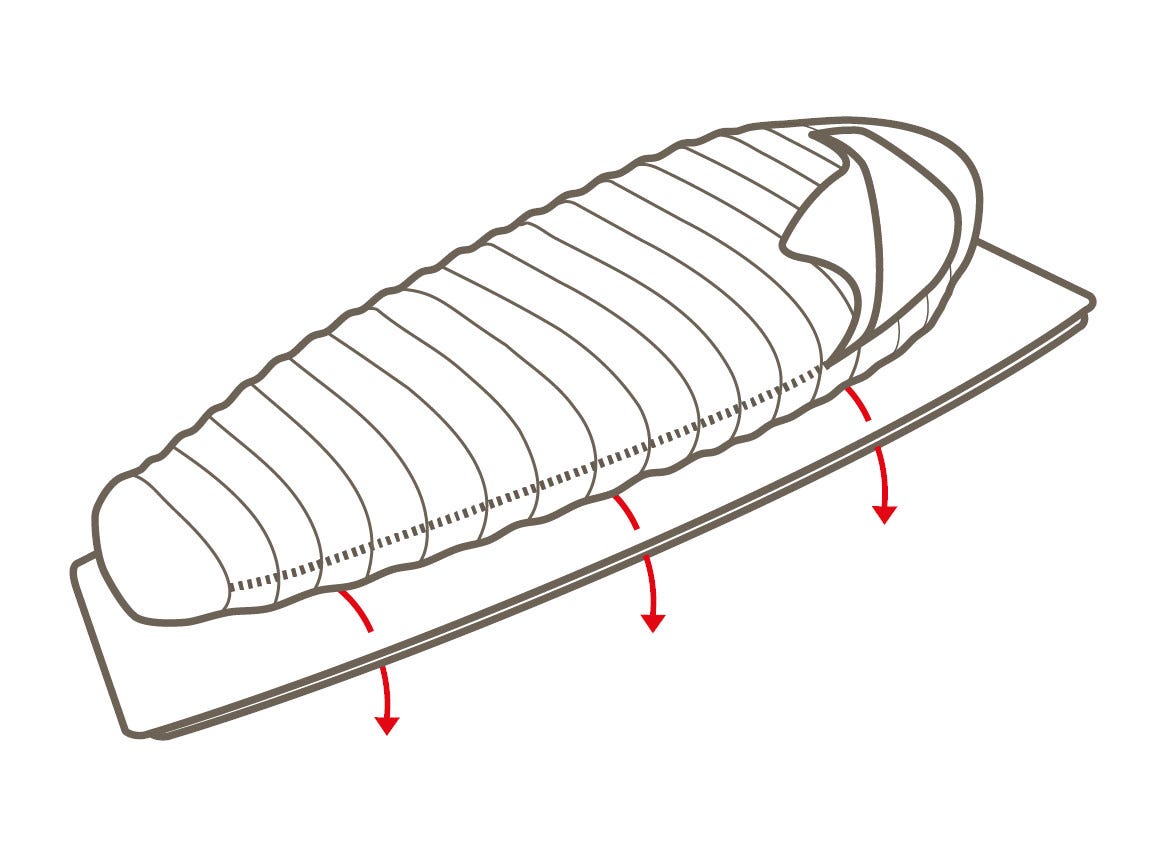 Heat conduction
The greatest loss of heat in a sleeping bag occurs when body heat is released into the ground. The sleeper's own body weight compresses the padding on the underside of the sleeping bag, reducing its heat output. Therefore, a well-insulating mat is indispensable.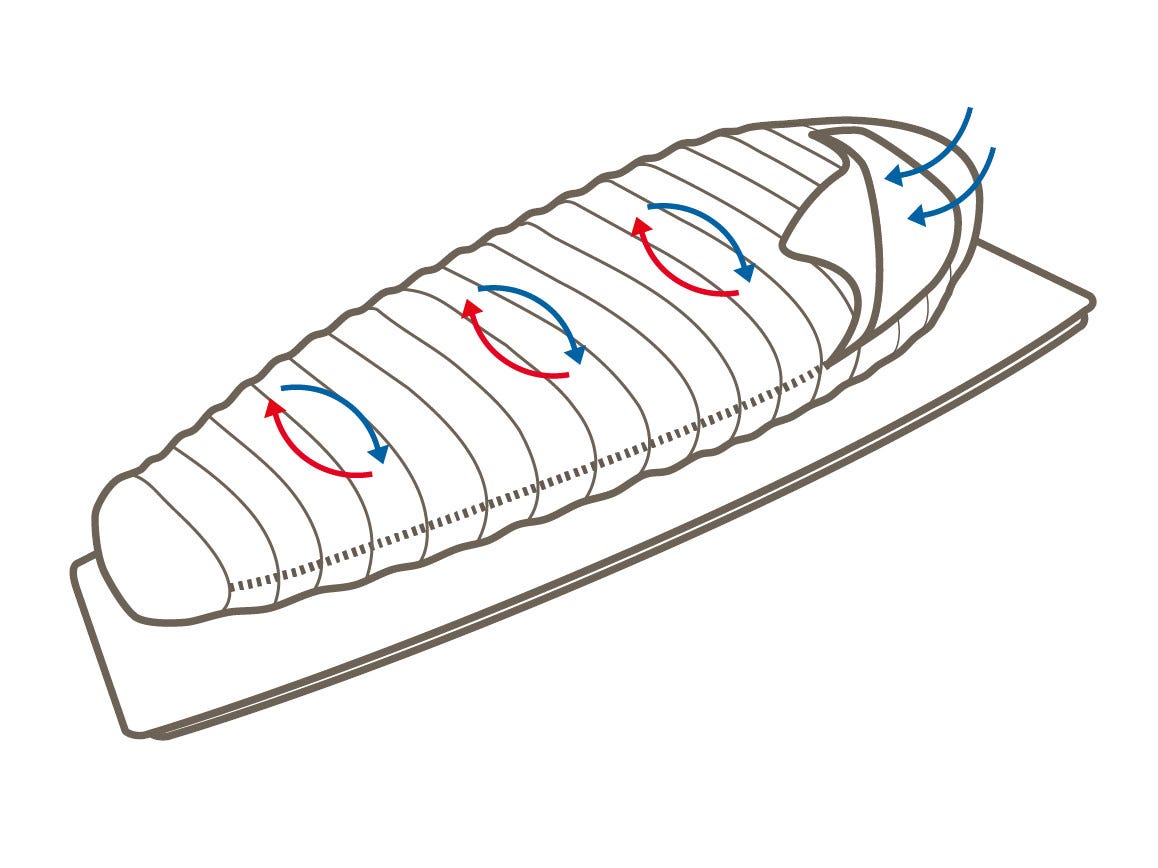 Convection
Air is always in motion. Warm air rises due to its lower density, cold air is heavier and sinks to the ground. The resulting change in air pressure causes a renewed influx of air. The larger the available space in the sleeping bag, the higher the convection. So in sleeping bags with larger volume, more energy is needed to warm it up.
Wind Chill - Cooling through wind
The body releases fluid and heat into the environment with every breath. At cold temperatures this effect is increased. Wind amplifies this many times over, it influences the microclimate e.g. in the tent or around the sleeping bag, whereby your body heat is lost faster and your body cools down faster. Therefore, always choose a place for sleeping that is as protected from the wind as possible.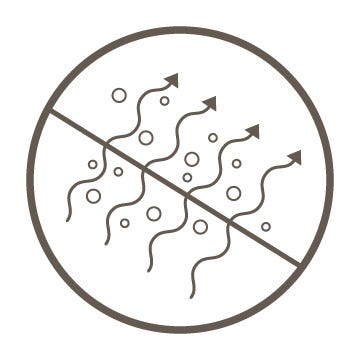 Evaporation
Sweating is a natural process to optimize body temperature. Breathable materials ensure that the moisture does not remain inside the sleeping bag and transport the released water vapor to the outside. Thus, the thermal performance of the sleeping bag is maintained and no unpleasant cold feeling can arise.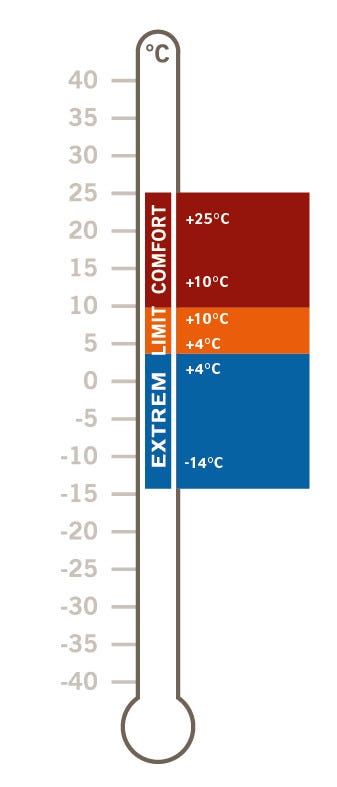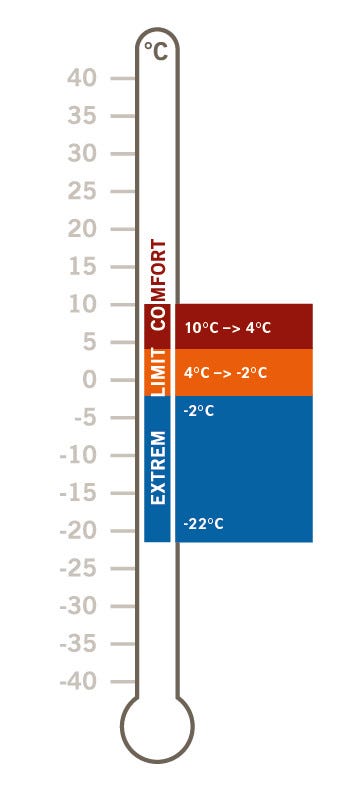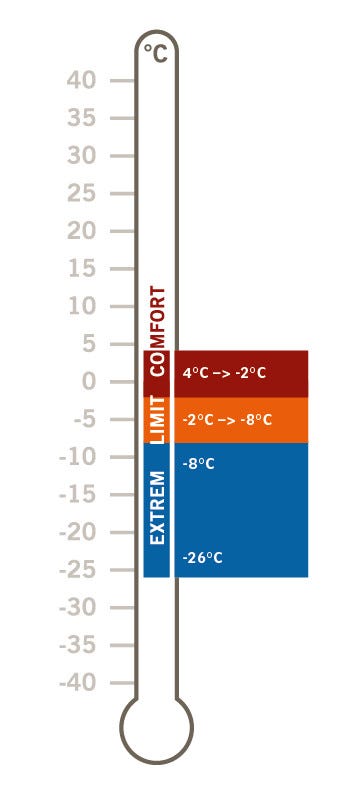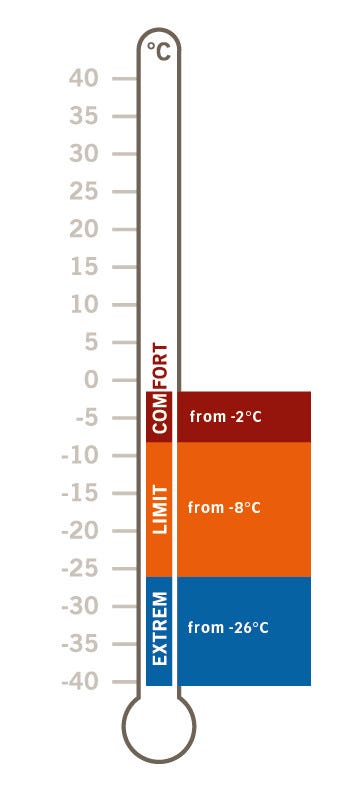 Seasons
The use during the different seasons is one of the most important criteria for the sensible choice of a VAUDE sleeping bag. Our Season overview gives a simple overview of which models are suitable for summer, winter and the transitional period, from spring to fall.
Summer
Summer sleeping bags are designed for the warmest time of the year. They are characterized by optimal breathability. Both down and synthetic fibers are used as filling material, as each of them quickly removes moisture from the body.
3-seasons
Sleeping bags of this category are suitable for spring, summer and autumn periods and provide high thermal comfort even during the cool nights in the transitional period. Both down and synthetic fibers are used in these products.
Winter
For use during the cold season, down is increasingly used for the filling, as it offers the highest thermal performance at a lower weight (keyword: warmth-to-weight ratio). Thus, even at sub-zero temperatures, you are still in the comfort zone.