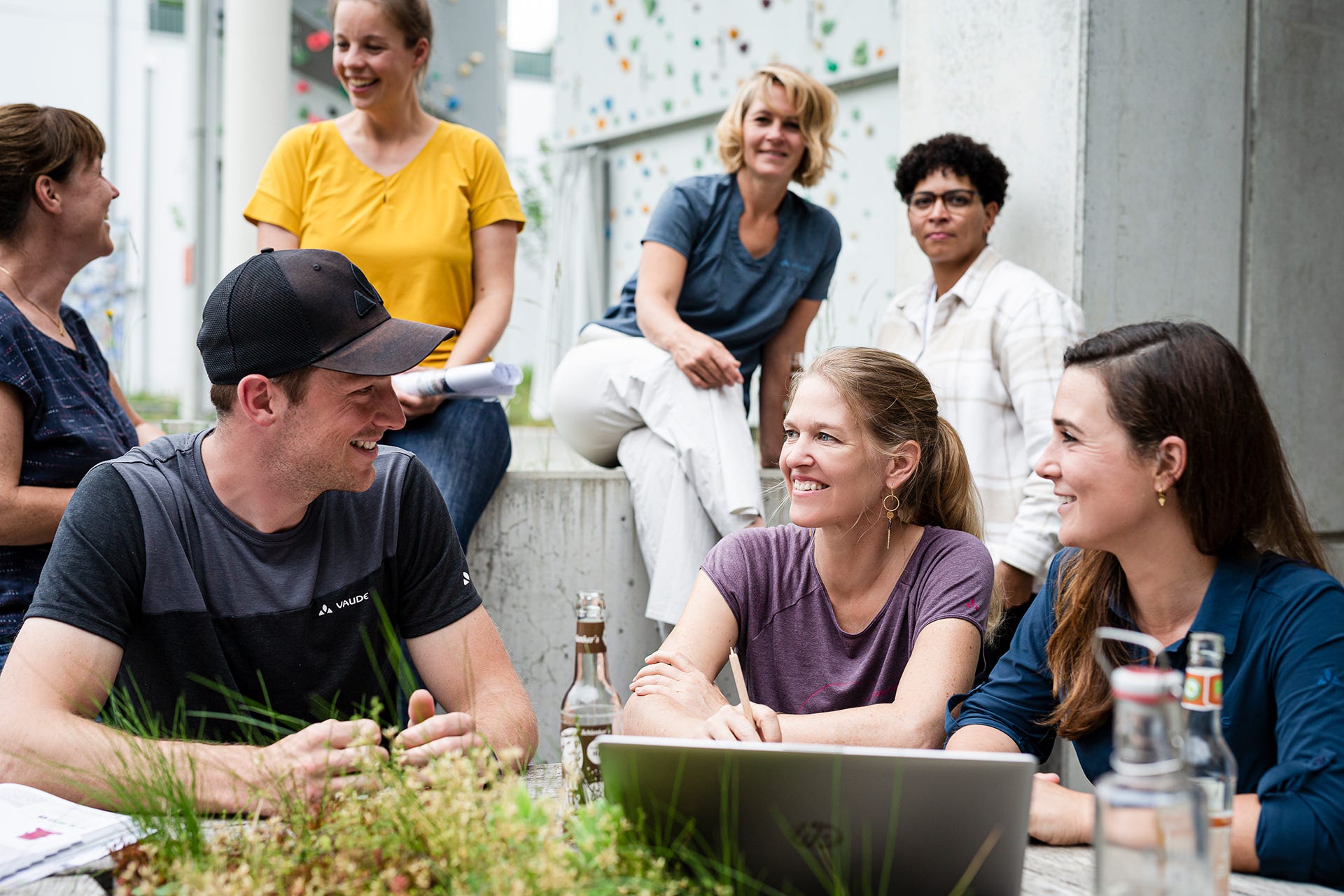 Working at VAUDE
Become part of our team!
In addition to mountain sports expertise, our company stands for innovation and the responsible treatment of people and nature. We are a modern family business that takes ecological and social responsibility seriously.
Find the current open positions here (in german):
Welcome to the VAUDE career section
On our career pages you will find all open positions at VAUDE. Whether you are looking for a permanent position, an apprenticeship or internship, a student trainee, or a thesis for students - take a look at our current job offers. Nothing there for you? You are also welcome to send us an unsolicited (in german) application.
Vacancies at VAUDE
Would you like to work in a company that values sustainability, an appreciative team culture, a culture of trust, and innovation, and where you can contribute your personal outdoor enthusiasm at the same time? Then VAUDE is the right place for you. We are always looking for reinforcements for our teams. All elements of the value chain - product development including "Made in Germany" production, marketing, sales including logistics as well as the administrative areas of human resources, IT and financial accounting, work side by side and "under one roof" at our headquarters in Tettnang in southern Germany, very close to Lake Constance.
By applying for a job opening at VAUDE, you can be sure that you will be able to work in a family-owned company that puts ecological and social responsibility first. If you want to make a difference and put your talents to good use, we look forward to your professional support and your personality.

Jobs at VAUDE in Tettnang and the surrounding area
We are not only looking for dedicated employees for our team at our VAUDE Campus in Tettnang, but also for our stores in the DACH region. In the scenic Lake Constance region near the Alps, we hire new employees at regular intervals. In your free time, you can quickly reach the mountains or Lake Constance and pursue your favorite outdoor sports.

Working at VAUDE: Your job in a sustainable company
As a family-owned company, VAUDE has been focusing on sustainability for many years. We want to keep our ecological footprint as small as possible. We work together to operate in harmony with people and nature. We are committed to this with full conviction. In all areas, we are committed to developing sustainable solutions. VAUDE takes responsibility and shows attitude - each of us makes a meaningful contribution to this.
What gives our work at VAUDE meaning?
Our heart beats for nature, which we enjoy and protect. With our sustainable products we maximize the enjoyment of nature and minimize the ecological footprint. We are happy to put all our energy into this, because it is worthwhile and fulfilling.
Every day, we at VAUDE face the challenges we encounter on our way as A sustainable brand. Forward-looking, innovative concepts require open, flexible ways of working and good cooperation. Here, too, we are breaking new ground and showing how self-effective, trusting cooperation at eye level can succeed. All VAUDE employees have the opportunity to participate in training courses that address the topics of self-efficacy and trusting cooperation.
We have a positive view of people. That's why we trust each other and we give each other a lot of credit. In your job at VAUDE there is room for design and self-efficacy, so that individual strengths and creativity can develop freely.
Together we take responsibility for the future of VAUDE - and that of our livable world. This drives us on and on and fills us with pride.
By the way: The company name VAUDE is pronounced [fau'de]. It was named after founder Albrecht von Dewitz, or the initials of his last name "vD". he founded the company in 1974. Click here to go to VAUDE History
We look forward to getting to know you!