Which Cycling shoe is the best for me?
To choose the right cycling shoe, you should take your time and think about what you want your shoe to do in advance - the different models are just as varied as the tours or the equipment and areas of use of the bikes themselves.
Not only personal factors such as foot shape or width are decisive factors in choosing the right footwear, but in particular the construction features of the shoe. These include the type of shoe, materials, construction, sole hardness, areas of use and, of course, detailed solutions of the individual models.
V-Flow Stability Index
To make it easier for you to choose your VAUDE shoe, we have developed a categorization. We call it the V-Flow Index.
Under the term V-Flow Index, we bundle the strength of the upper in combination with the midsole and outsole. This gives us a holistic categorization of shoes from 3 (flexible) enduro to 9 (very stiff) road and cross-country. one of the most important differentiators in functional footwear is sole stiffness, or its allowable flexibility.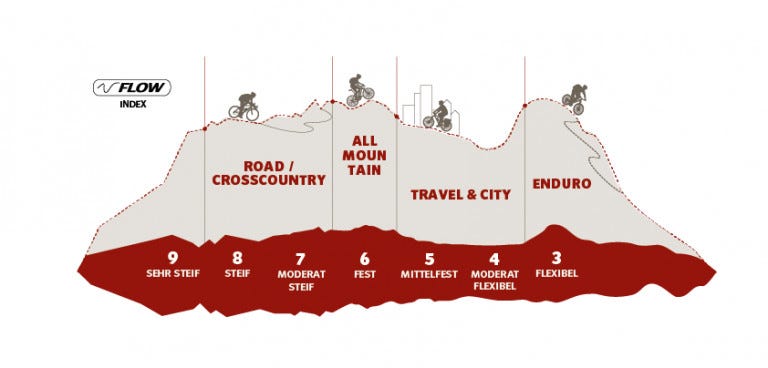 8-7 Road / Crosscountry
Paved roads and trails, flowing forest and meadow paths on grippy natural surfaces or consolidated gravel
Perfect fit and stiff sole for optimum power transmission
6 All Mountain
Trails on grippy natural ground or compacted gravel to unconsolidated ground and scree in alpine terrain
Perfect fit and protection with optimal power transmission
5-4 Travel & City
By bike through everyday life, city, work, leisure, as well as bike trips and bike tours
Comfort and flexibility, suitable for cycling and walking
3 Enduro
Challenging and technical single trails in blocked terrain, roots and scree, carrying passages
Comfort and flexibility, protective shaft, good climbing properties and best grip on flat pedals
With this index you can already make a good preselection, which shoes are suitable for the use planned by you. By the way: You will find the V-Flow Index on all VAUDE shoes as an embossing on the outsole as well as on a label on the lacing of originally packaged models.
After this rough selection, it is now important to find the right model in the fine selection to avoid problems with unsuitable footwear or aching feet from the outset.