What Types of tents are there?
The construction of a tent brings specific properties that are important for the particular area of use. The tent construction is decisive for wind stability, space or weight of the tent. With its extensive range, VAUDE offers the right tent for every terrain and every area of use.
Combined structure or flysheet construction?
Basically, we distinguish between two different types of tent construction, both of which have certain advantages and are suitable for different areas of use: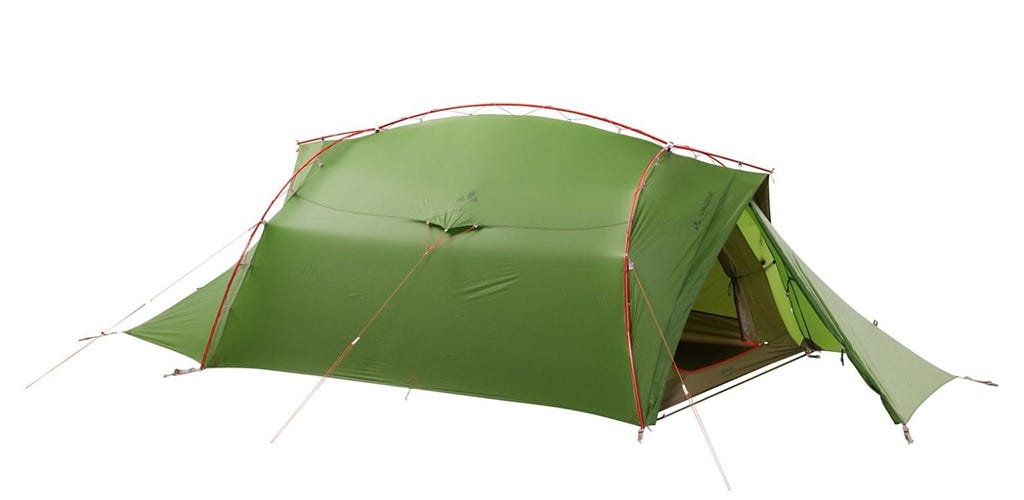 The combined construction, i.e. the inner and outer tent are pitched together (double pitching).
Advantage: the tent is easy to pitch even in windy conditions and in the event of precipitation the inner tent remains dry
Use: year-round camping,
Rainy weather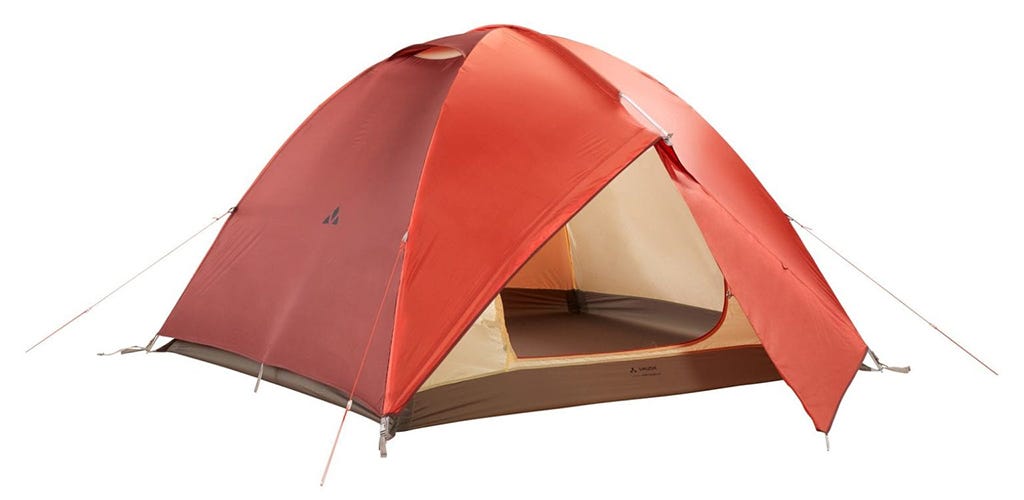 The throw-over construction, here first the inner tent with poles is put up and then the outer tent is stretched over it (singlepitching)
Advantage: very variable use, the inner tent
can stand independently
Use: summer camping, hot regions
Tent types
The tent design should be chosen with your needs in mind and the specific requirements that the particular area of use presents. The range of different tent types is accordingly large. We offer you an overview here.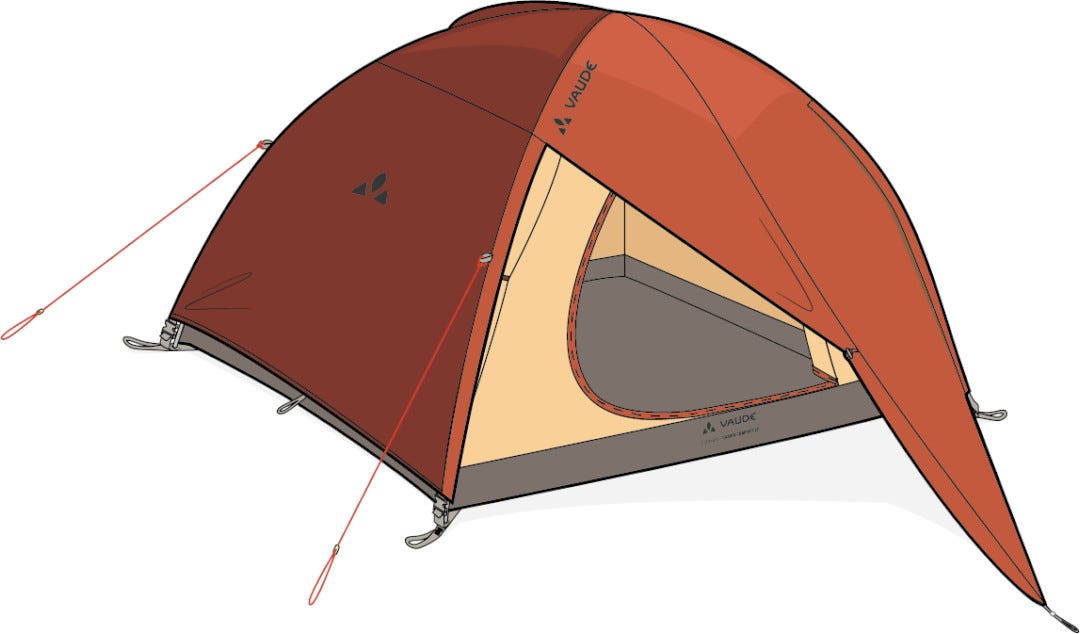 Dome tent
Dome tents are the all-rounders among tent constructions. They are versatile, quick and easy to set up and offer high wind stability. Two pole arches cross at the highest point to form a hemispherical dome. The ratio of space to floor area is therefore particularly favorable. The free-standing tent requires few pegs for tensioning.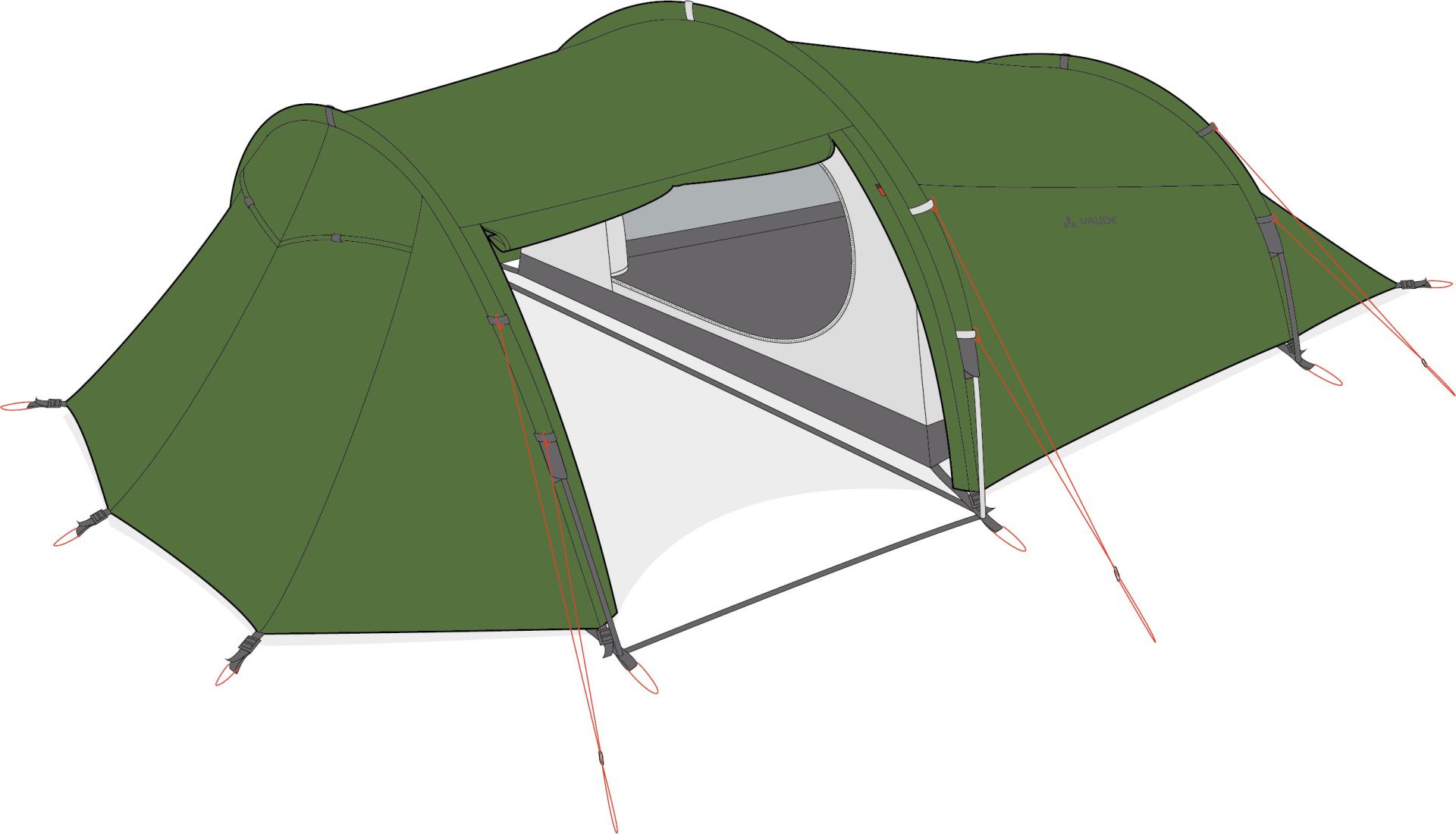 Tunnel tent
Tunnel tents are ideal for trekking tours. They offer the best space at low weight. The steep walls make 90% of the floor space usable. The erection of the parallel pole arches is quick and easy. In addition, tunnel tents have large vestibules and thus plenty of storage space.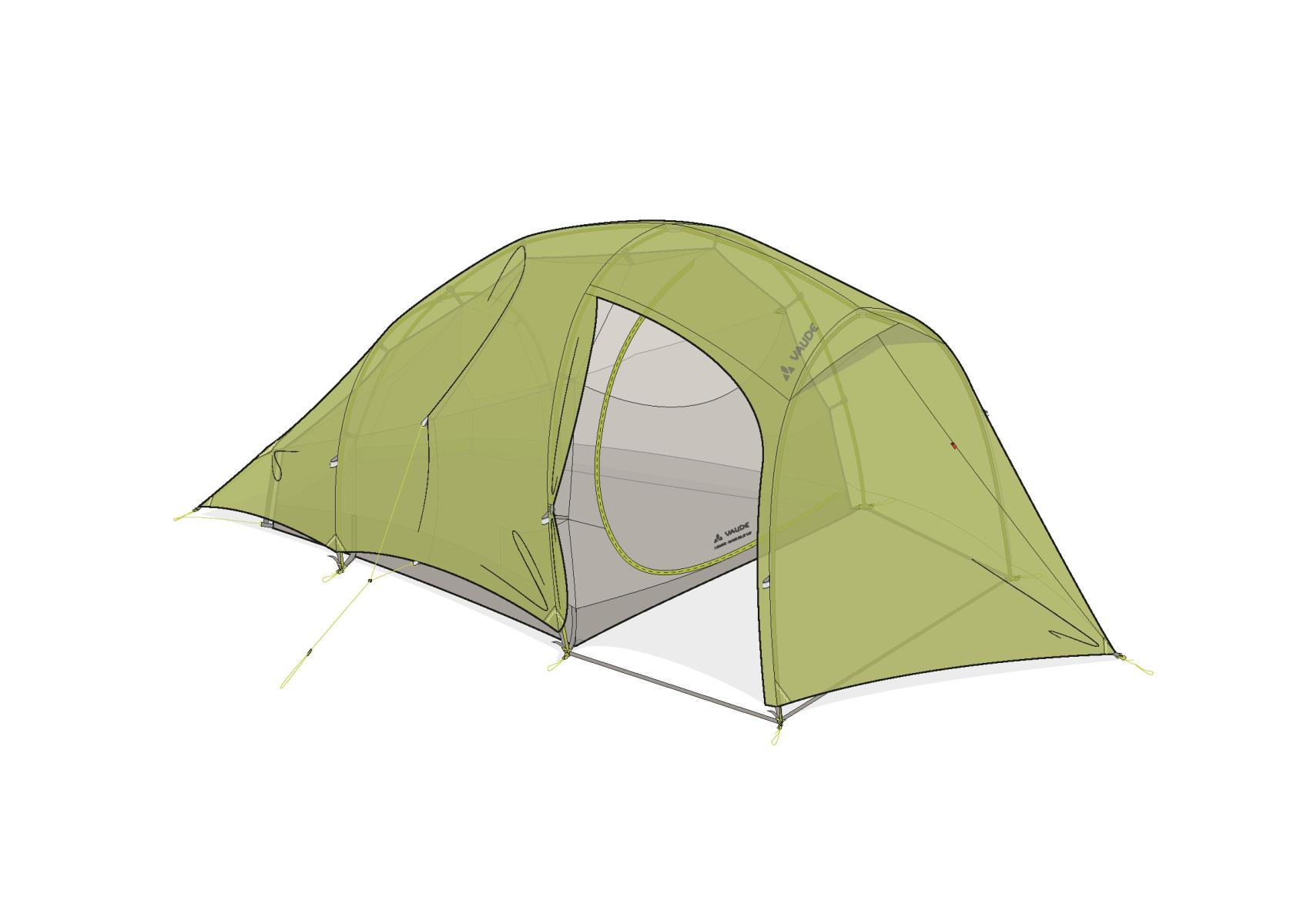 Ridge Tunnel
Ridge-tunnel tents are a combination of a tunnel tent and a ridge tent. This hybrid design provides extra stability and expanded storage space. The ridge withstands high snow and wind loads and provides rain-protected ventilation options. The design is freestanding and offers a good space-to-weight ratio.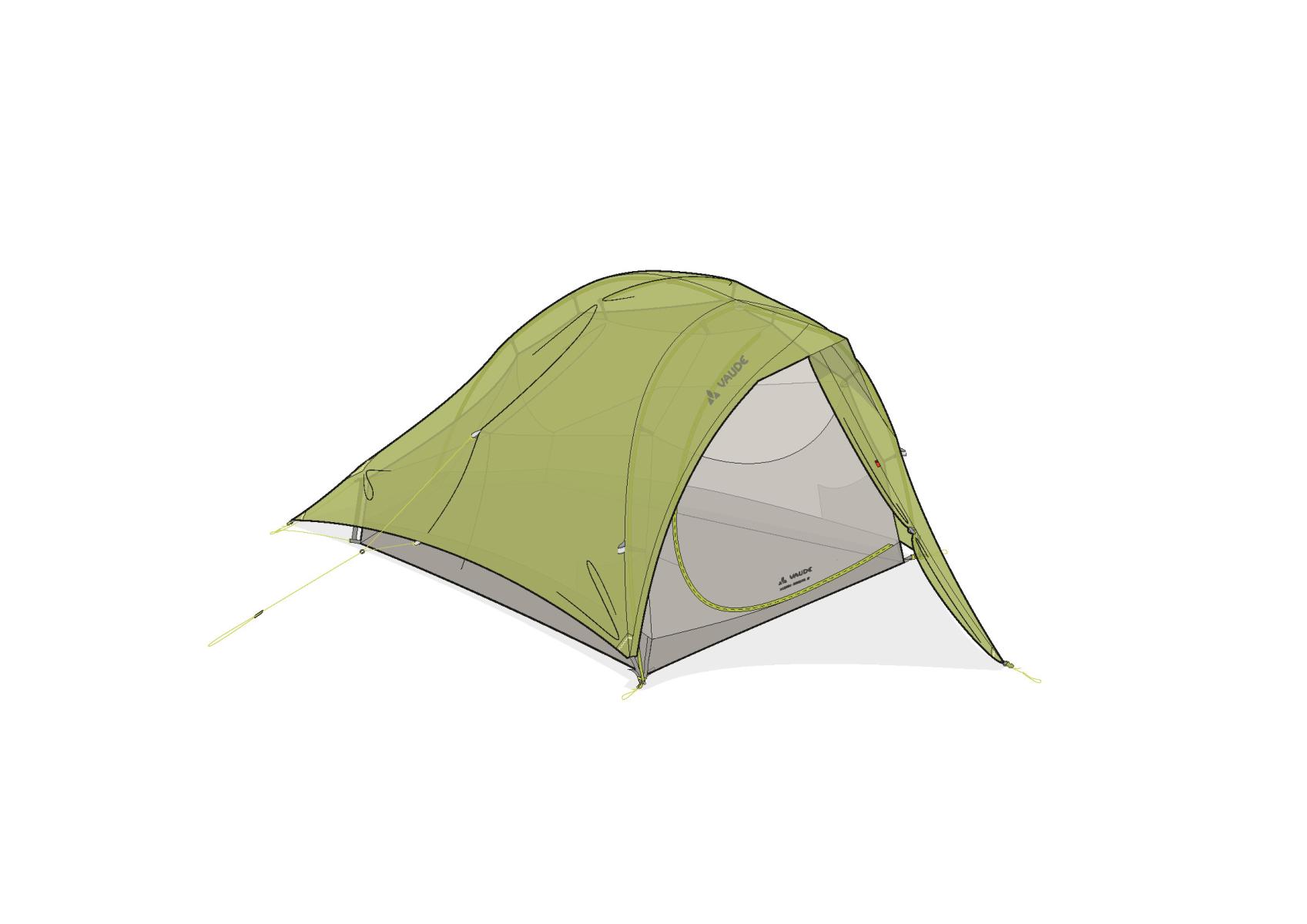 Tripod
Tripodis a practical, lightweight tent construction that makes the most of space and is easy to set up. The sloping dome design is low at the foot and offers a comfortable sitting height at the head.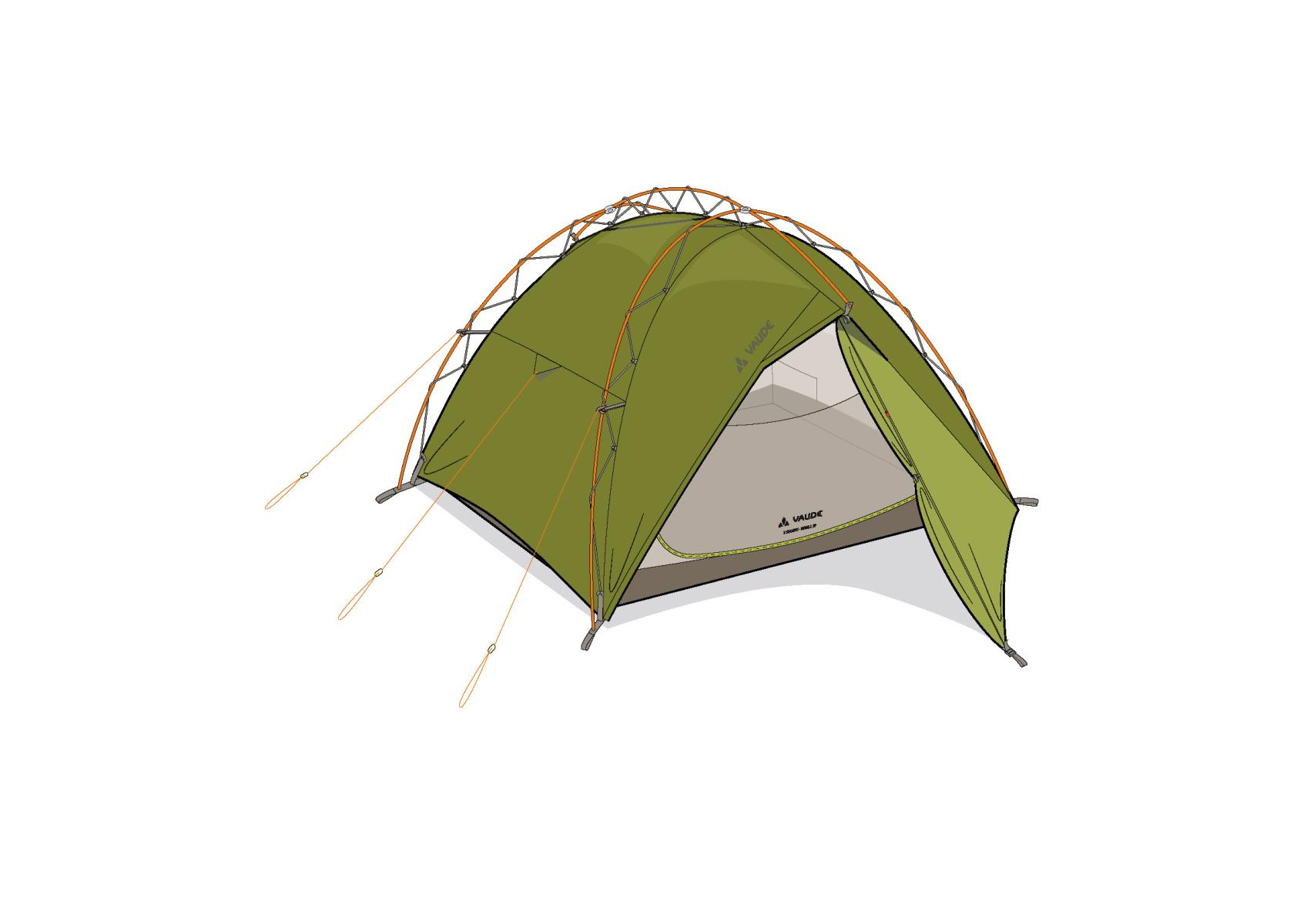 Mark
This special construction is used in all VAUDE Mark models and is very variable. With self-standing poles, this tent construction offers high wind stability, a generous amount of space and allows for quick setup. Re-tensioning in wet conditions is not necessary.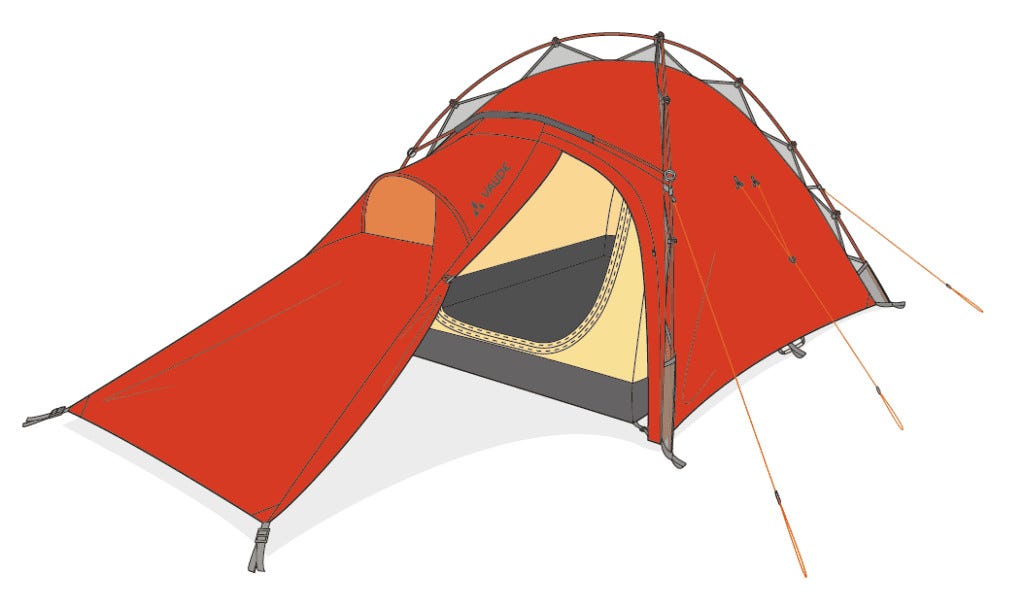 Powerframe
Powerframe is VAUDE's most wind-stable pole construction and is used primarily in our expedition tents. A self-supporting frame and quick-fix power clips allow for fast pitching. The poles are firmly connected to the tent and ensure an even distribution of force and increased wind stability. Lighter poles can also be used for the Powerframe construction - further reducing weight.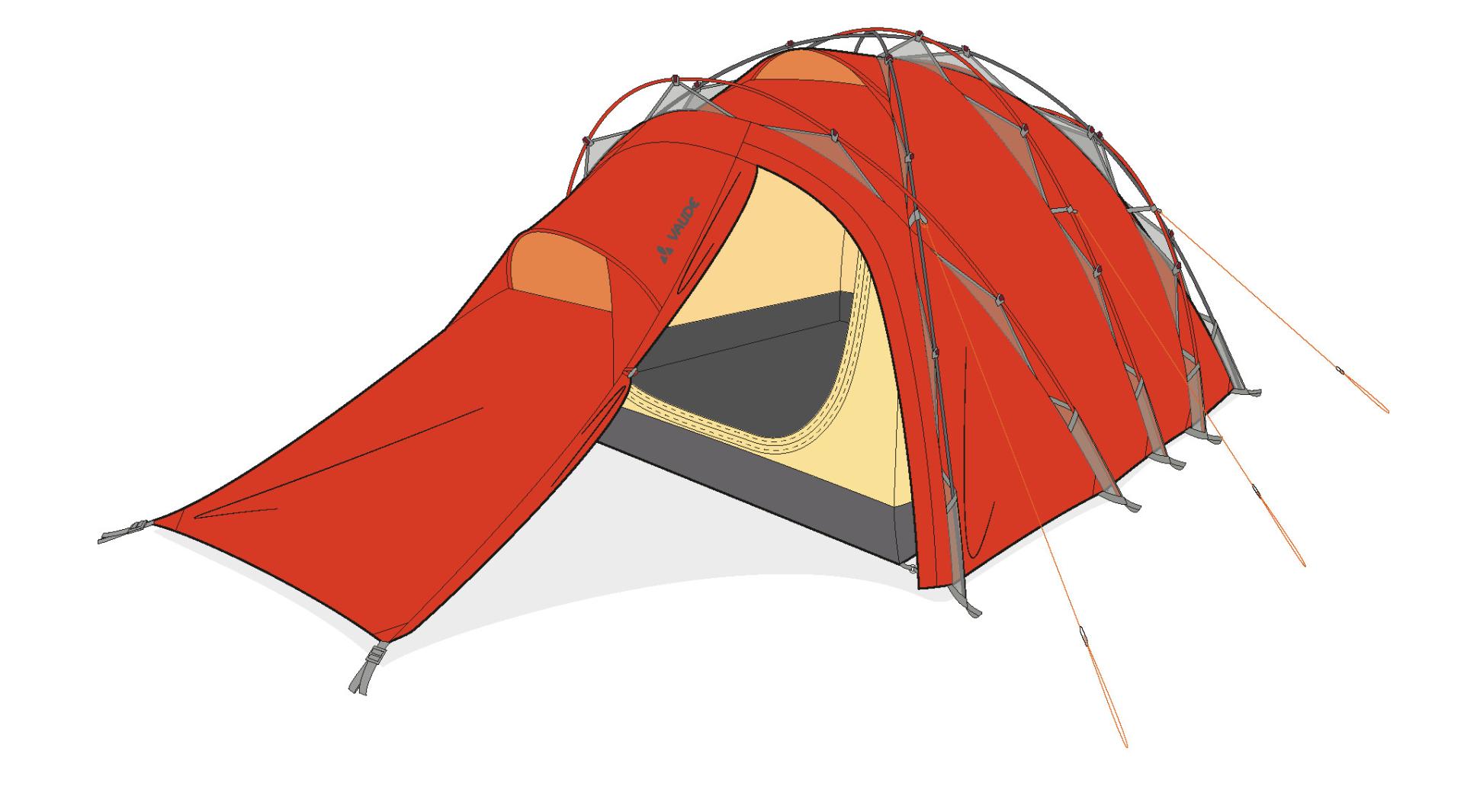 Geodesic
Geodesic tents have an extremely stable tent construction that can withstand snow and storms. This makes them suitable as expedition tents for demanding tours in all weather conditions. The pole arches cross several times to form small, extremely stable power triangles.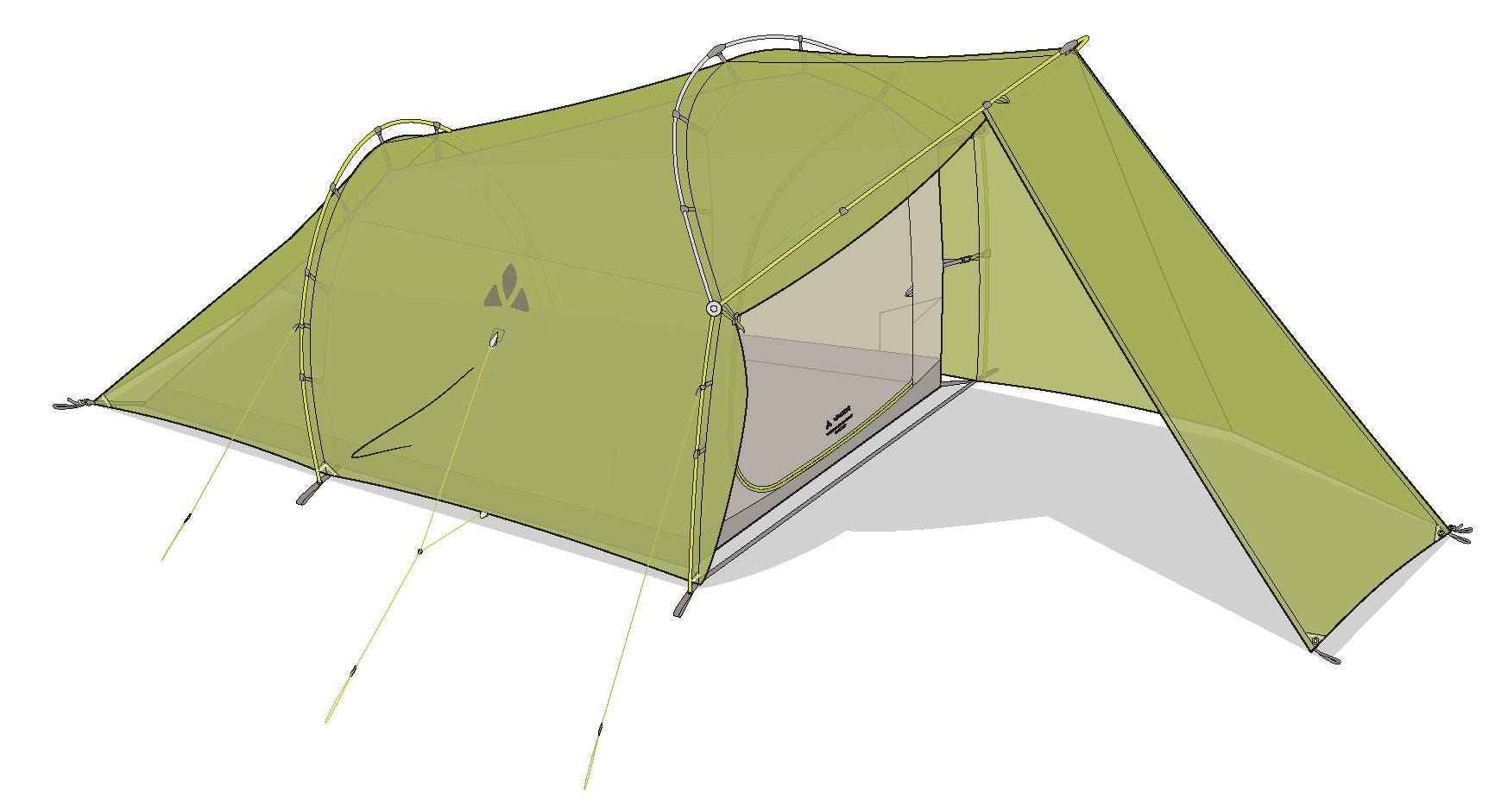 Special construction
For special purposes, the tent construction, including the pole structure, is precisely adapted and designed to meet the specific requirements and area of use.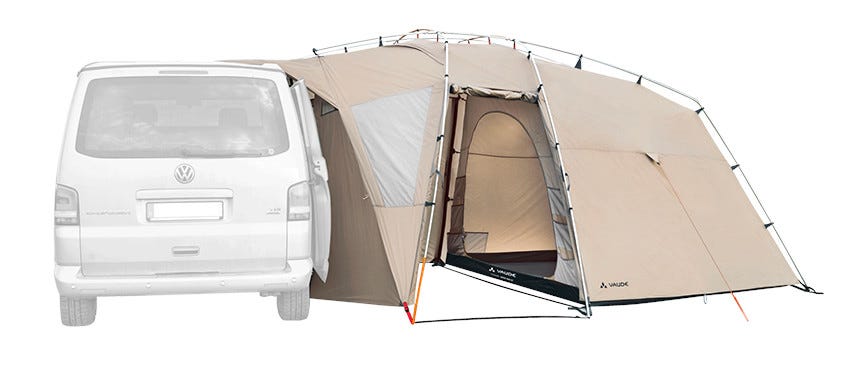 Bus awning/drive series
Bus awnings offer a practical space extension and are easy to erect. For all vacationers and campers, VAUDE offers suitable tents with the Drive series, which can be easily combined with your own vehicle. They are coupled directly to the camper or caravan, but some can also be used freestanding.
In addition, we also offer rear tents that are connected directly to the car tailgate.
Seam processing
Basically, we distinguish two different types of construction for tents, both have certain advantages and are suitable for different applications:

Conventional seam processing
Normally, two layers of material to be connected are sewn together in tents. Due to the perforation at the seams, waterproofness and stability suffer. All outer tents PU-coated from the inside are provided with a seam tape sealing at the factory - this prevents water from penetrating through the seams. This makes the surfaces waterproof while remaining breathable.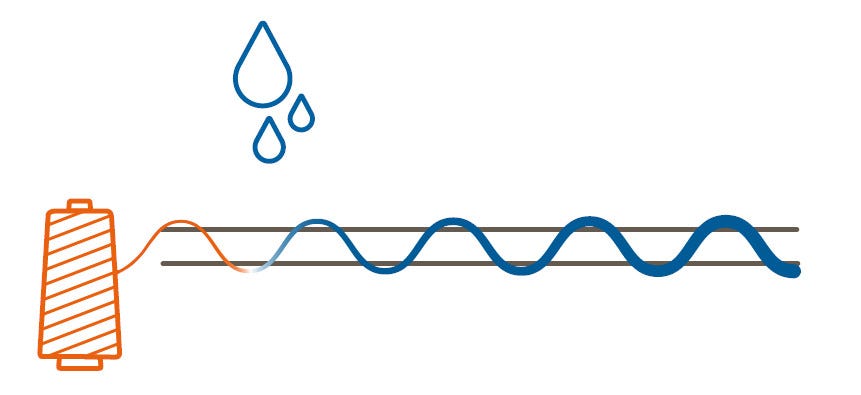 Swelling Yarn
The use of water-repellent swelling yarn seals the seams of the outer tent, which is siliconized on both sides. The yarn swells directly in the seam when it comes into contact with moisture, thus sealing the seam holes. In case of heavy use or adverse weather conditions (heavy and continuous rain), manual re-sealing with Silicone Seam Sealer is necessary.
Silicone bonded seams (Siliconized Bonding)
In this process, the layers of material that have been siliconized on both sides are bonded with silicone. The material is bonded without a stitched seam, i.e. it is not pierced (= perforated) and the bond is therefore 100% waterproof. Manual re-sealing is no longer necessary and the tent material is also more tear-resistant and UV-resistant. Only VAUDE offers you these advantages.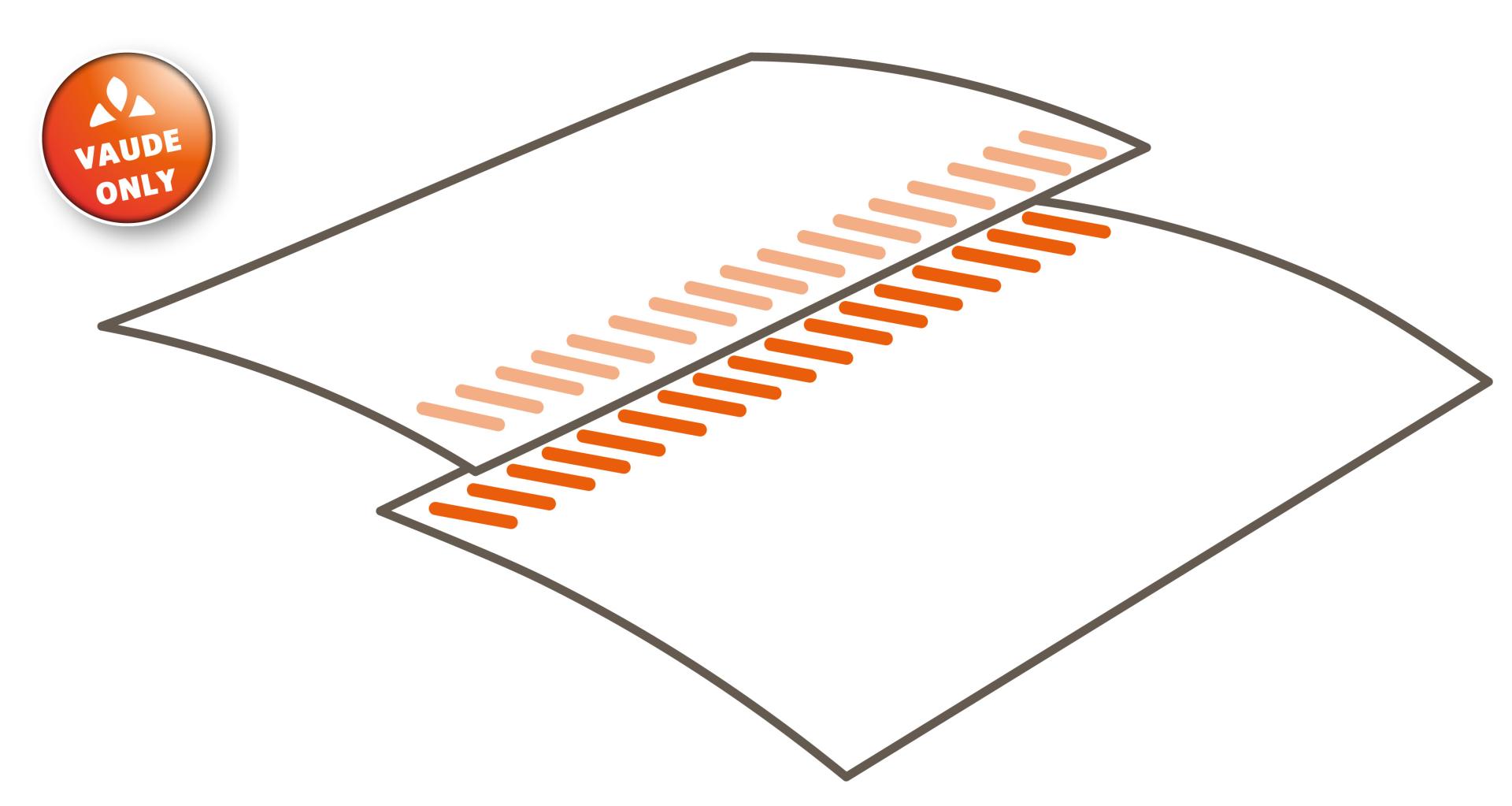 Silicone Tapes (Silicone Seam Seal)
Taping is a process in which layers of material that have been siliconized on both sides are provided with a seam seal made of silicone at their connecting seam. This creates a 100% waterproof outer material that does not need to be re-sealed manually. This finish is also exclusive to VAUDE tents.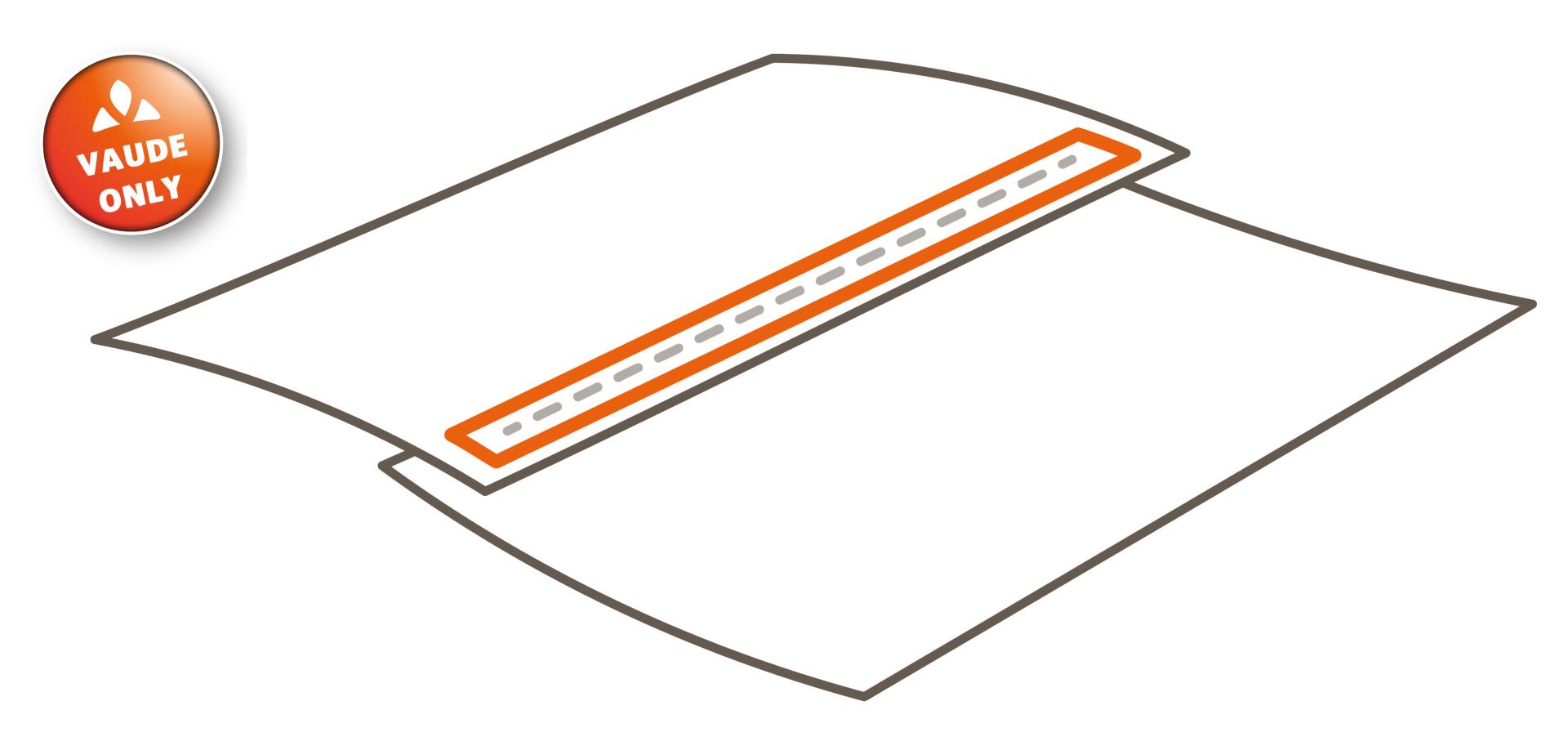 Product development "Made in Germany"
Basically, we distinguish between two different types of construction for tents, both of which have certain advantages and are suitable for different areas of use:
When developing our products, we leave nothing to chance. First, we make a tent model to check the construction. We then work out the product details in a 3D program. The materials are carefully tested in laboratory tests for waterproofness, tear resistance and beading behavior. Finally, we create a prototype and plastic injection molds for production.