For young and old: The new desire for hut hiking
So much for conventional! Hut hiking is experiencing a renaissance, especially among younger people. The classic tour from hut to hut combines adventure and safety, nature and culture, experience and result. We give tips on how to make your hut tour an unforgettable experience!
Why hut hiking? An incomparable experience!
There are many good reasons to plan a tour from hut to hut. One very obvious one is the luggage. If you eat and stay in mountain huts, you have much less to lug around. No tent, no stove, no or only an emergency supply of fuel, less food, and on and on. If you don't have to carry all that, you walk lighter and more exhilarated, you have more energy and time for breaks, good conversations or the intense experience of nature along the way.
For other people, the community experience at the hut is the decisive reason for this form of hiking. In no other place do you meet so many and yet so different people who share a passion for mountains and nature. Friendships, rope teams or partnerships for life can develop during the convivial evening after a strenuous hike or the joint planning before a challenging summit day.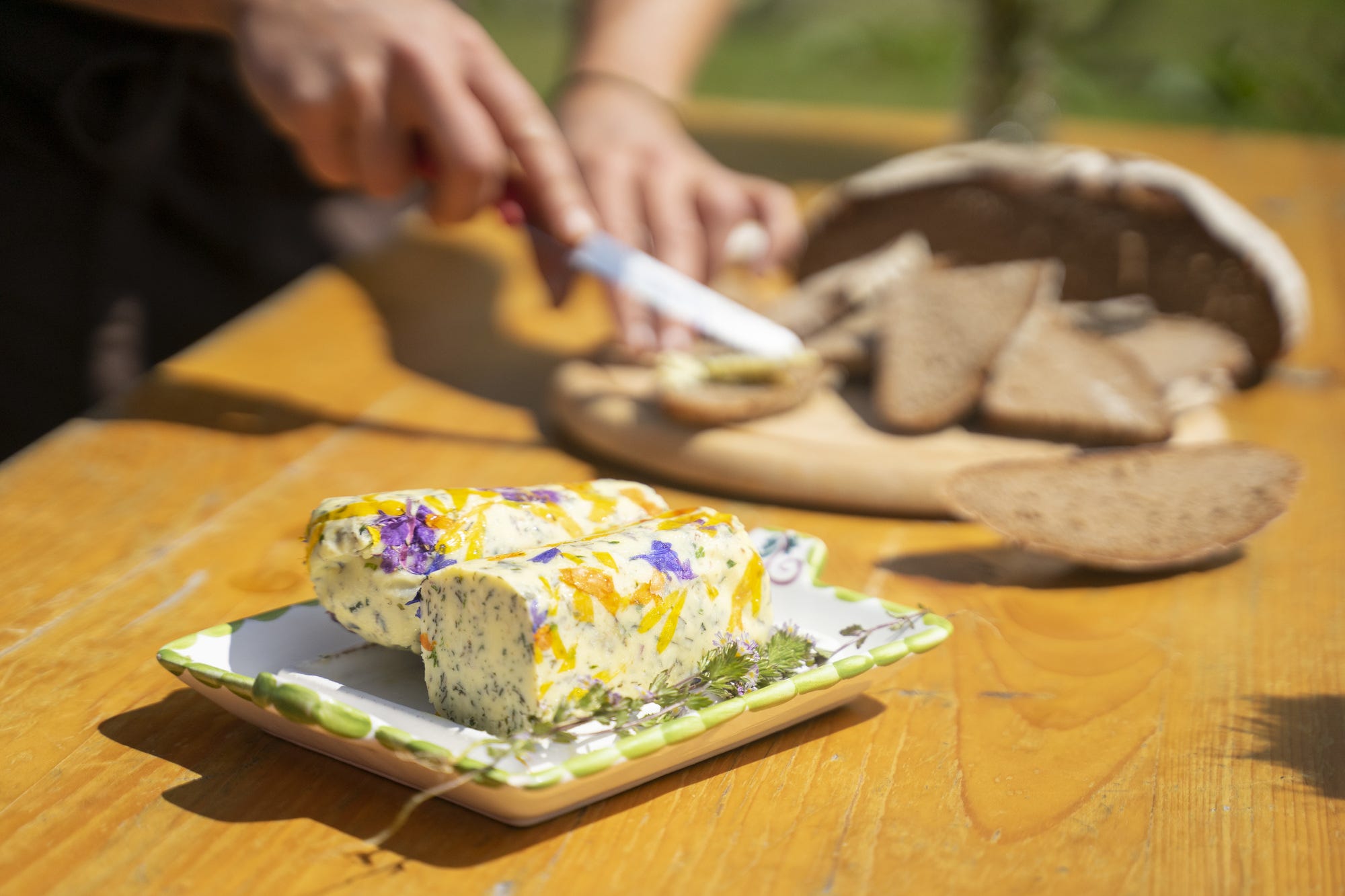 Mountain huts are also authentic places of regional culture and cuisine. Not only Obelix knew that food and drink keep body and soul together.
Last but not least, mountain huts in particular are an important safety net for alpine ventures.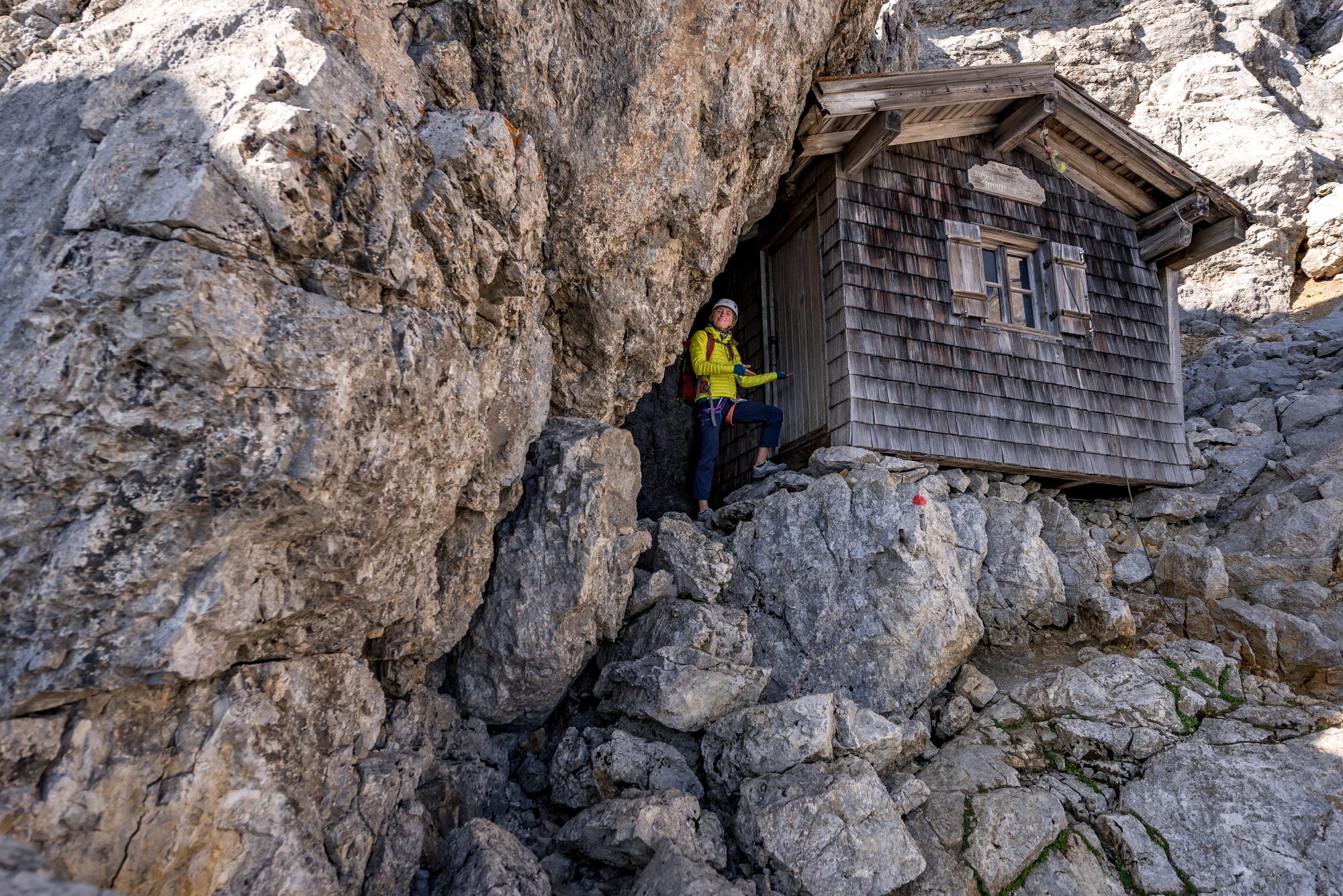 Tip: In many mountain and nature regions of Central Europe, "wild" camping or camping is not allowed or only allowed to a limited extent. We reveal more about this here.
"Your hut experience - food and drink: After a long day in the mountains, you end the evening comfortably on the terrace in front of the hut. A home-distilled hay schnapps, a mountain cheese and a piece of bacon from the valley you hiked through yourself just a few hours ago. Could it be more beautiful?"
Little hut etiquette: planning and booking
In order for the hut tour to be a great experience, there are a few things to keep in mind beforehand and on site. Because huts are not hotels. Their operation on exposed mountain ridges or in remote valleys is complex and expensive. Therefore, huts live from the cooperation between host and guest. To make life easier for everyone involved, you should book your overnight stay(s) in advance whenever possible. This way everyone can plan better. If you suffer from food intolerances or have special dietary requirements, it is also best to make arrangements in advance.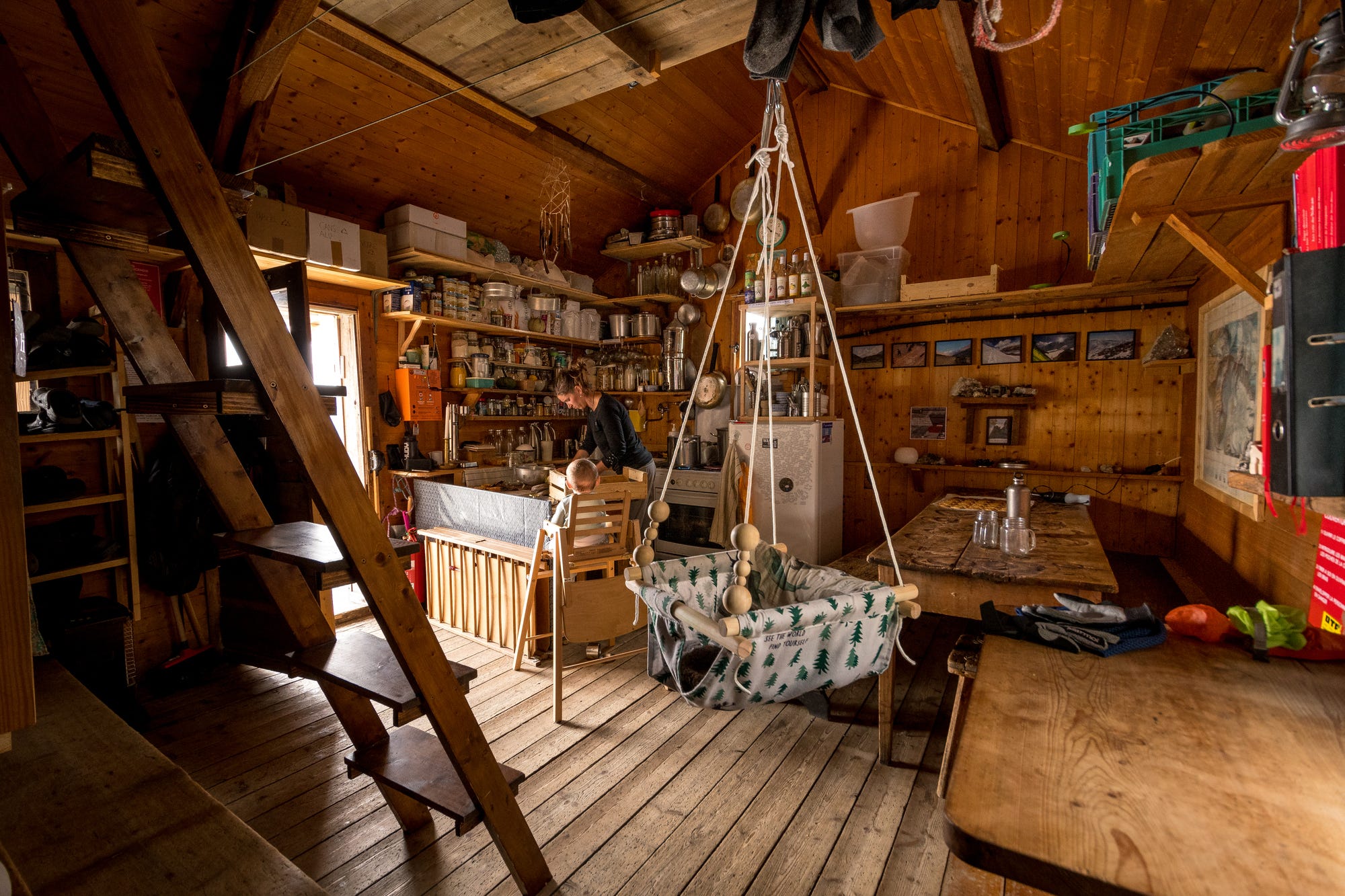 By the way, a booking is only worth something if it is actually taken. It is annoying for everyone involved if a reservation is not canceled or canceled only at very short notice. In the worst case, the hostesses have already canceled other guests, who are then left without a roof over their heads, even though there are actually still beds available. If we are all fair, the huts must also raise no cancellation fees.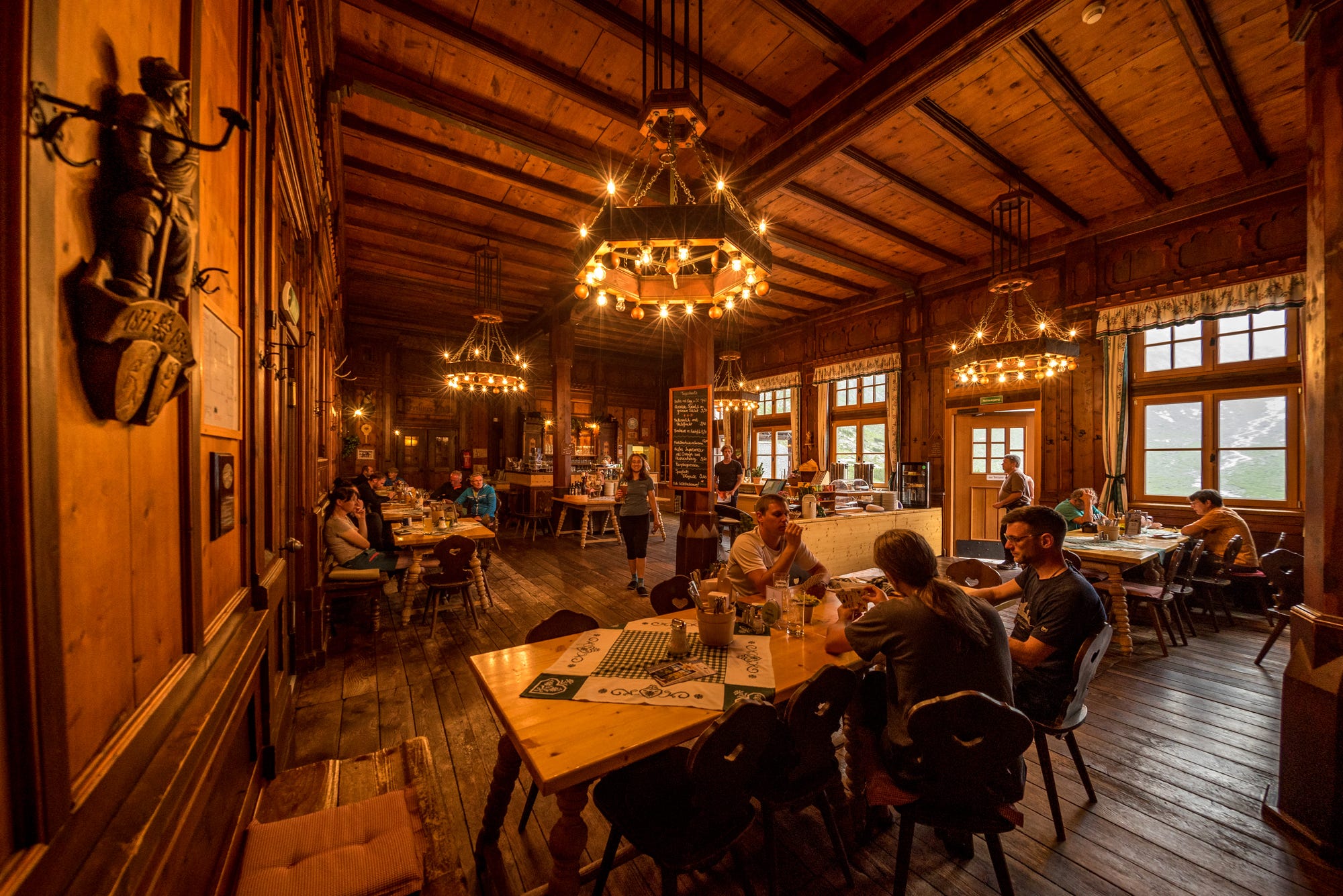 Little hut etiquette: On site
On site, it's a good idea to take dirty or wet clothes directly to the drying rooms and slip into your cozy cabin clothes and cabin shoes. This keeps the hut clean and the evening cozy. Because there are a lot of people in a small space, it's a good idea to have all the things you need for the night and morning ready immediately upon arrival, so you don't have to rummage through your backpack in the middle of the night with lights and noise.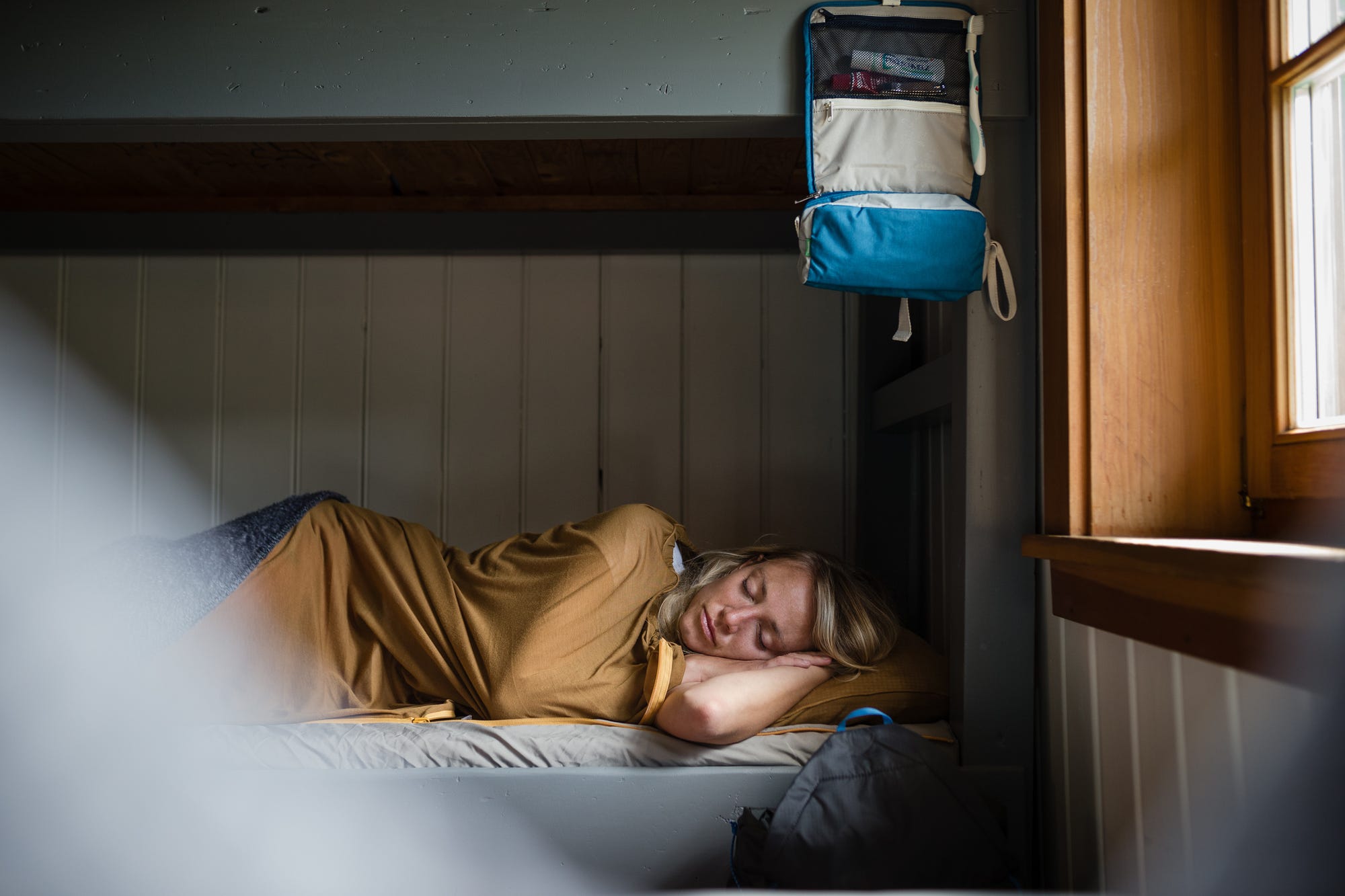 Despite all the beauties of hut life, great local food and co: a mountain hut is not a wellness resort. Rain showers, five-course menus and free wifi you can enjoy again in the valley, for remote mountain huts such luxury is hardly affordable. By the way, this often also applies to charging a dozen e-bike batteries. Here it is advisable to clarify the power supply in advance. But the comparative simplicity also has many advantages, because you can concentrate intensively on the mountain experience.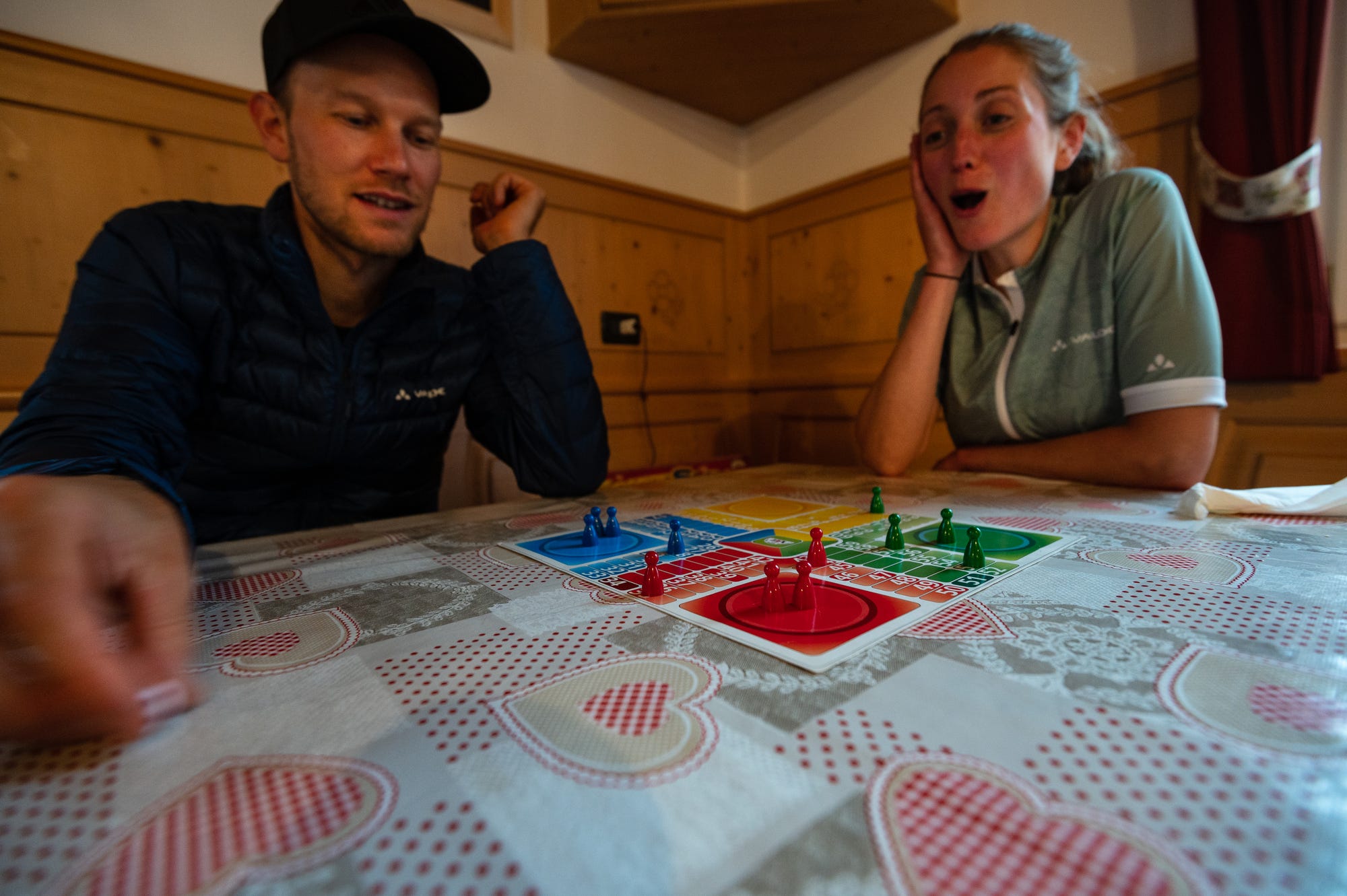 An absolute no-go, by the way, is to set up camp within sight of a hut without being asked and to use the infrastructure without paying. If the hut is booked up to the roof, you can ask in any case friendly, whether this is exceptionally possible. Then you should at least buy your food from the host. It is not fair to consume food that you have brought with you. After all, the income from food sales is a vital source of income for the hut operators. On the other hand, if you take your own trash down to the valley yourself instead of letting others do it for you, you're making friends in any case.
Tip: The DAV Summit Club has written a practical hut etiquette guide.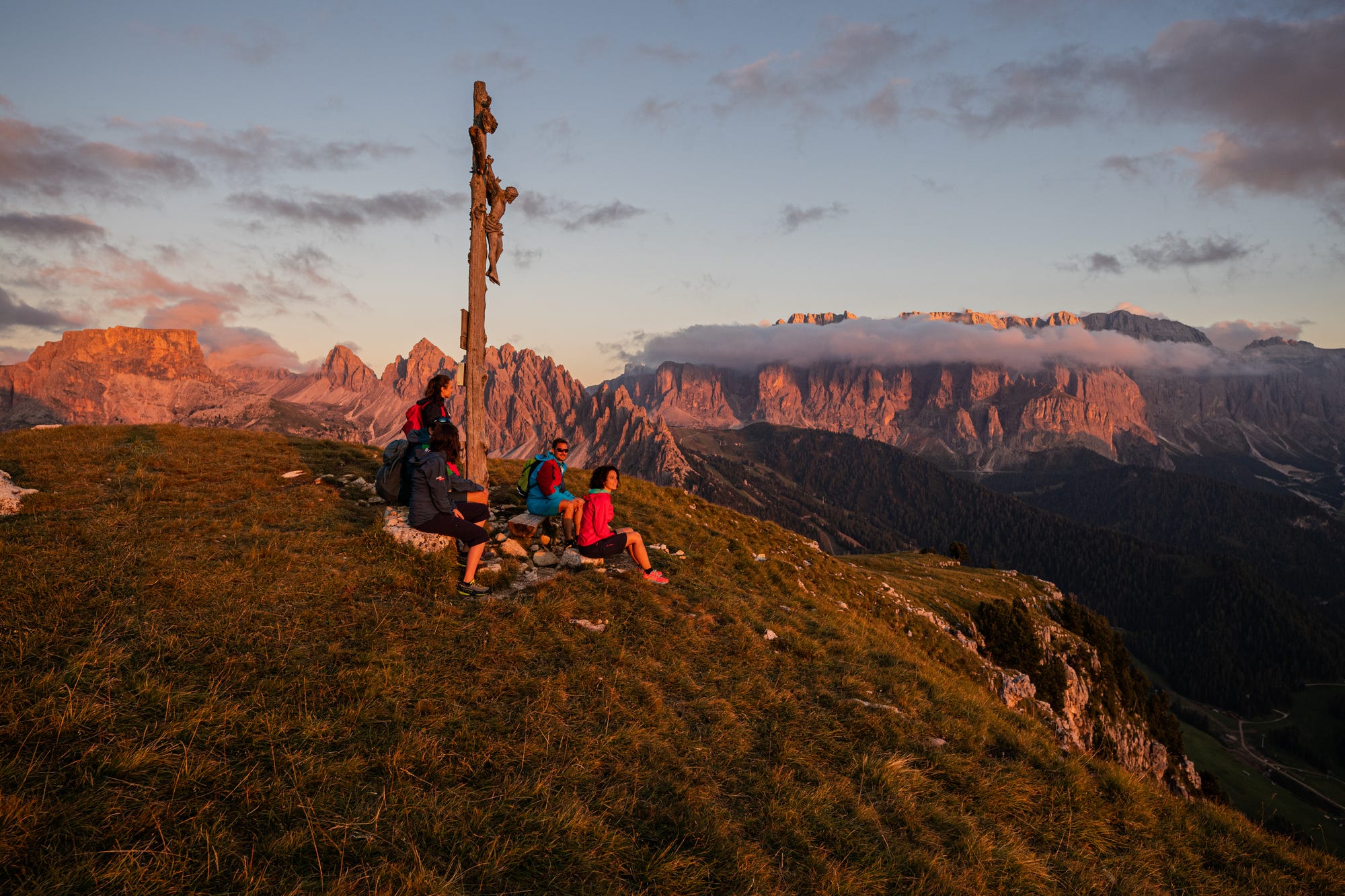 "Your hut experience - Alpenglühen: No matter whether you look to the west or east. In good weather, fantastic golden-orange and violet tones reflect the sun in the surrounding mountains, on snow surfaces and on steep slopes. The indirect light illuminates the sphere above the shadows with an almost ghostly haze."
Huts as a nature-friendly alternative to tent and bivouac
Many people are drawn to the great outdoors. We at VAUDE are happy about that. But with that also comes a great responsibility. After all, it is not only the particularly sensitive mountain regions that are quickly overwhelmed ecologically by an onslaught of recreation seekers. This is where huts make an important contribution to reconciling nature experience and nature conservation. They concentrate the pressure of use on a few suitable places and provide the infrastructure so that many people can enjoy being outdoors in a way that is compatible with nature. In practical terms, this means less disturbance to wildlife from many individual, scattered campsites; fewer human latrines with slowly rotting toilet paper; less trash; less damage from soil compaction and erosion from camps in unsuitable locations, and so on. So huts make the occasional bivouac really nice!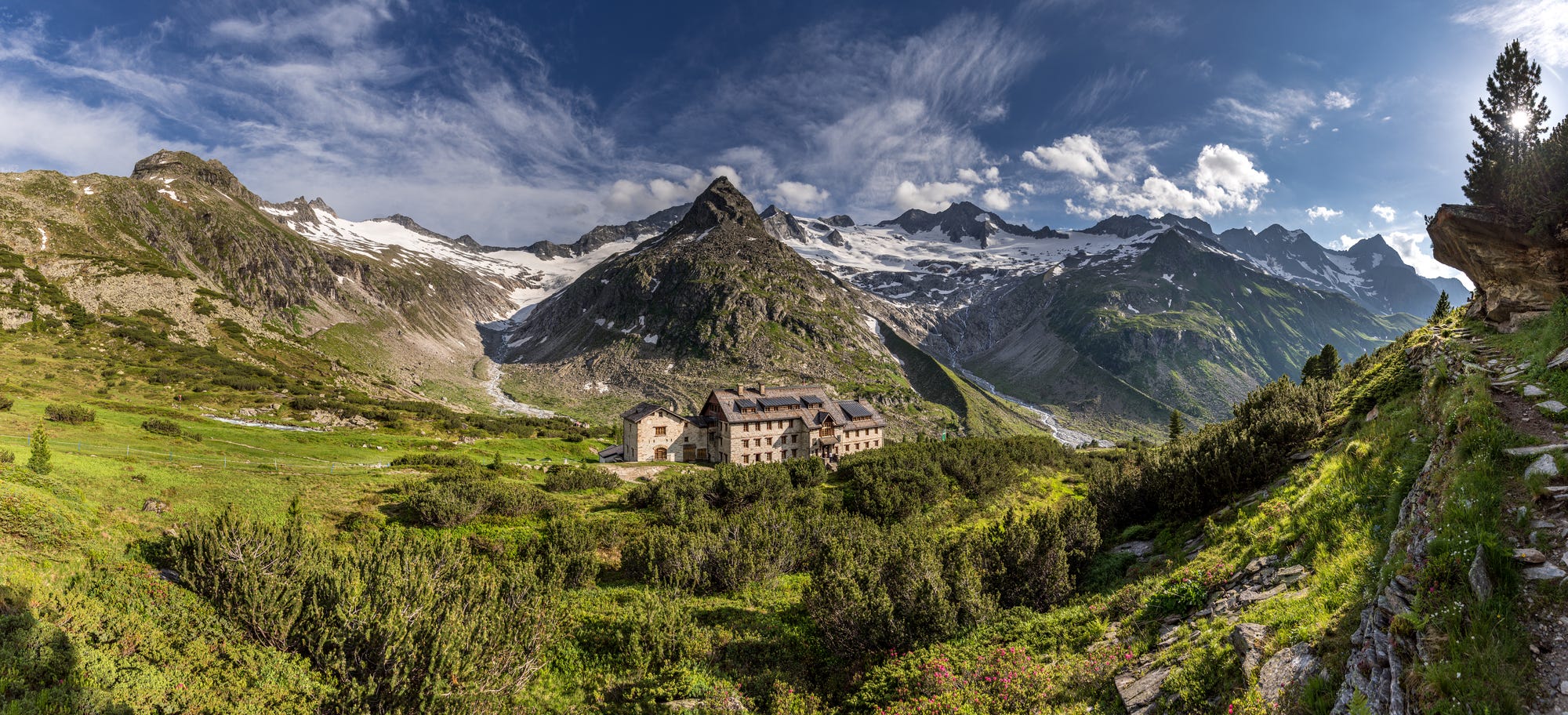 The alpine classic: DAV, ÖAV and Co.
Oberreintalhütte, Falkenhütte, Monte-Rosa-Hütte or Büllelejochhütte. Many mountain huts are icons of the Alps. VAUDE partner DAV ("Deutscher Alpenverein") and its partner organizations such as ÖAV ("Österreichischer Alpenverein") or SAC ("Schweizer Alpin Club") operate over 2,000 huts throughout the Alps, all of which DAV members can use at reduced rates. The DAV alone owns well over 300 huts in the Alps and German or French low mountain ranges. Other mountain regions such as Slovenia, Slovakia, Poland, Spain, Sweden or Norway also have a dense network of managed or unmanaged huts. These are touring possibilities for a whole hiking life!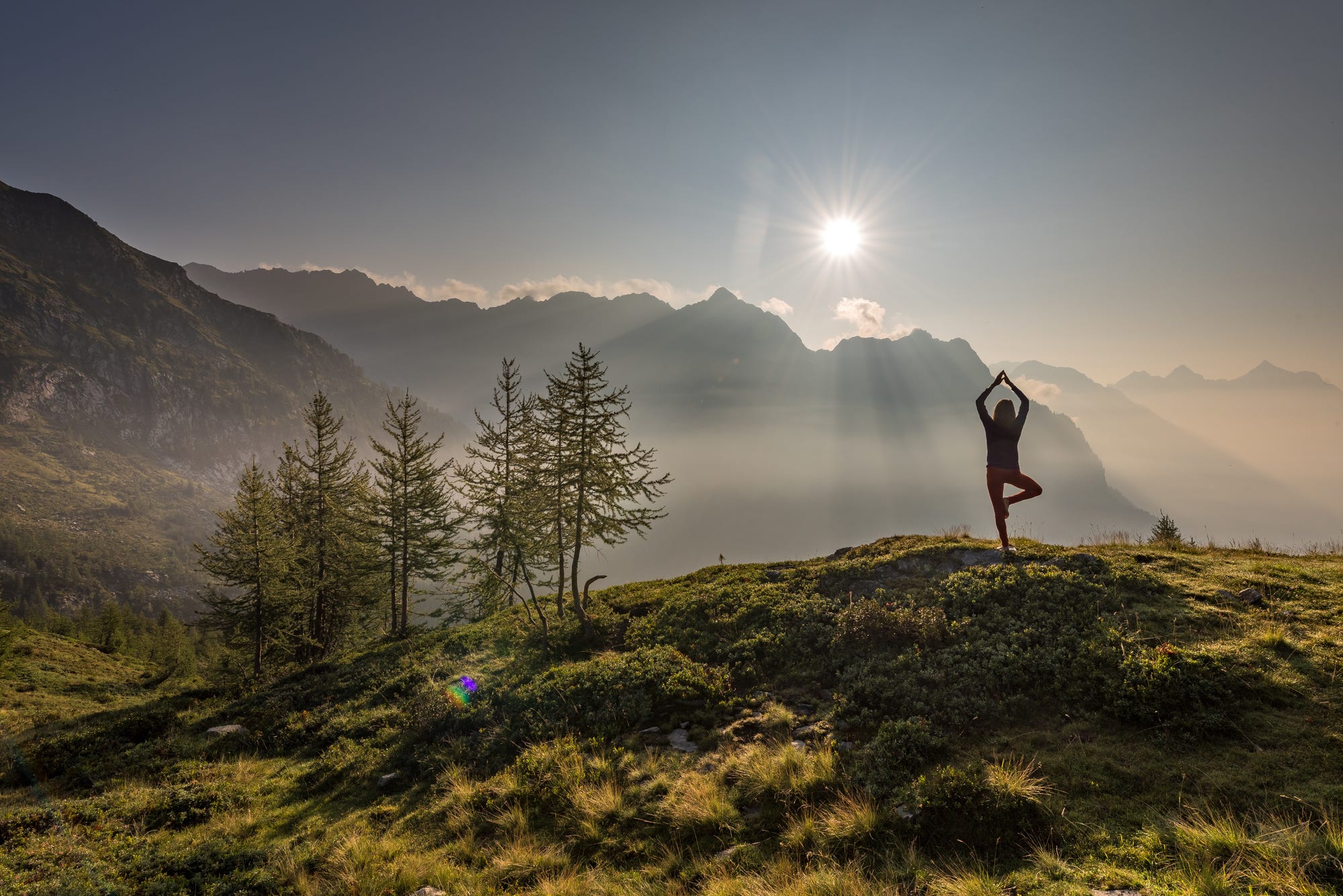 Modern Times: mycabin.de as a universal alternative for self-supporters
MyCabin.de can be a good alternative, especially for people who travel spontaneously or want to make tours outside the major mountain regions. The company from Constance arranges private accommodations or vacation homes as well as camper or tent sites. So you can put your tent quite comfortably, surely and legally for instance with the farmer family on the mountain meadow. Adrian of MyCabin brings the idea on the point: Everything developed with long migrations in the Voralpenraum, when the team on the huts and Schober at the wayside, became attentive. The goal of our Baden-Württemberg start-up: to provide genuine experiences in and with nature. Today, you'll find over 1,000 private pitches and tent sites at MyCabin for everyone who loves to be out in nature ."
"Your hut experience - nature: the alpine jackdaws fearlessly peck the crumbs of dinner from the tables. High in the sky, a golden eagle or a bearded vulture majestically circles. A marmot whistles shrilly, warning of danger. A pitch-black alpine salamander comes out of hiding after a rain shower. Even and especially where wild animals are used to the presence of humans, you can make many wonderful observations. It's worth keeping your eyes open."
Shelters as a compromise of hut & bivouac
Where neither large mountain hut nor MyCabin spots are available, a shelter hut is a good choice for a minimalist night in nature. Quasi the mixture of mountain hut and bivouac. You sleep dry and reasonably protected from the wind and still enjoy the nightly sounds completely unfiltered. Regarding toileting, cooking and sleeping, the same applies as for bivouacs or nights in tents: leave no traces except your footprints and take nothing with you but the garbage of others.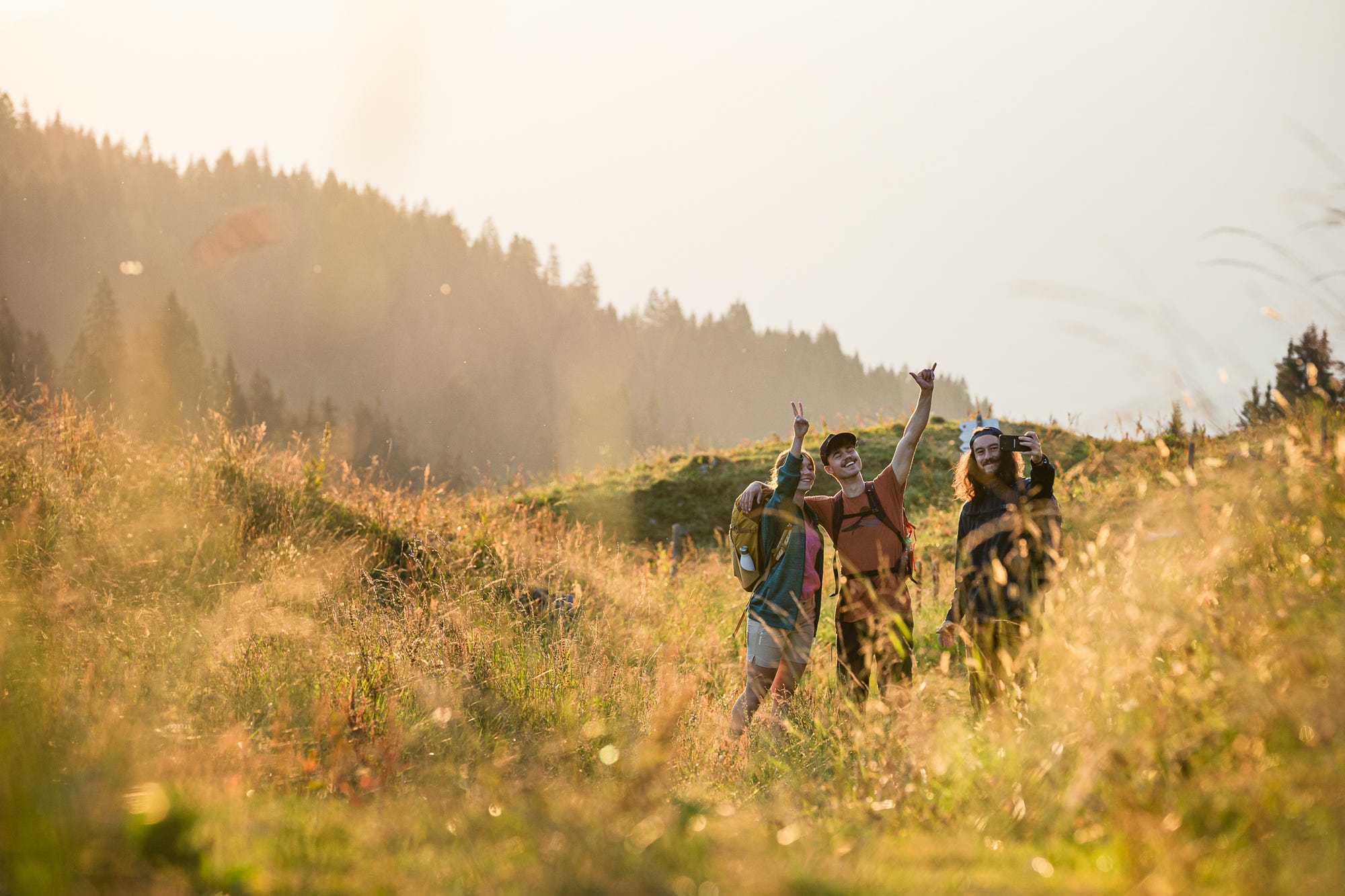 Practical tips on booking, planning, travel and more.
We at VAUDE are convinced that even the journey is part of the pleasure. You can reach many great regions and adventures comfortably by public transport or even by bike instead of by car. This way, you're not stuck with your tour ending where you started it. Some alpine regions even shuttle you from the train station to the starting point with shared cabs. You can find out more at the DAV's Bahn & Berg initiative.
The AVS, DAV, ÖAV and SAC have set up a joint, cross-border online portal for booking huts. The good old-fashioned phone call directly to the hut is of course also possible. Booking accommodation on mycabin.de works conveniently via the website.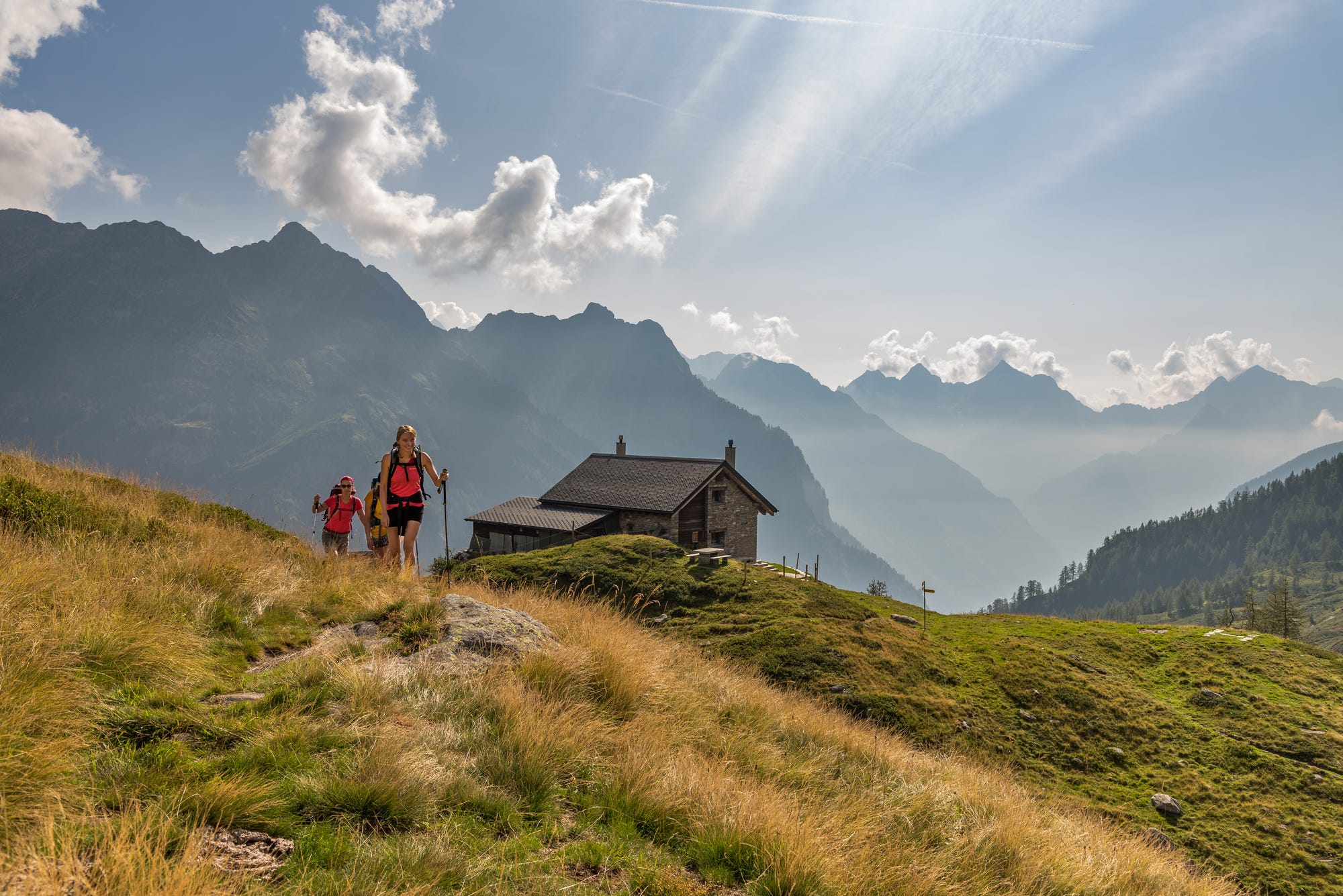 Especially if you want to make tours from hut to hut, plan your walking times better conservatively, consider break times or that you stop at the wayside to take the photo of your life (we wrote down here). The information on walking times in the relevant hiking guides or on signs on site are not standardized measurements, but approximate estimates to help you plan your own. Depending on weather conditions, fitness, luggage and break culture, your walking times can vary greatly. Only with a time buffer can you really enjoy the food, conviviality and peace and quiet at the hut!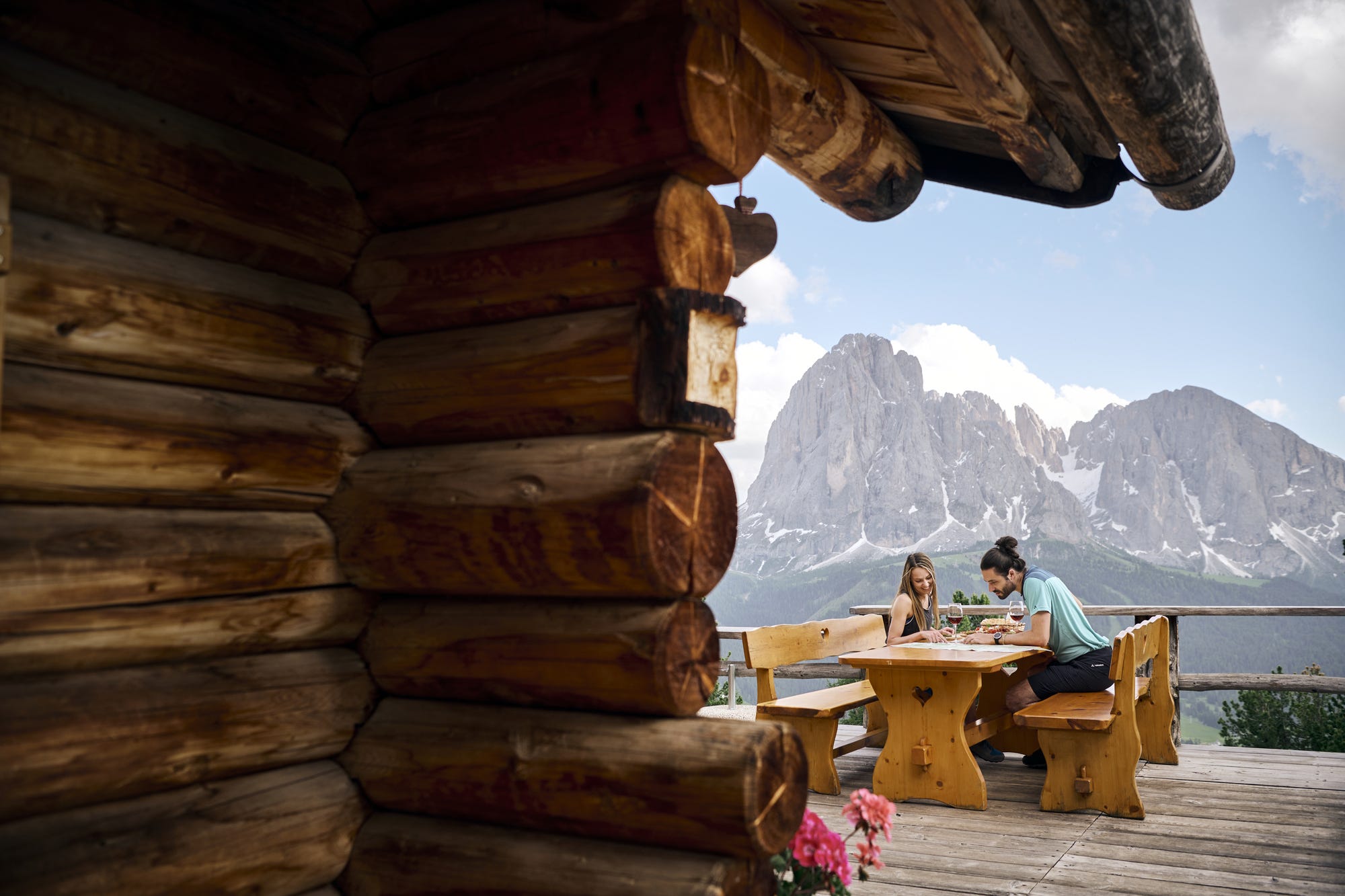 Equipment tips
Tent, stove and Co. can stay at home during the hut tour. However, some parts should definitely be in the luggage, so that the tour from hut to hut is successful:
Nothing can rob sleep as much as the wrong pillow. Instead of lugging around your favorite pillow from home, the lightweight and packable Pillow M is a great alternative.
A hut sleeping bag, for example a thin and lightweight blanket sleeping bag like the VAUDE Navajo 500 SYN, will save you time and money at the hut and serve as emergency warmth if something does go wrong on the trail and you might have to wait for rescue.
A compact microfiber towel saves weight and dries extremely quickly again. So you are on the safe side for the evening shower.
It's the breaks that make a hike perfect. Instead of sitting wet and cold on the ground, you can sit more comfortably on a seat pad like the Seat Pad Light.
No matter how good the weather: rain jacket and pants always belong in your luggage!