Bicycle pants seat pad - Saddle-proof concept on a scientific basis
Everyone who regularly gets on their bike and spends an hour or two there knows that if the seat pad of the cycling shorts doesn't fit their own needs, it quickly becomes uncomfortable. We at VAUDE, as bike sports enthusiasts, know this, both from our own experience in the saddle and from our dialog with customers. In order to make our seat pads for VAUDE cycling shorts even more comfortable and better adapt them to individual requirements, we have embarked on a mammoth project and have taken a scientific approach to seat pad development. Together with universities, we conducted many different studies to research whether and how factors such as sitting position on the bike, anatomical differences between the sexes - as well as the surface when cycling affect seat comfort. Accordingly, we were able to use the studies to develop seat pads for cycling shorts that are tailored to individual cycling activity.
What factors influence seat comfort on the bike?
Whether your butt still feels supple after 100 kilometers or just screams "Get off!" depends on many factors. The distribution of pressure on the seat cushion is influenced by numerous parameters: including the seating position, saddle, cycling shorts, individual physical condition, the surface and cycling activity. Seat pads cushion the buttocks and yet do not "pass us by the ass" - we have devoted ourselves to the factors over three years in several studies. The goal of this project was to improve the comfort and performance of cyclists, as well as to prevent physical discomfort. A pair of cycling shorts with a well-fitting, cushioning seat pad is irreplaceable for anyone who sits in the bike saddle regularly and for long periods of time.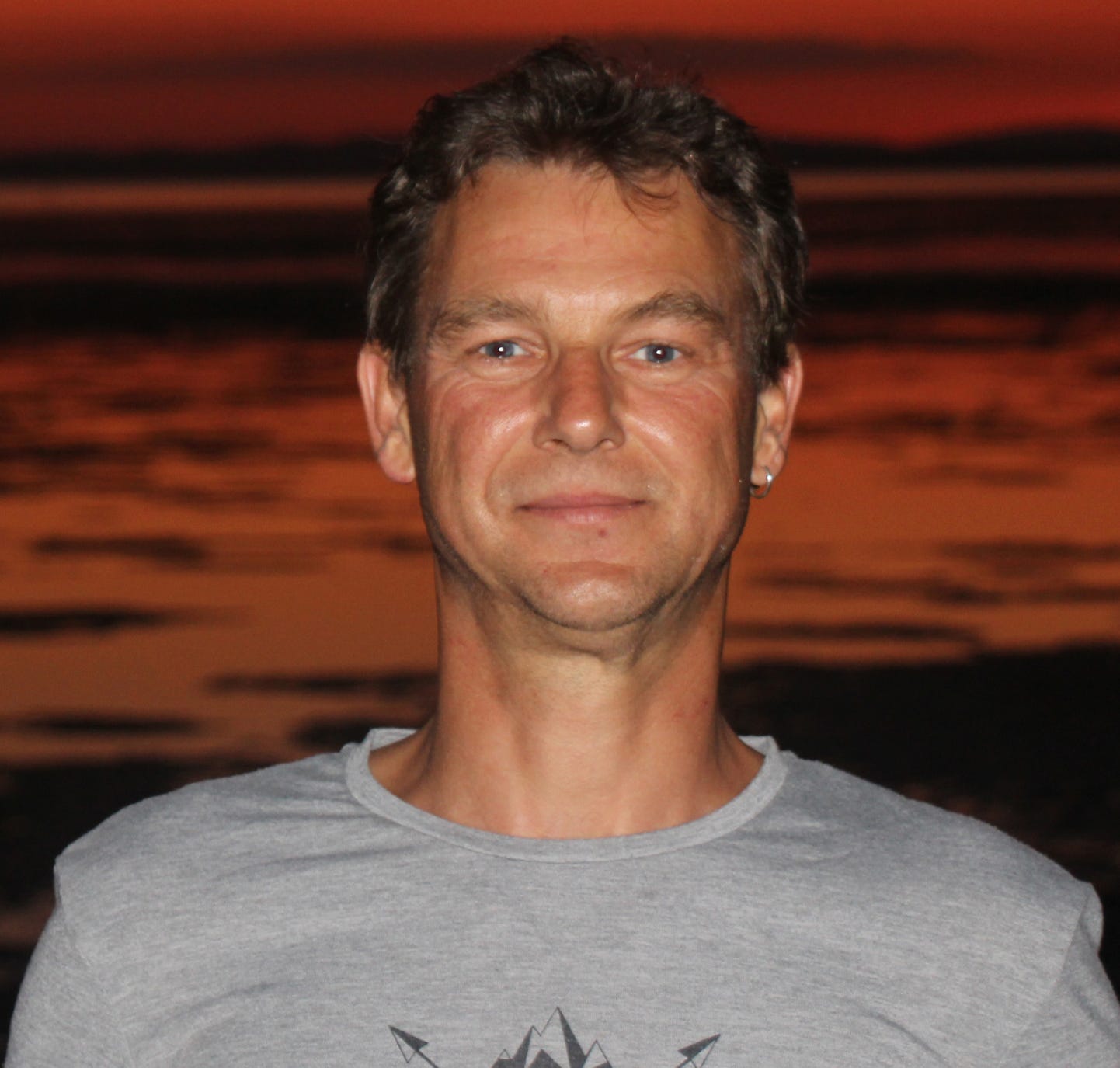 " The seat pad project is one of the most exciting, but also most complex projects I have had the opportunity to work on. "
Seat cushioning in science: the development process
The challenges at the external kick-off
Because we wanted to develop a new seat cushion concept from the ground up, we quickly discovered at the 2020 kick-off that this endeavor was likely to prove more complex than initially anticipated. That means we extended our schedule and decided to make big investments and purchase some technology for the studies: various camera systems, pressure measurement systems and a wide variety of bike fitting tools. And time resources should not be ignored either, because this kind of research as well as prototype development takes time as well as some people involved in the project.
Basis for a saddle-proof concept: conducting studies
in 2021, we gradually moved from theory to practice. First of all, it was important for us to build up a general understanding of how comfort is influenced by, for example, sitting position, gender or surface.
For the scientific cooperation, we got various universities on board with the help of the A4SEE (European Alliance for Sports Engineering Education). By the way, our test subjects were not professional athletes, but trained to well-trained cycling enthusiasts, because we really wanted to test the seat pads from the end customer's perspective.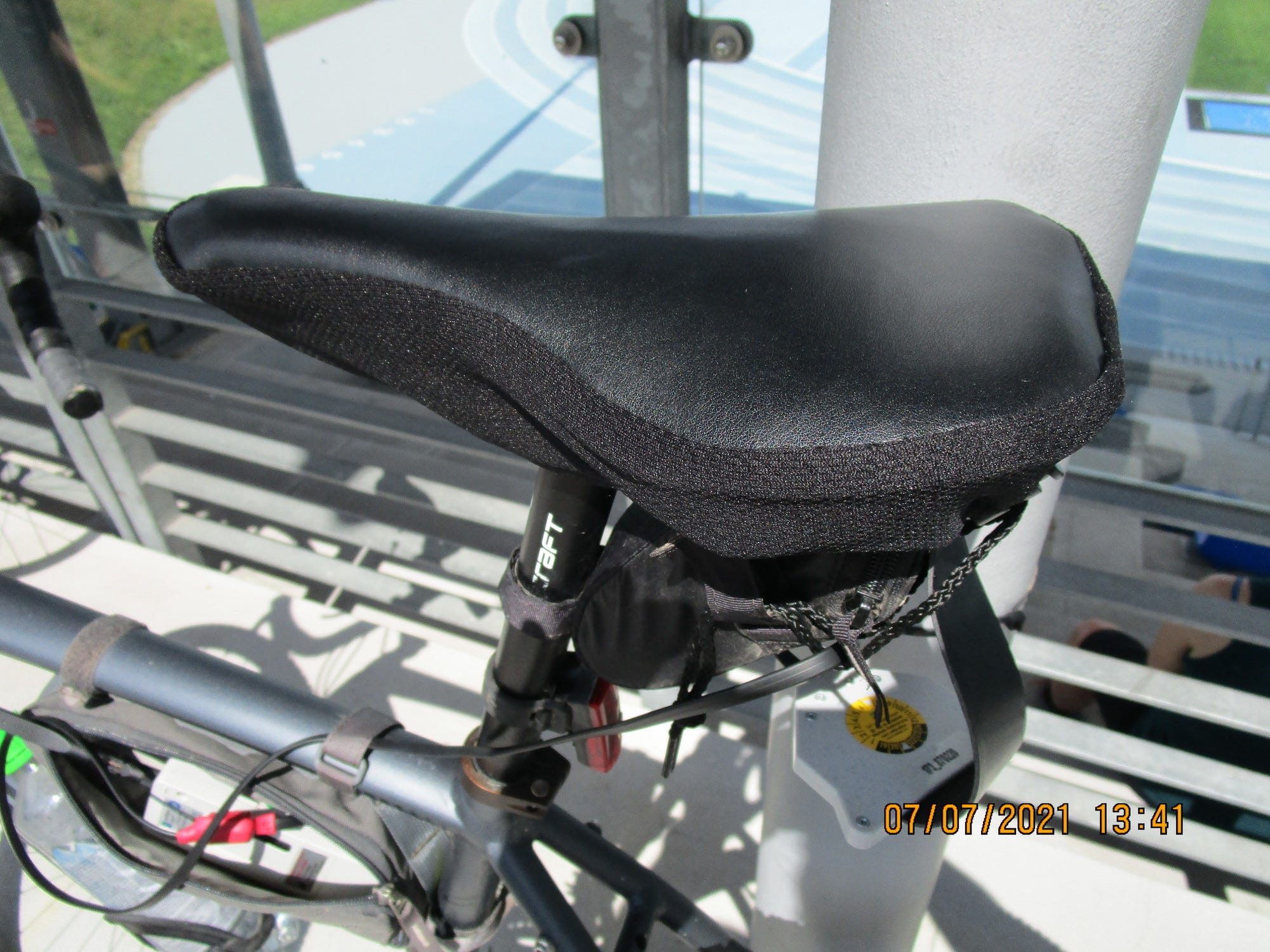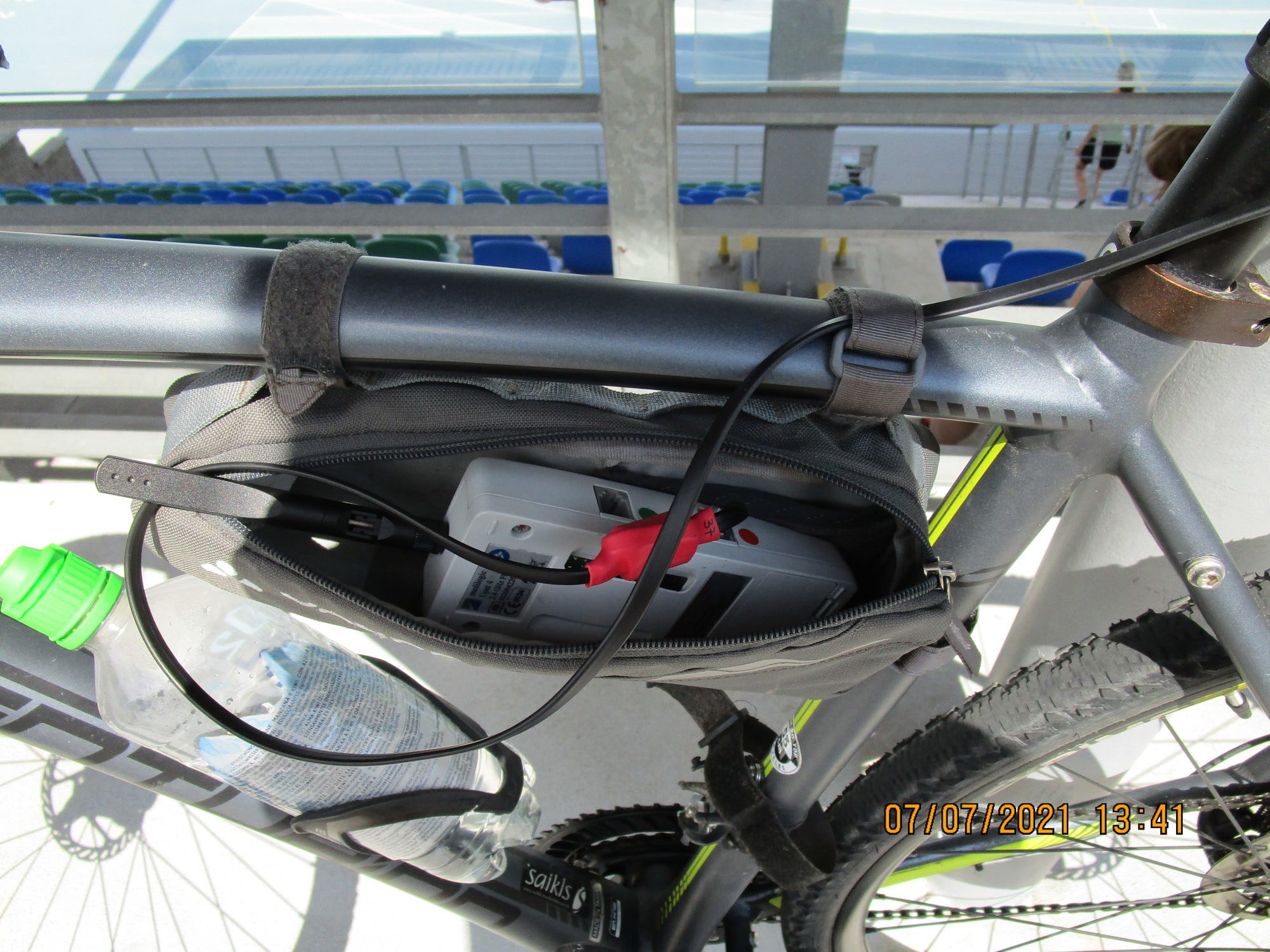 Case studies in Brno
In cooperation with the FH Technikum Wien and the Technical University of Brno we were able to work on our first research goal in many tests: Gathering knowledge and making a comparison of different seat pads. That means: Off on the bike for first measurements. In this really hot summer, we conducted indoor and outdoor tests there. Given the temperatures, a little breeze was very welcome when we were allowed to carry out tests outside - always well-wired - to explore the pressure between the seat cushion and the saddle.
In addition, with the help of the pressure distribution measurements, we were able to gain knowledge that the so-called zoning of the seat cushion makes sense. This means that a seat pad is divided into different zones and, for example, provides special padding for the perineal area. In addition, the measurements clearly showed that with a strongly inclined upper body, the pressure in the pubic bone area is particularly high.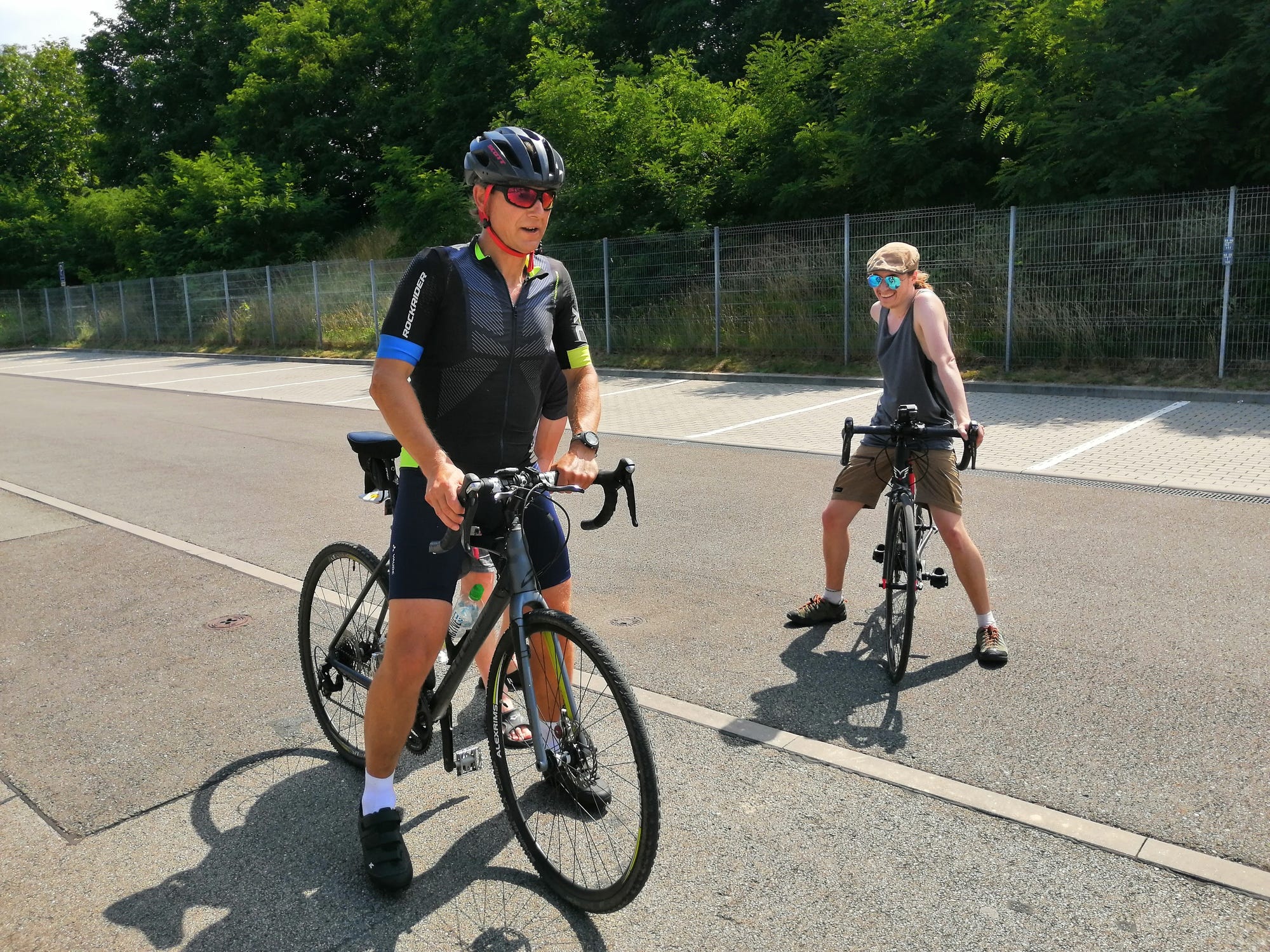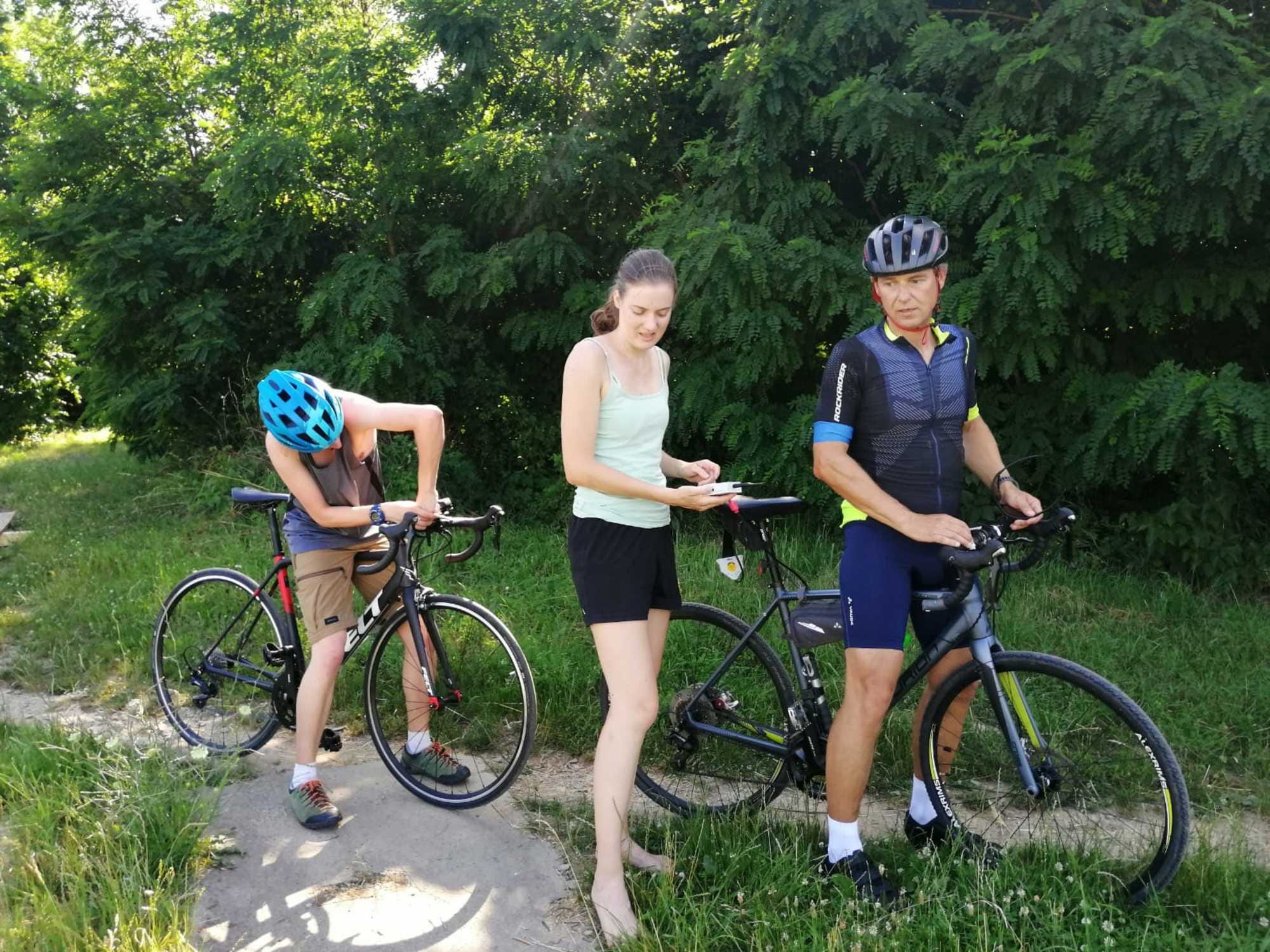 In Brno, by the way, not only cycling shorts played an important role in the topic of clothing. For VAUDE innovation manager Frank, the trip to Brno was particularly memorable because all his clothes were stolen from his car. He was then allowed to master a whole week in bathing slippers (see team picture at the end of the article).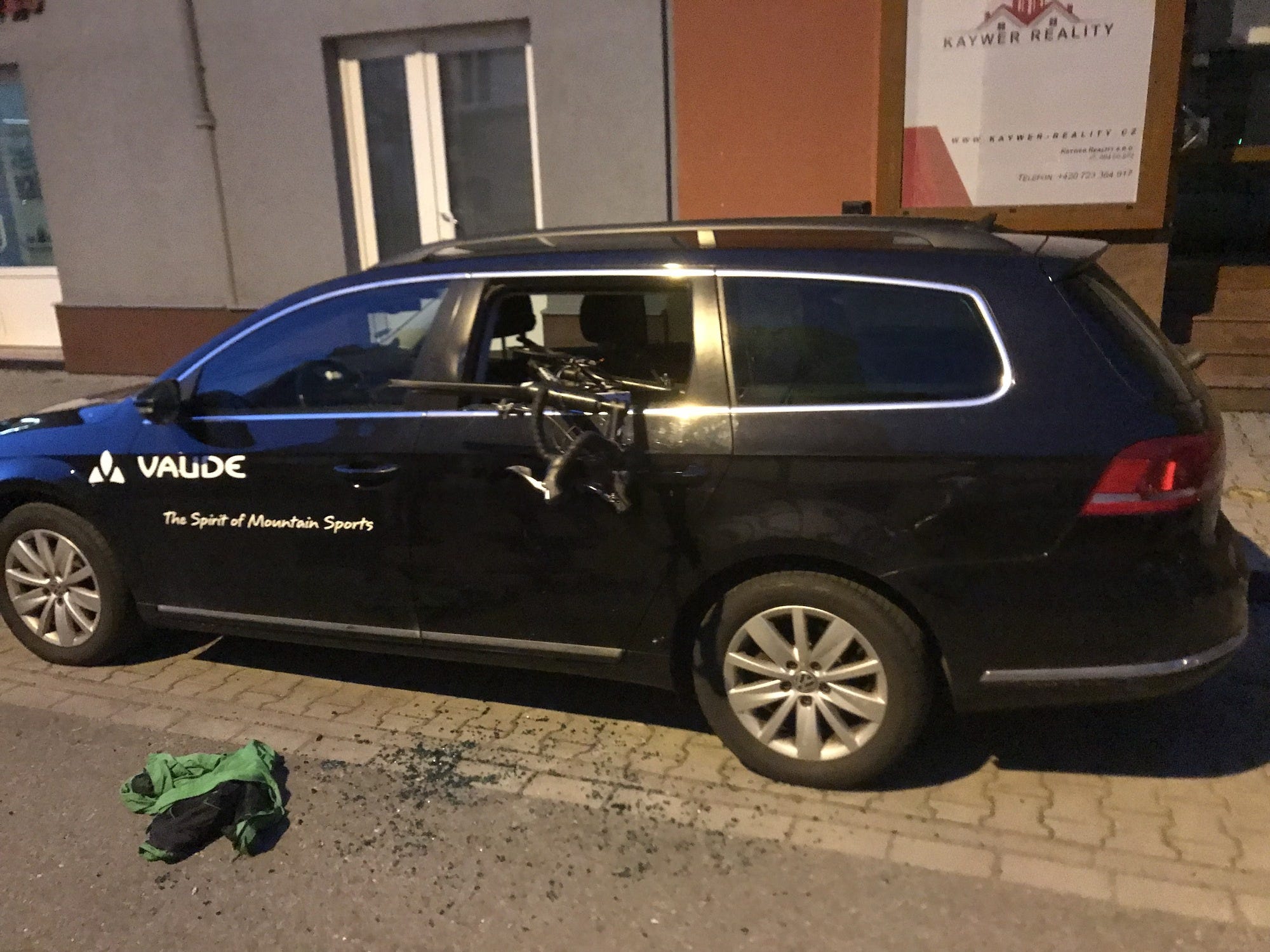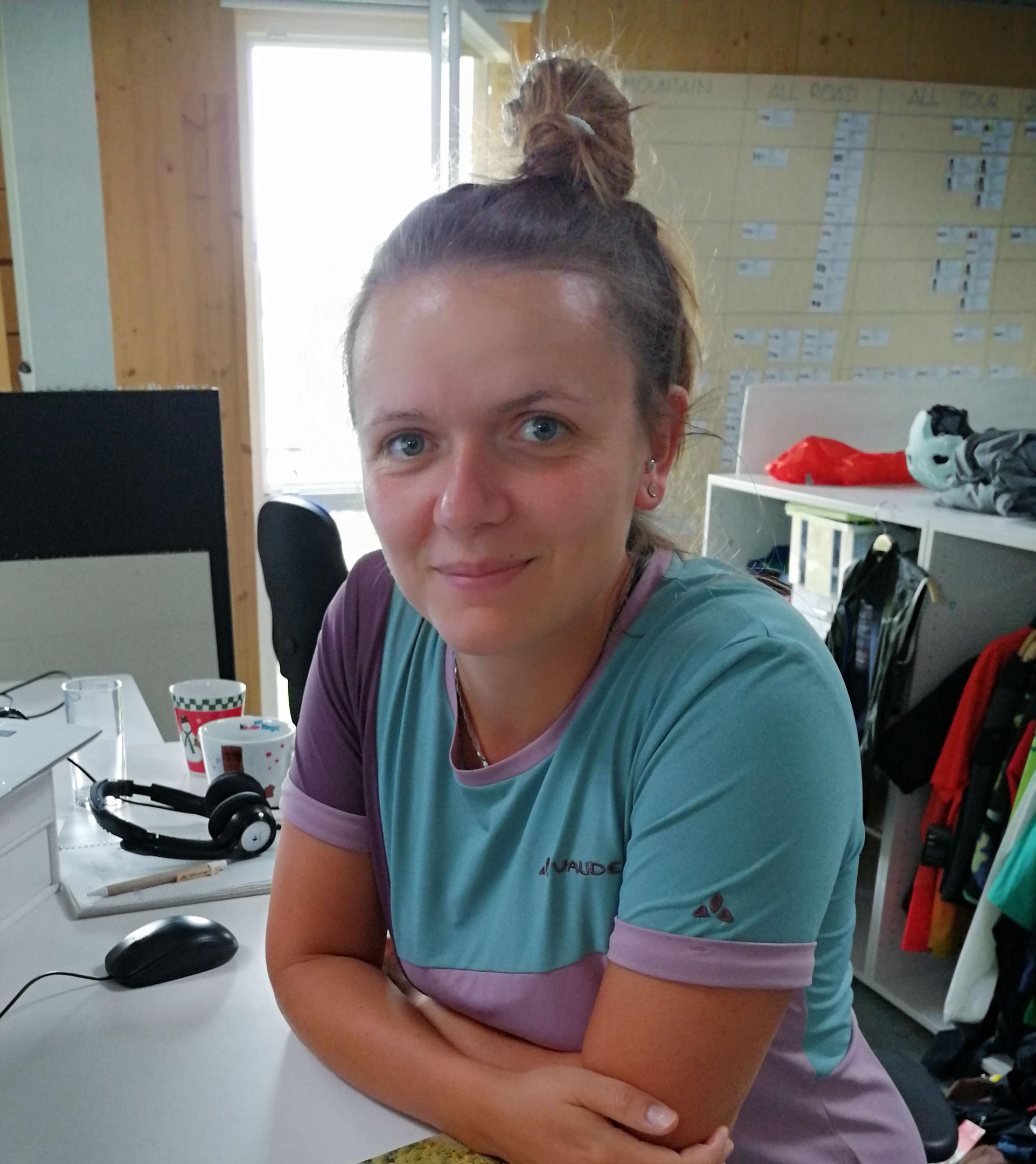 " Thanks to the long-term and detailed nature of the project, it was possible to develop optimal products at the highest quality level - that was my personal highlight. "
Material- and shape study
In 2021, as part of a pilot study, we investigated the influence of different saddle and seat pad designs as well as seat positions by means of pressure distribution as well as subjective perception by the test subjects. We also conducted material tests and seat cushion measurements. This means for our VAUDE seat pads as well as for the competitors' pads: Off to the press. They are pressed, squeezed and loaded to measure under scientific conditions how stiff the material is and how much it can be deformed. We also measured all the benchmark seat pads to find the optimum fit: How long and wide are the pads under investigation and what shape do they have?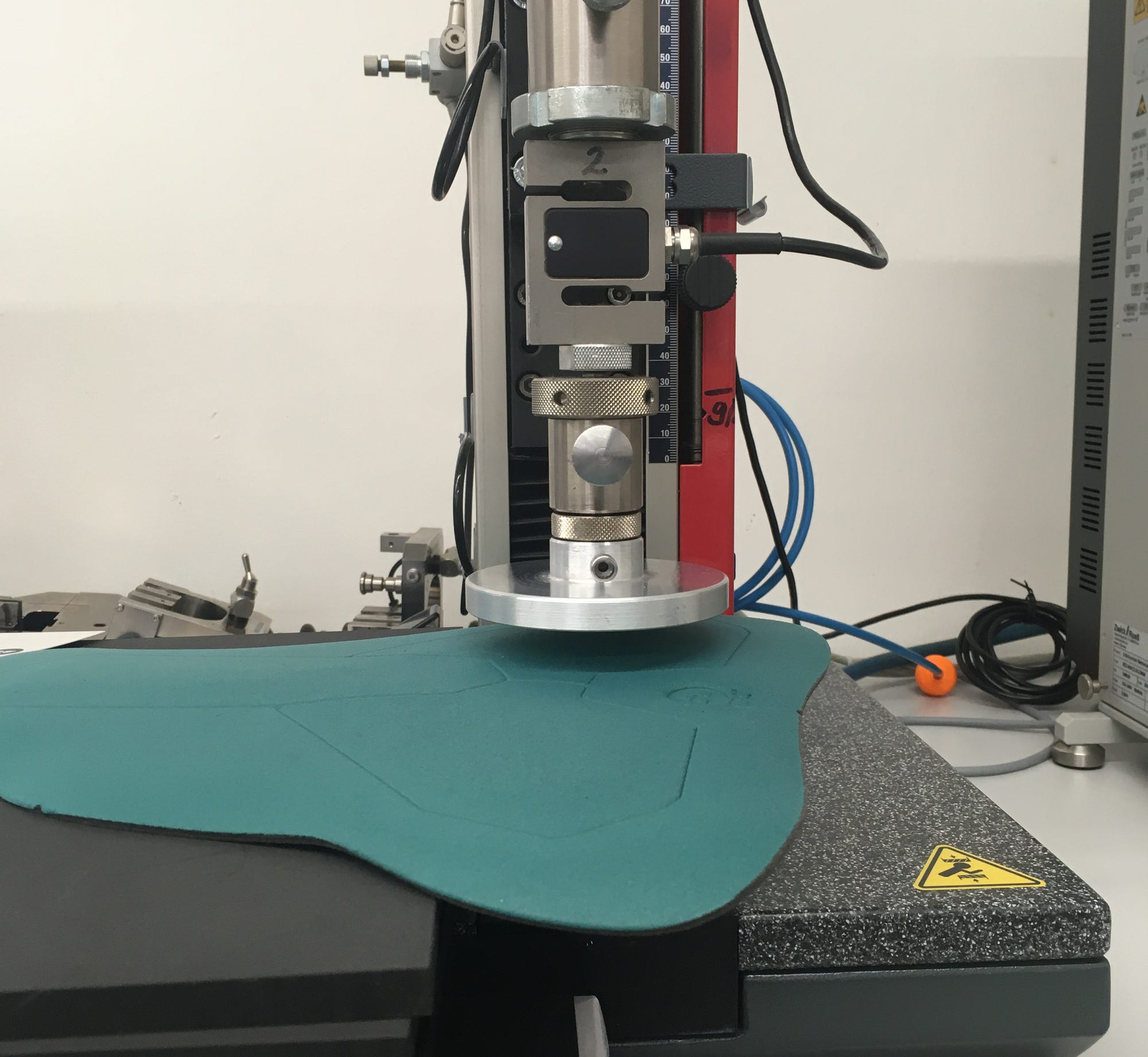 Seat Pad Study 1
The first empirical VAUDE seat pad study was carried out in 2022 by Johanna Freunek at the University of Applied Sciences Technikum Wien as part of her master's thesis carried out. She extensively analyzed and evaluated the seat cushions to record how they differ by their construction as well as material composition. In this initial study, Johanna researched the effects that different seating positions and gender-specific anatomical differences have on saddle pressure. In plain language, this means that the test subjects have to sit and pedal diligently. Johanna found that a significantly higher pressure load was detectable in a sporty sitting position, as well as significantly higher pressures in men than in women. Initial suspicions were confirmed: Sitting position and thus cycling activity play a key role here. Again and again, we compared different seat cushion prototypes, which we subsequently developed further.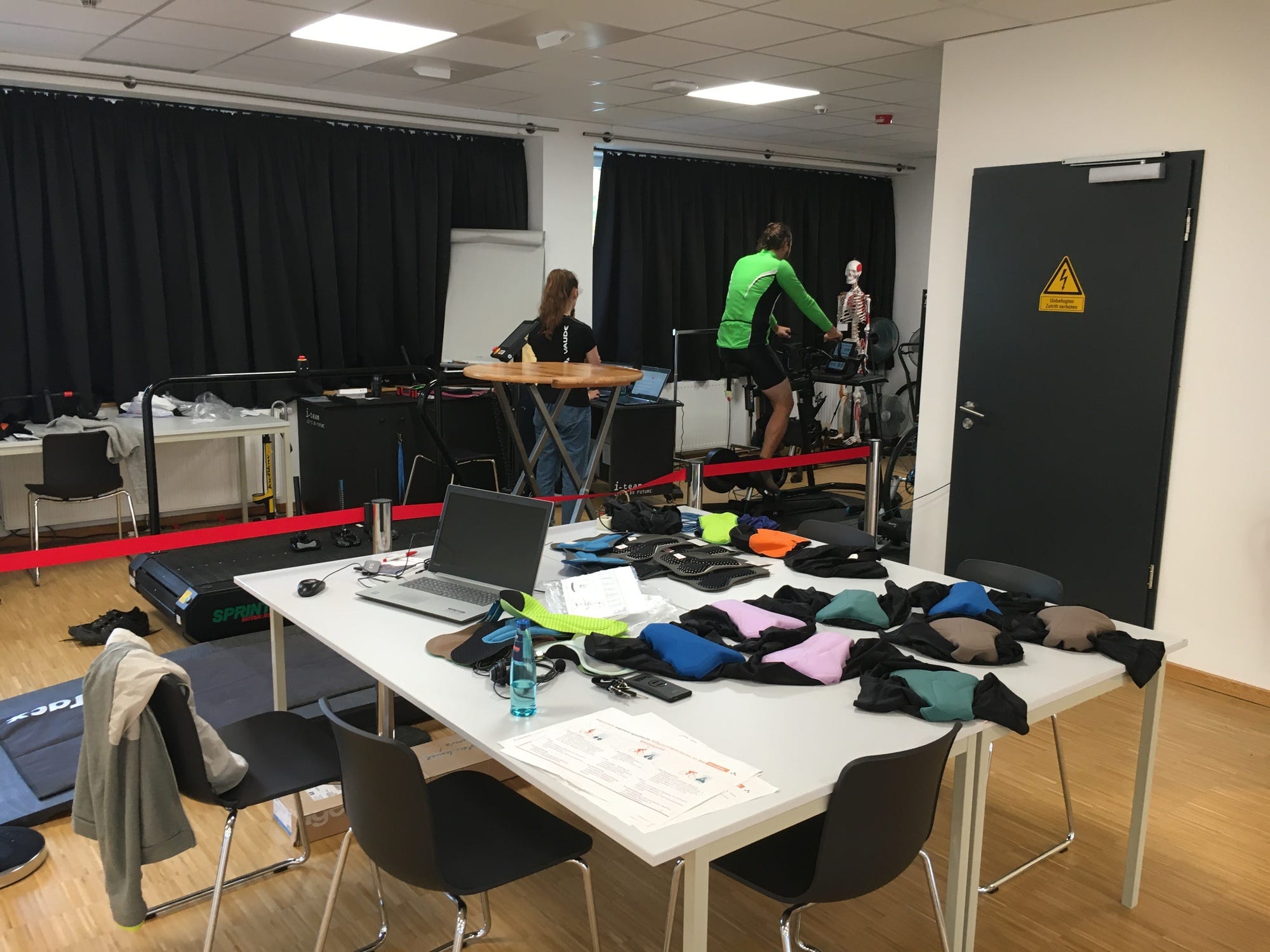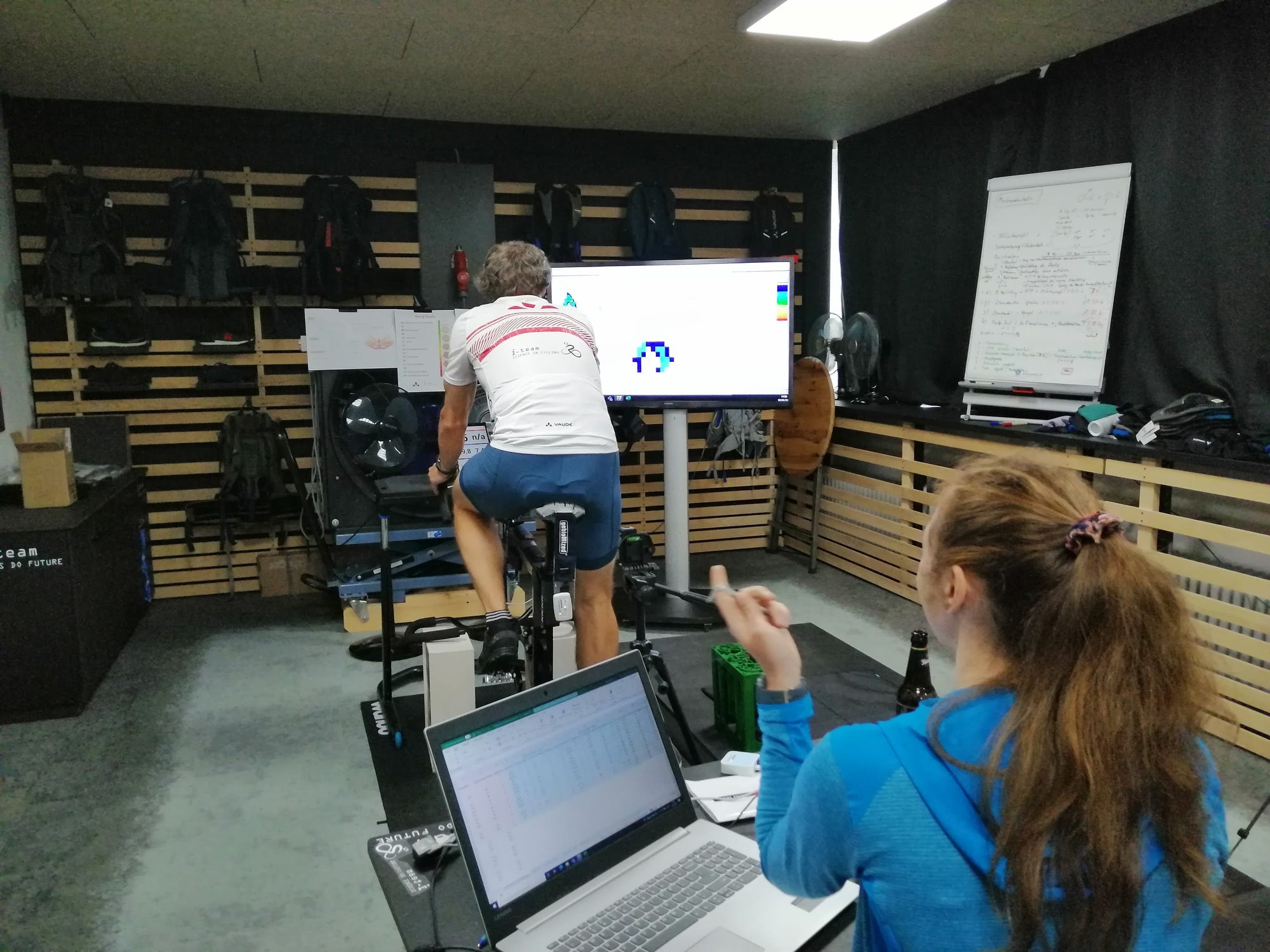 Seat cushion study 2
in 2022, another seat pad study took place at VAUDE. The master's thesis by Sophie Richter at Chemnitz University of Technology was also about the analysis and evaluation of seat cushions, this time focusing on the construction, segmentation and materialization of the cushions. Or to put it less scientifically: how are the various seat pads constructed, how many layers, which zones, which materials are used and how does this affect saddle pressure on the one hand and pelvic movement or stability on the other. Again, the effect of the different sitting positions and the anatomical differences in men and women were examined. One not-so-scientific finding: after sitting and pedaling for so long for research, you have to reward yourself with an isotonic drink once in a while. In addition, the first favorites in materials emerged and it became clear that a zoned seat pad gives more stability in the saddle.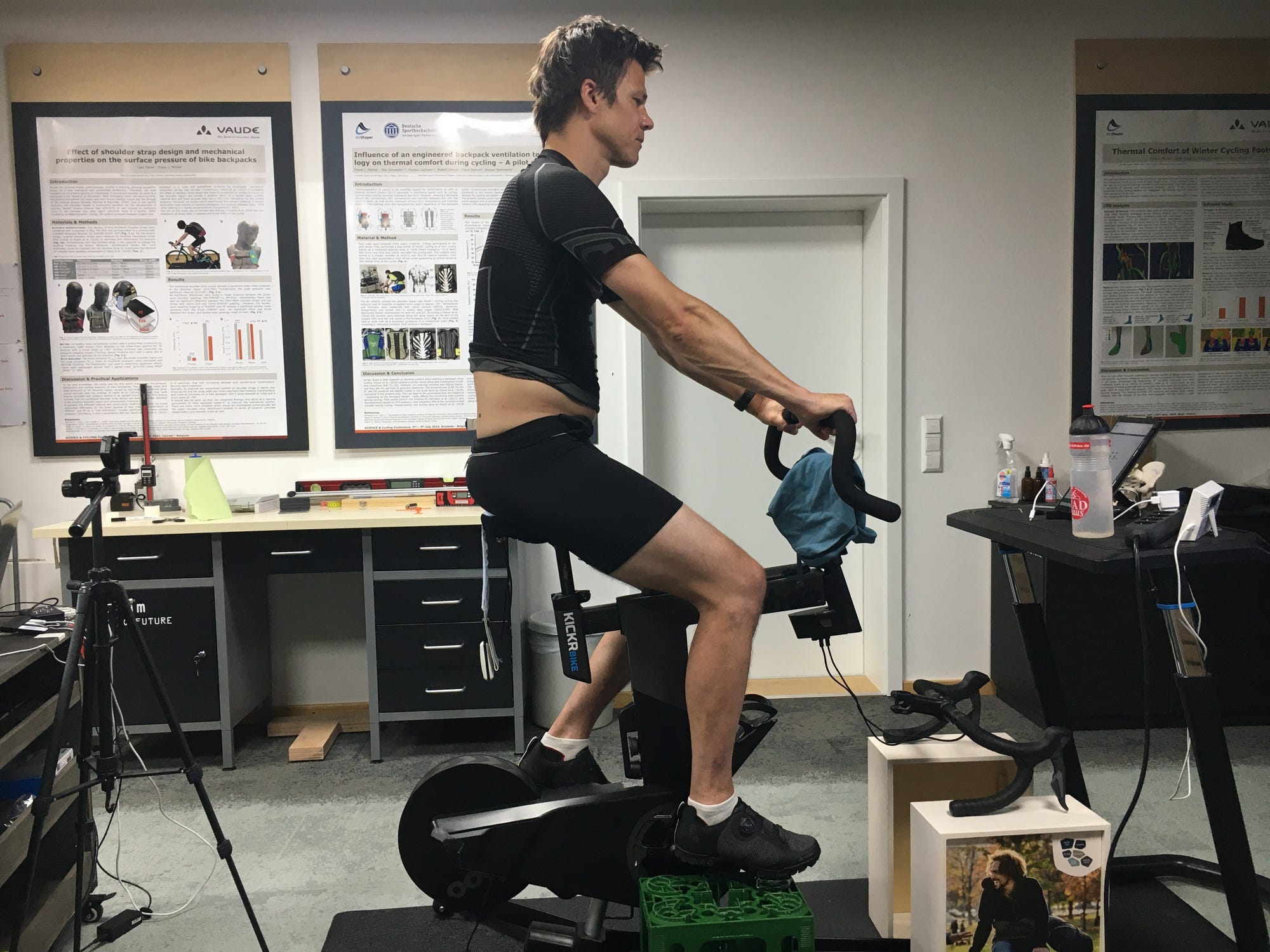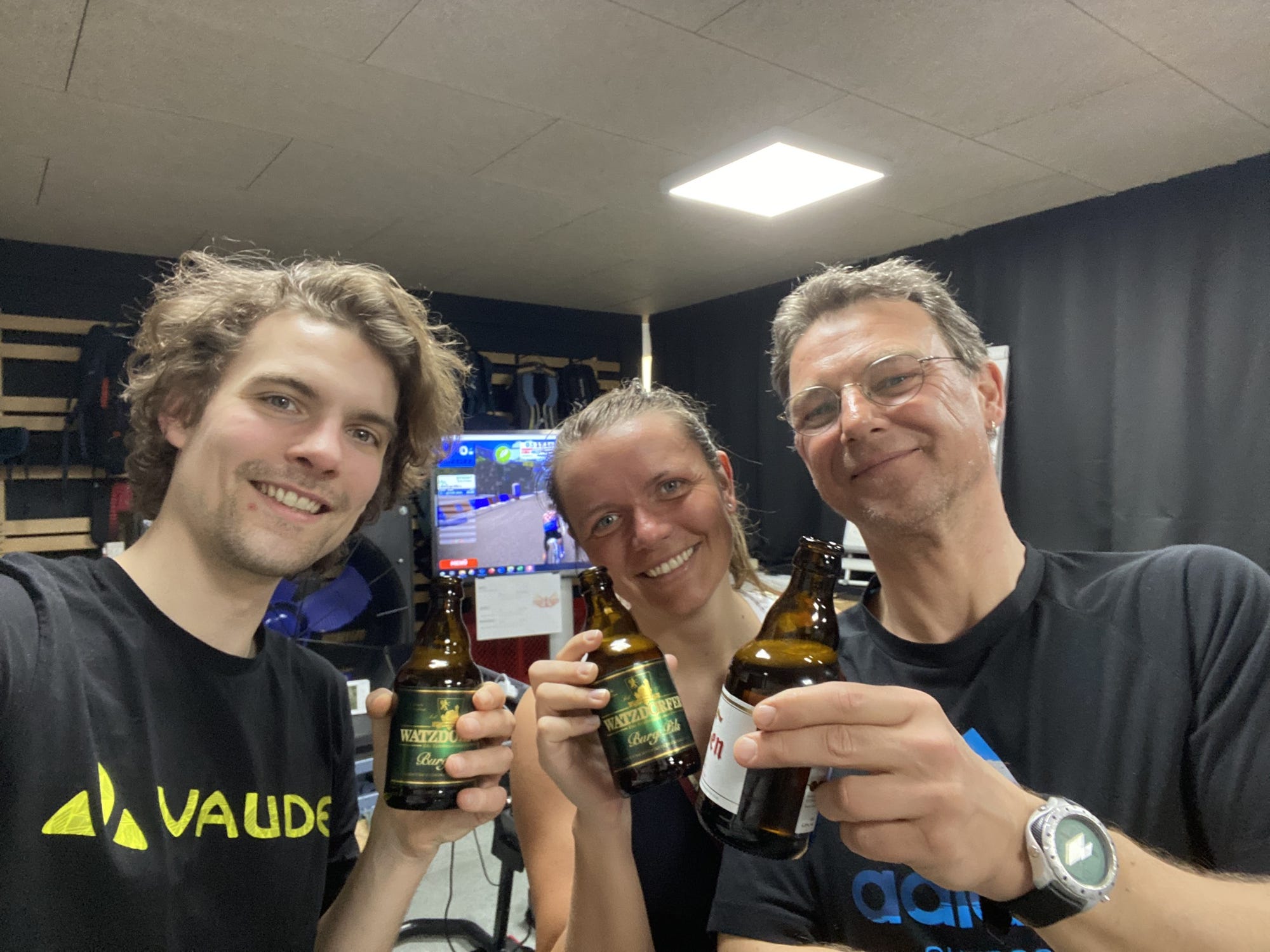 Case studies in Sheffield
In the summer of 2022, the next tests took place at the Hallam University in Sheffield. We conducted case studies there to build a general understanding of the thermal comfort of different seat cushions under varying conditions. With the help of temperature and humidity sensors and infrared cameras, we were able to produce not only ulky images, but also scientific insights into heat distribution and moisture formation in different seat cushions. The images taken by the thermal imaging camera show that a seat pad makes heat exchange more difficult and that, in addition, both temperature and moisture increase due to permanent saddle contact.
Seat cushion study 3
As part of Ingvar Vollprecht's master's thesis at Otto von Guericke University Magdeburg, the third seat pad study took place at VAUDE. The prototypes were evaluated and again the different seat positions and gender differences were compared. Here, a kinematic analysis of the pedaling movement was carried out, which means that the knee, pelvis as well as ankle joint movement during pedaling were measured. In addition, Ingvar is researching the influence of load intensity and load duration on seat comfort in order to derive conclusions for the further optimization of seat cushions. The results are still pending.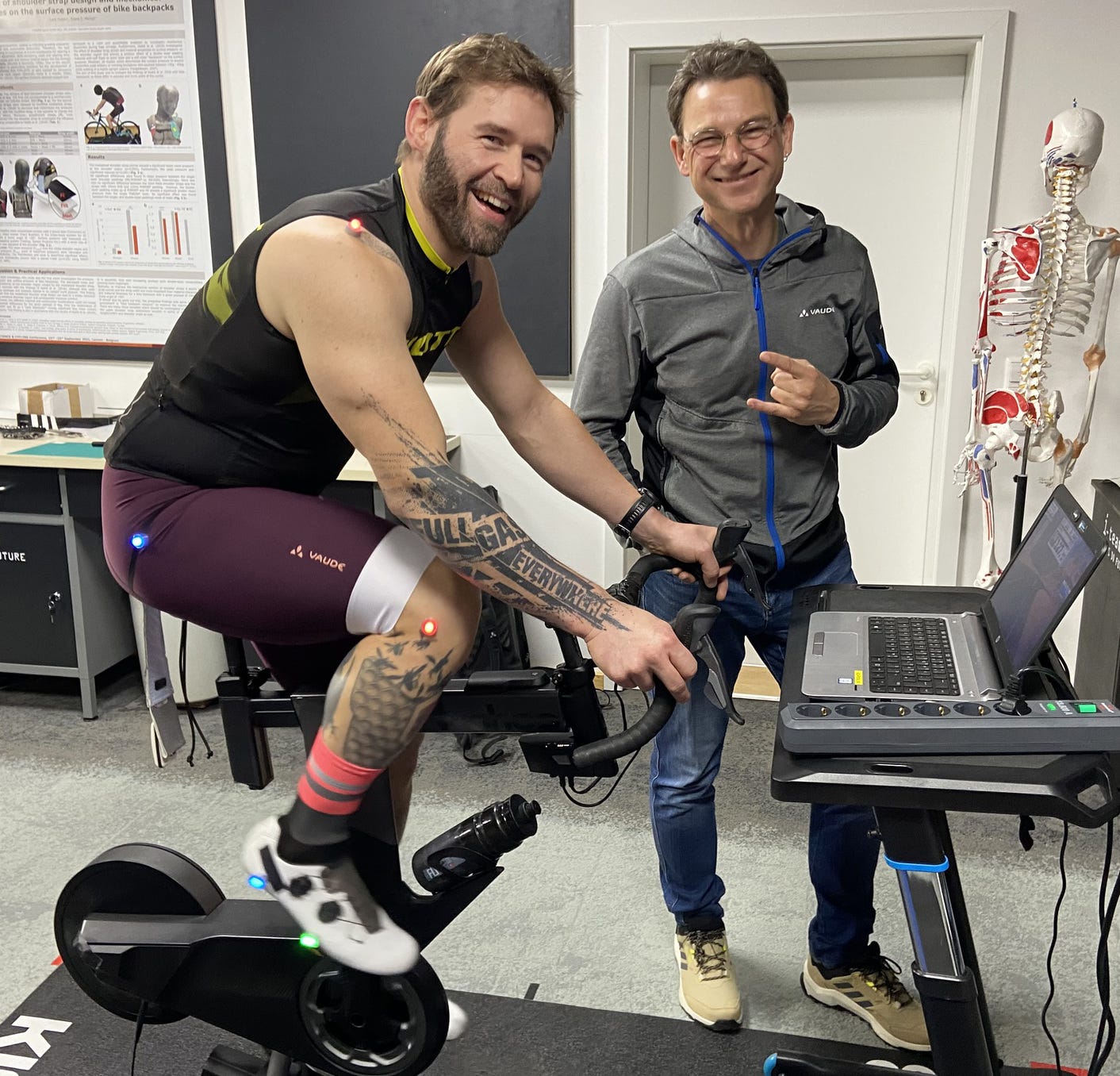 The result: Three different seat cushions for different requirements
The seat pads developed are based on the studies and are therefore ideally suited to the various VAUDE cycling activities. All seat pads contain recycled materials, as befits VAUDE.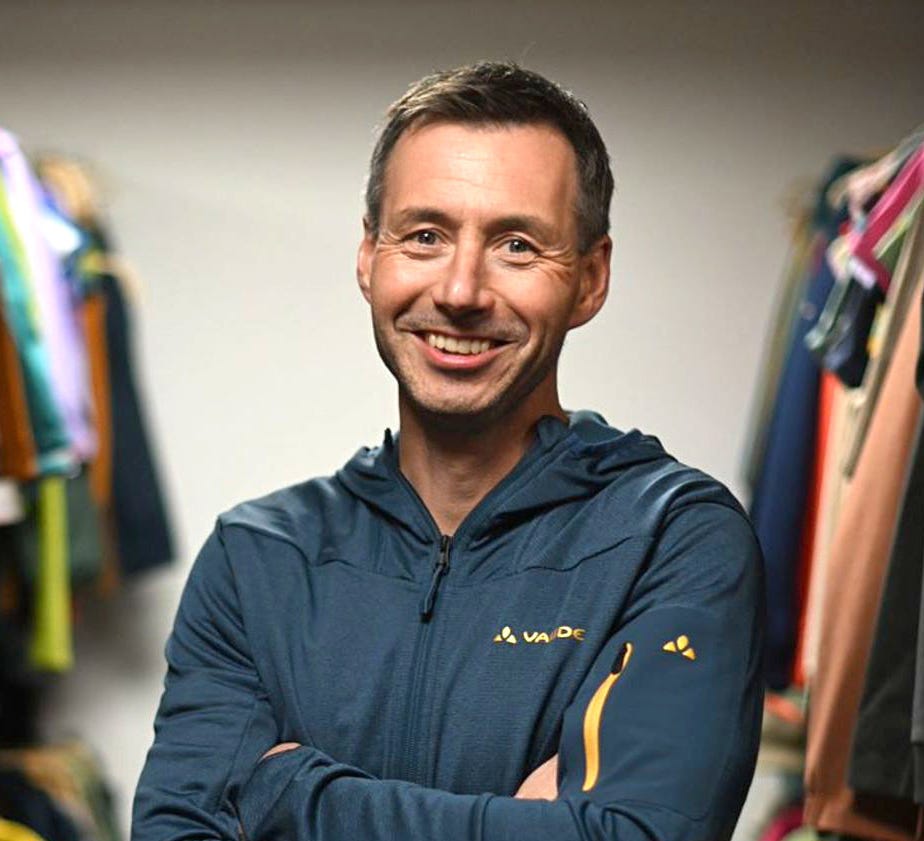 " As a cycling enthusiast in different disciplines and product maniac, I am very happy about the really successful well-founded and noticeable concept! "
T-Pad: all-terrain trail & travel tours
The T-Pad includes everything needed for Trail and Travel – over any terrain – whether you're headed out on a trail tour, a relaxed day tour or a multiday tour. The strength of this T-Pad and its 2-layer construction lies primarily in the freedom of movement afforded for more upright riding positions.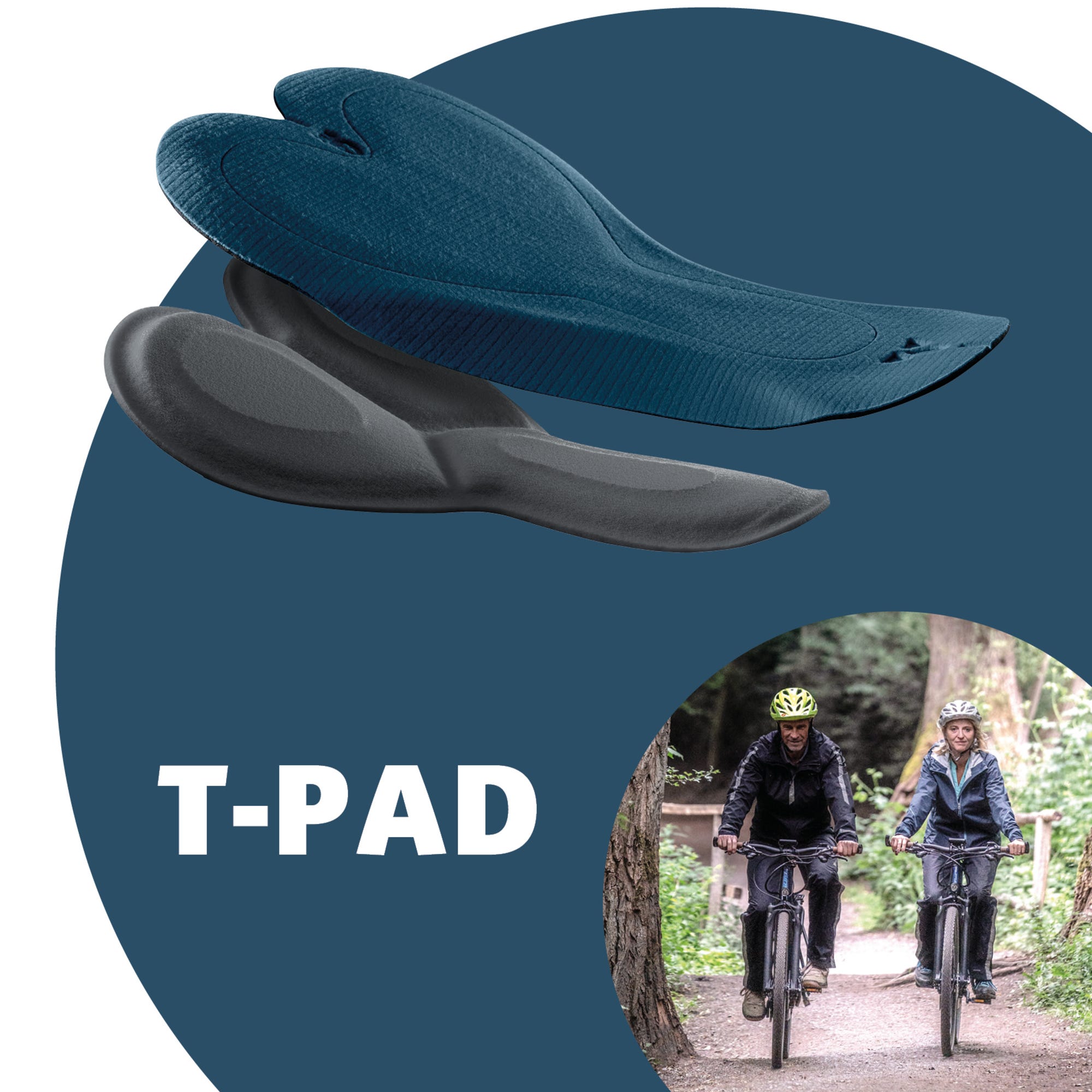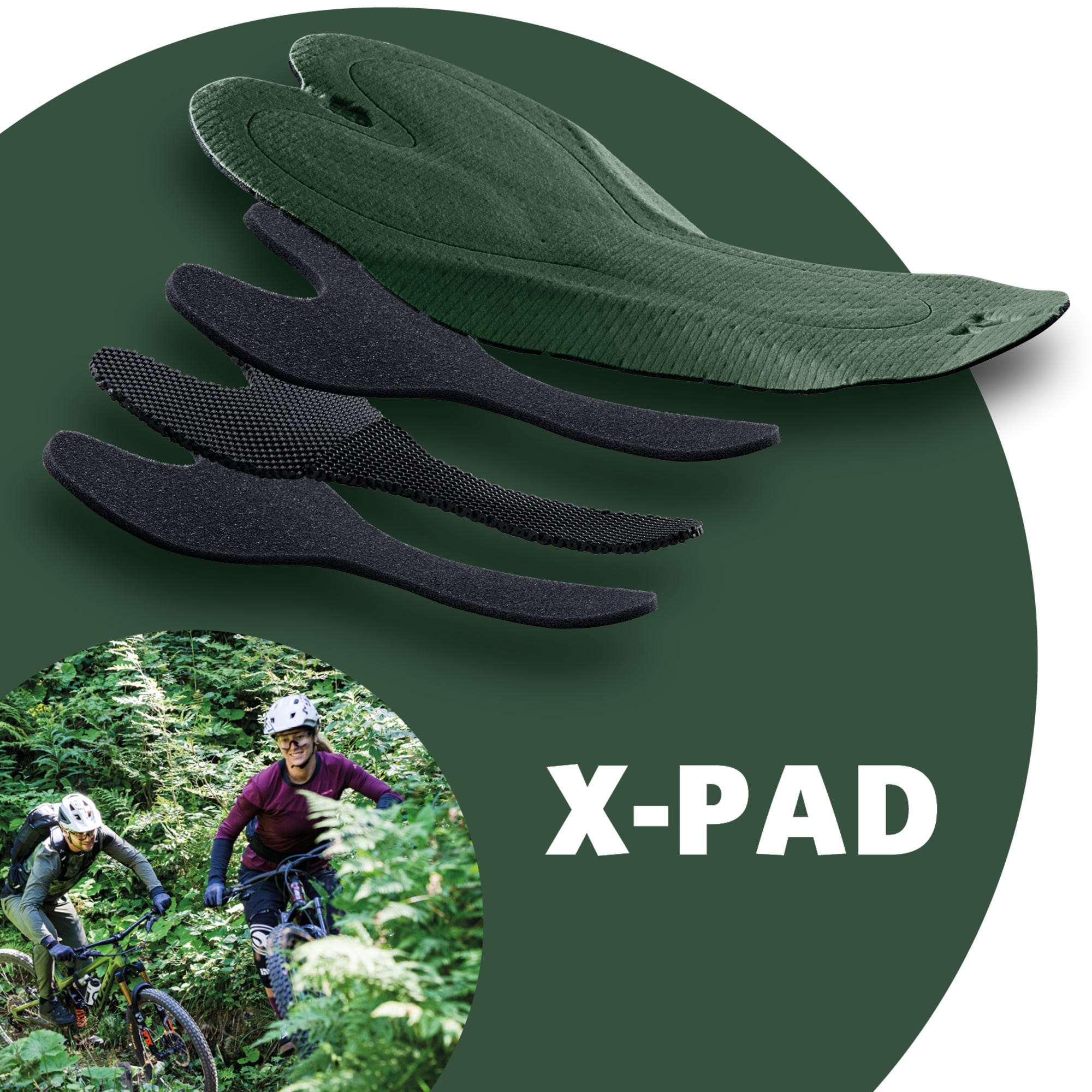 X-Pad: sporty cross rides
The X-Pad is perfect for the aggressive riding position needed for mountain biking or gravel riding. In addition, the 4-layer construction with its 3D grid structure offers excellent shock absorption for off-road terrain. For even more comfort, the X-Pad is finely perforated for excellent breathability.
R-Pad: sporty road rides
When you're headed out for a road ride, we recommend the R-Pad. Due to its high-density 3-layer construction, it provides shock absorption for aggressive riding positions for a stable riding experience on long trips or travel. For even more comfort, the R-Pad is finely perforated which makes it very breathable.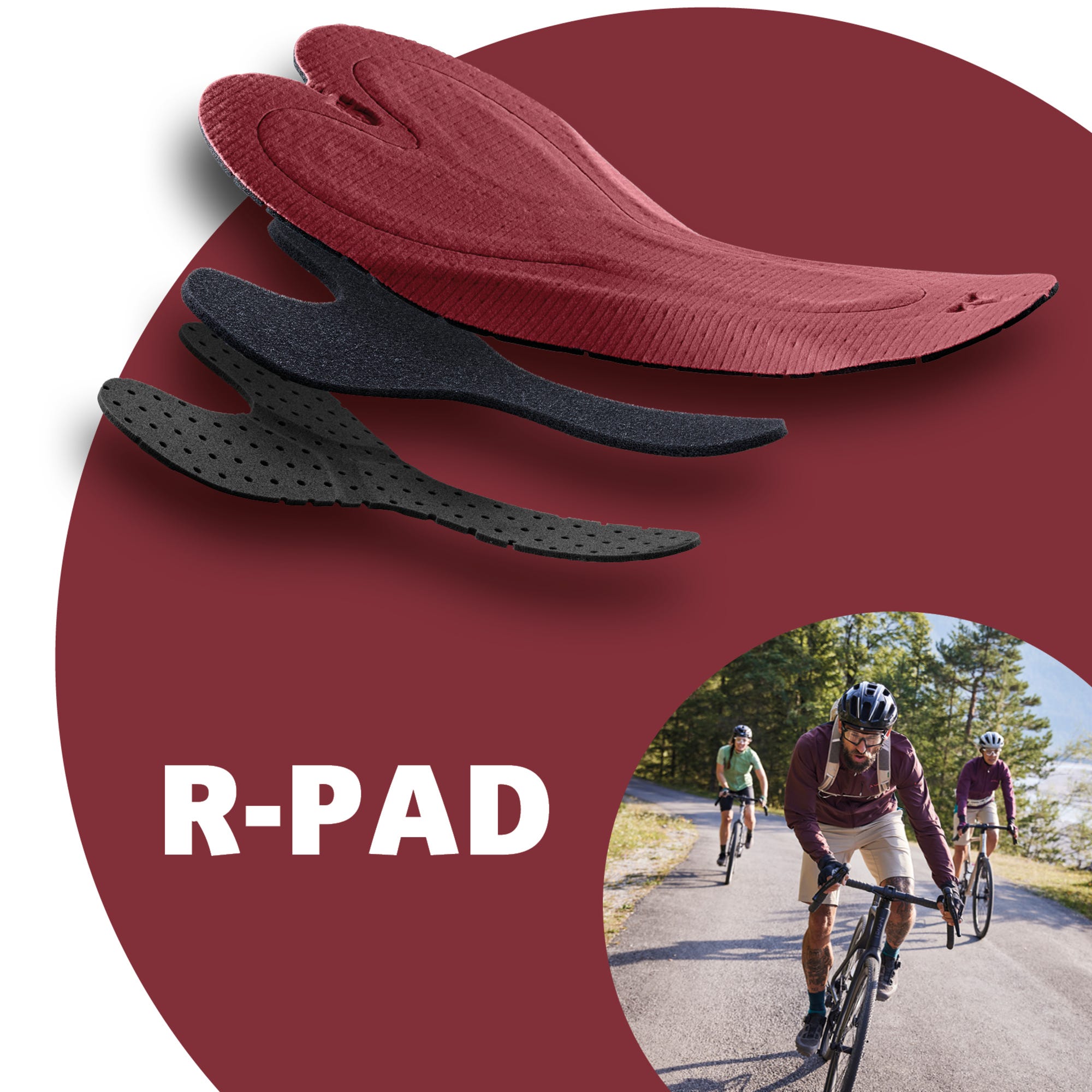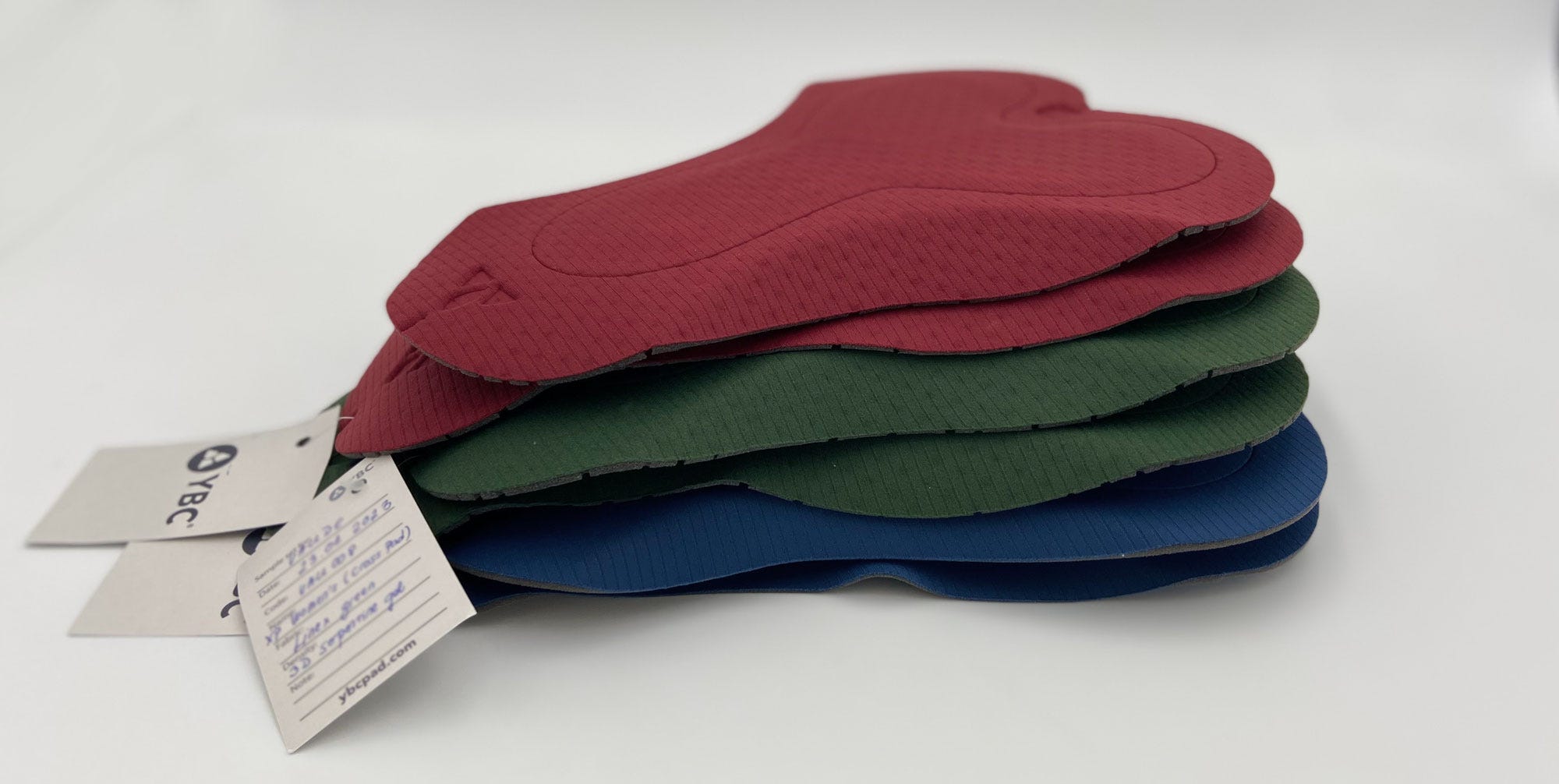 Our conclusion on the seat pad project
Based on the findings of the various studies, the seat pads developed are therefore ideally suited to the different VAUDE cycling activities as well as the different needs of women and men. All seat pads contain recycled materials, as befits VAUDE.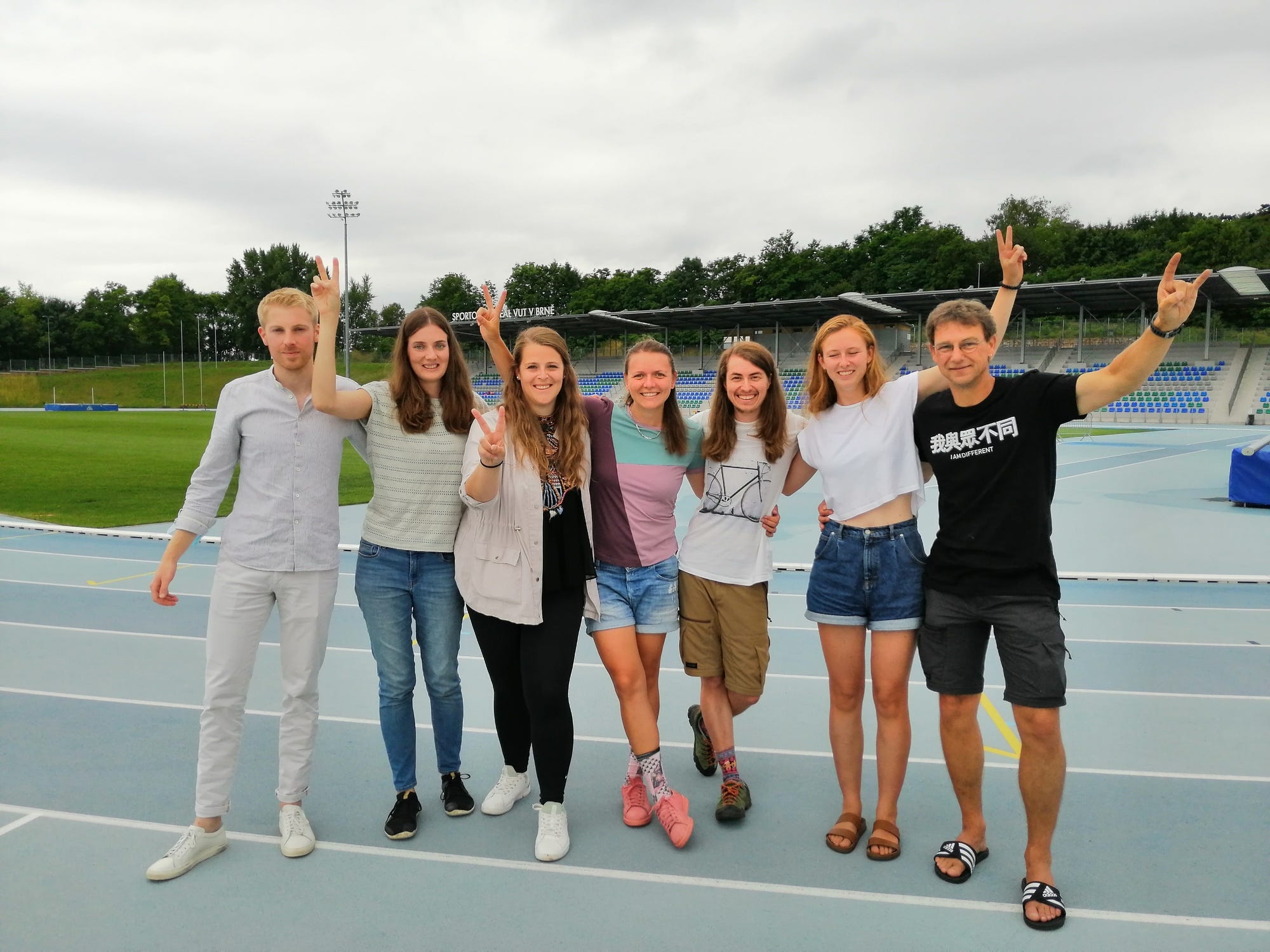 Many thanks to our partners: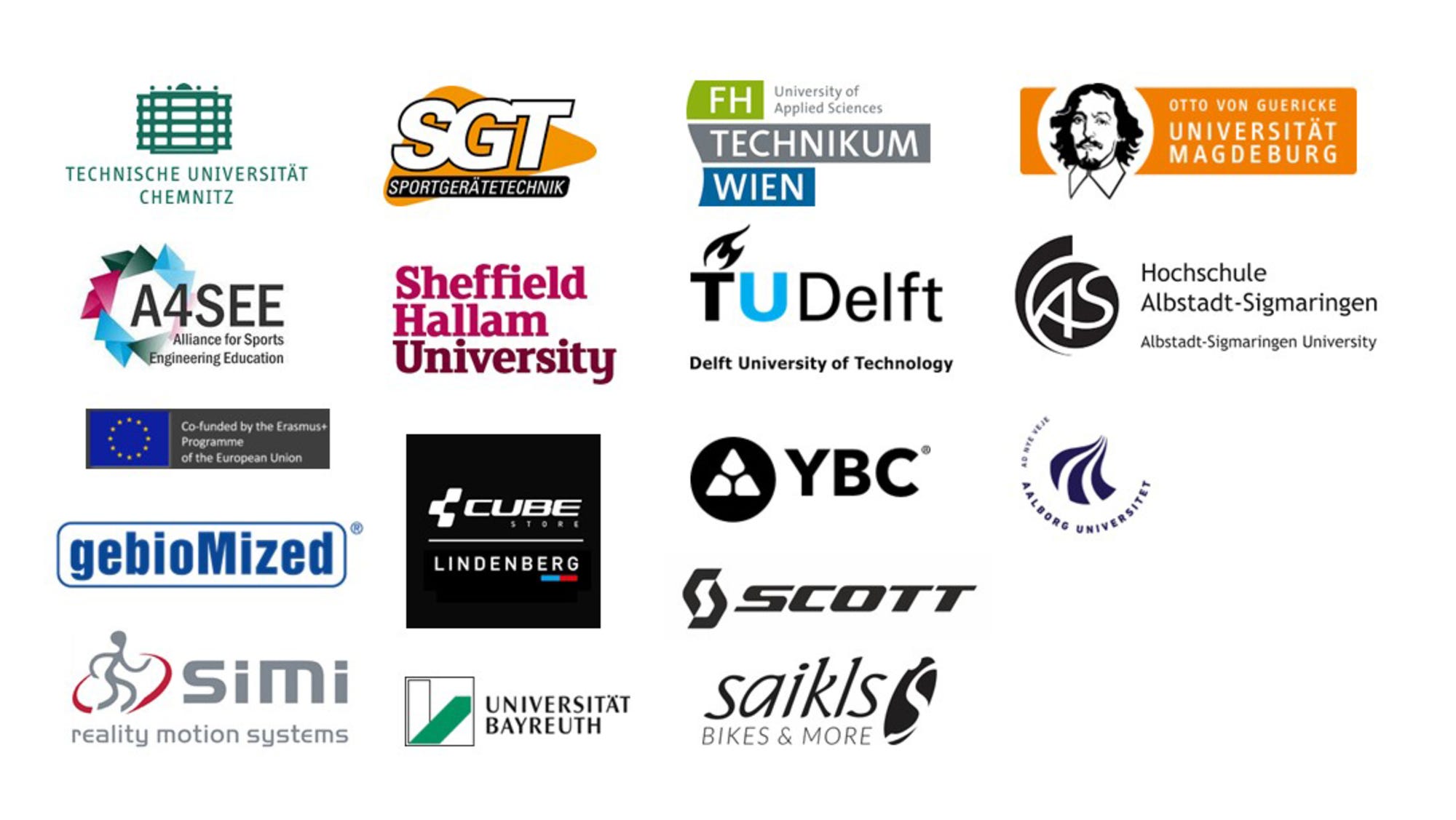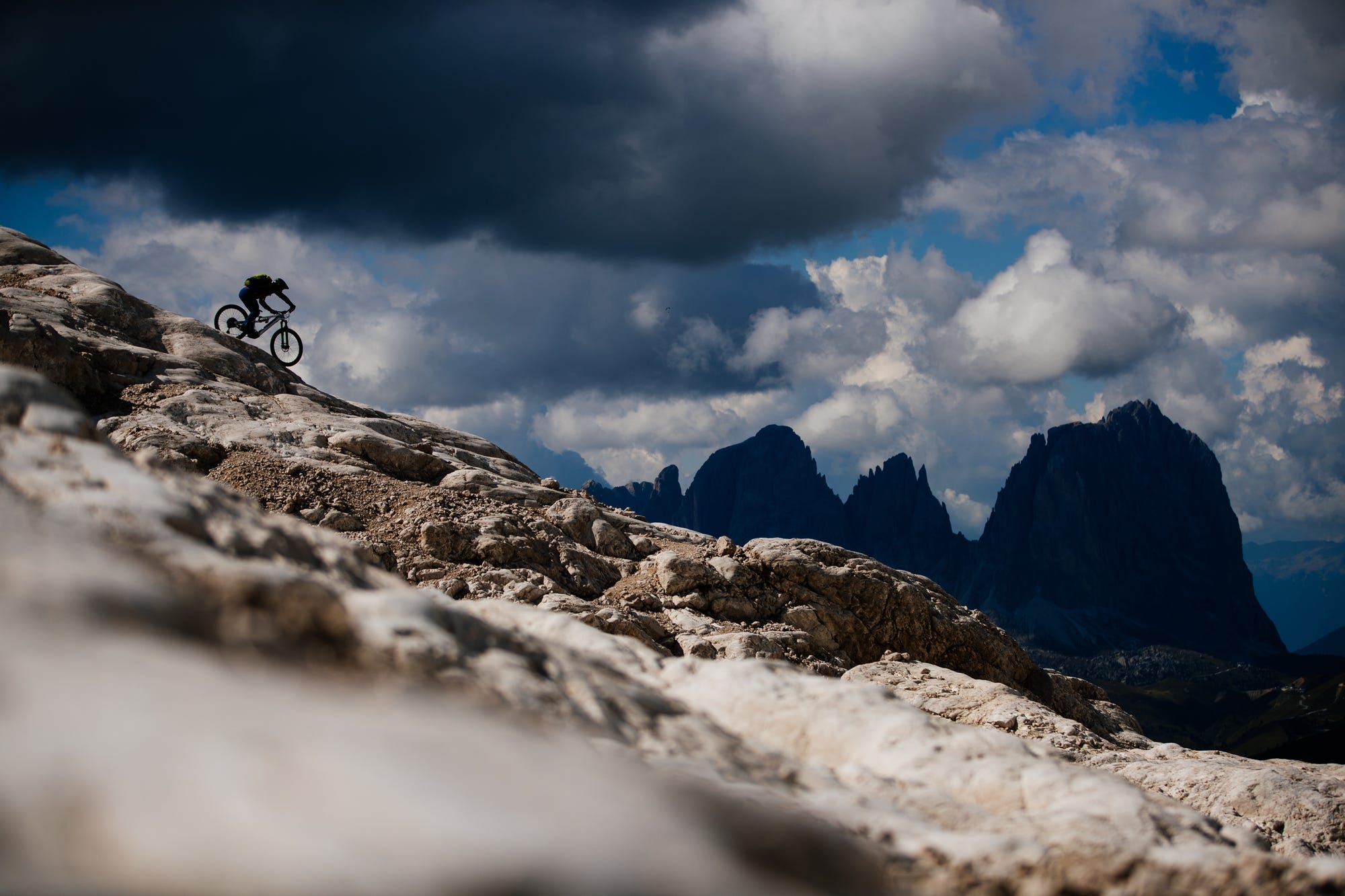 Here you can add products:
Ski Touring Camp
Don't miss anything more!
Great experiences in the mountains