Part 2: Preparation, weather, via ferrata with children
For many people via ferratas are the link between sporty mountain hiking and alpine mountaineering and allow unique summit experiences that are not accessible for hikers. In part two of our mini-series, we give tips on planning, preparation, tour selection, weather and much more!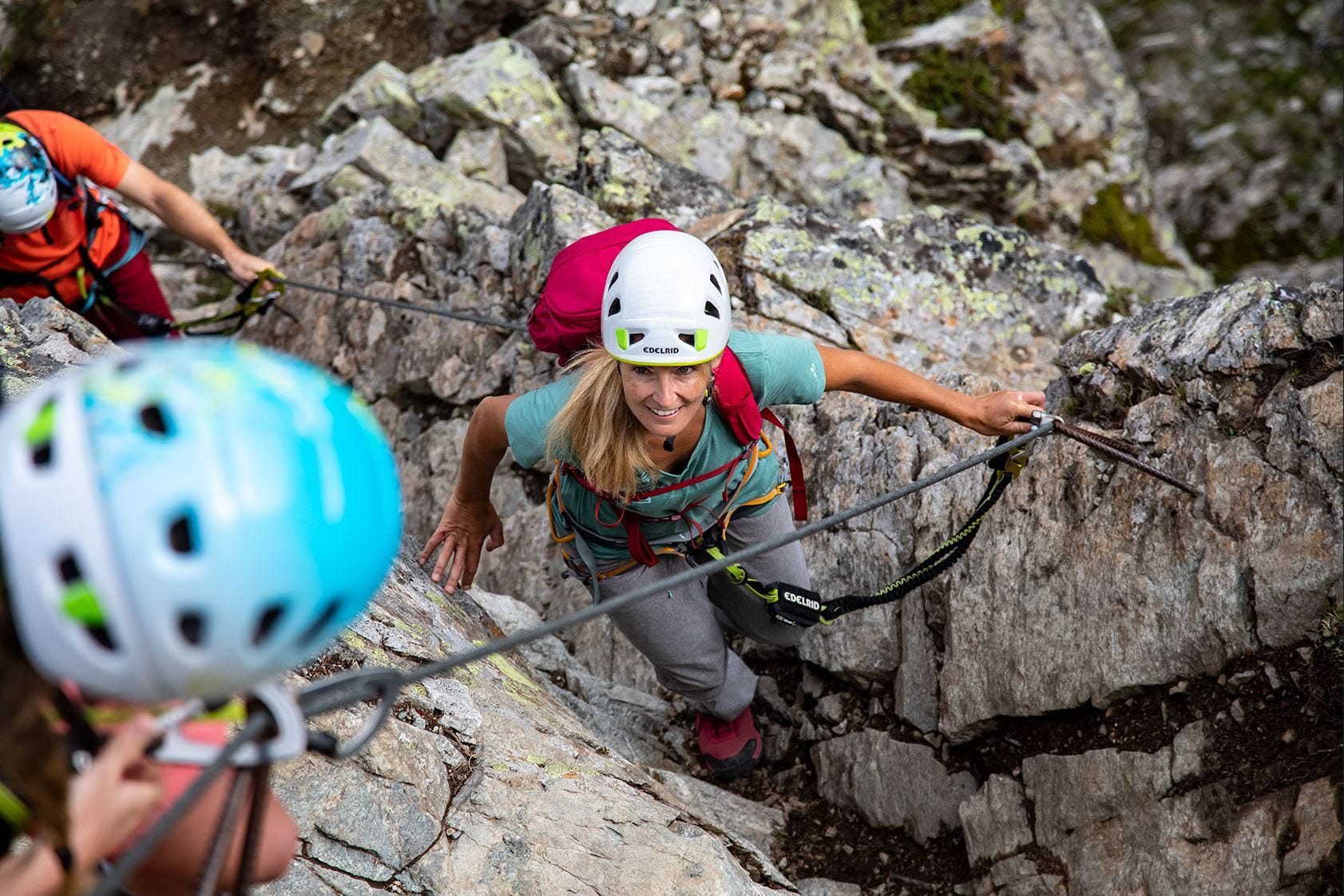 Preparation, planning and know-how
As is so often the case on the mountain, the rule is: start simple and increase slowly. Because a magic of via ferrata walking is at the same time a challenge. You are outside. In the great, wild mountains. So you have to focus not only on the technical difficulty of the route, but also on things like weather, technique, or psyche.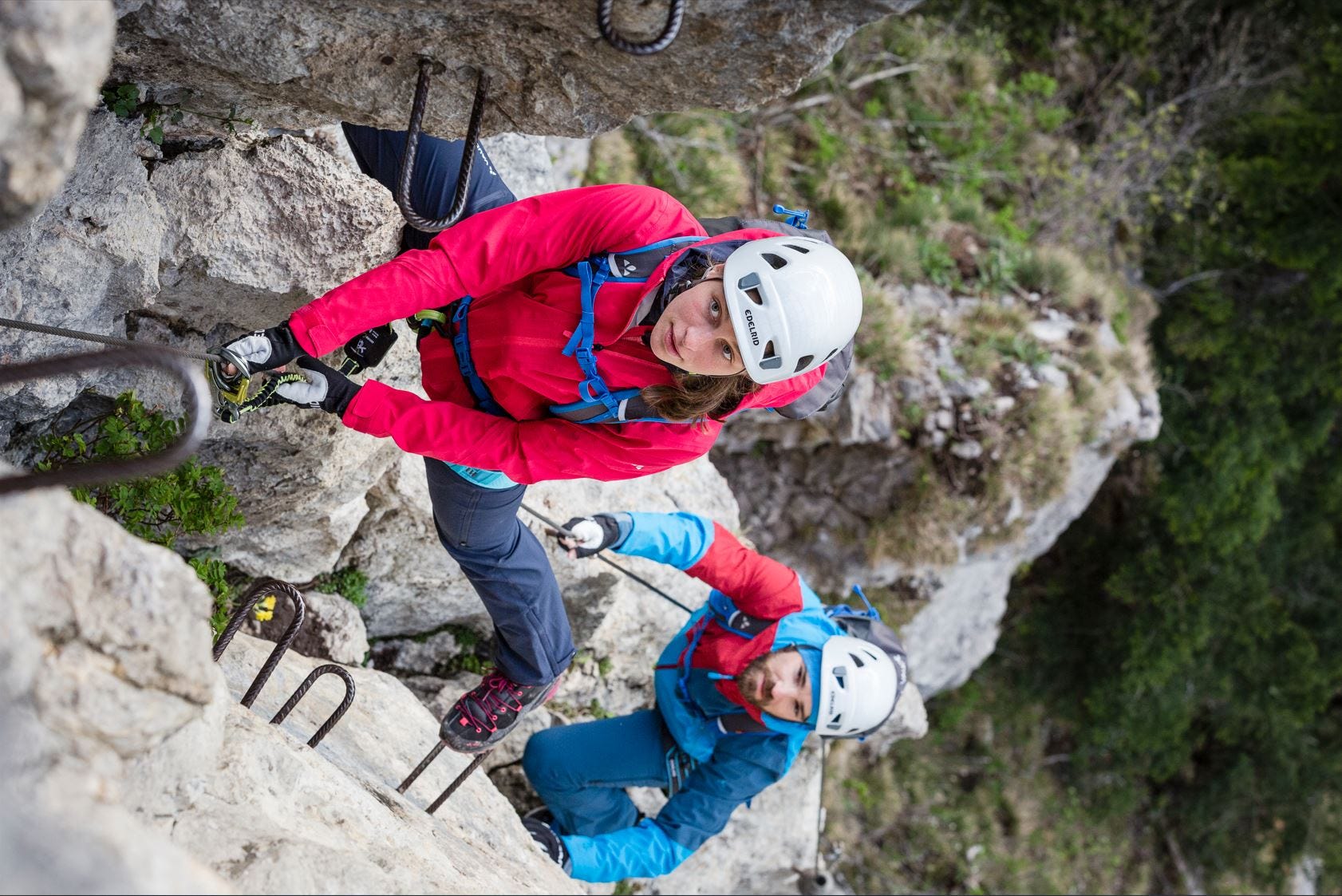 Tour choice
When choosing a via ferrata, via ferrata guides, either digital or classic in book form, can help. It is also always useful to inquire about the conditions directly on site. For newcomers, it is always a good idea to take a course before the first tour, for example at the vacation resort, at an alpine club section or a guided tour with a mountain guide. Here you learn to master the technique and get valuable tips for many further tours. Experienced mountain hikers who are sure-footed and have experience with mountain weather and tour planning can certainly dare to tackle difficulties A or B after extensive study of the technique. More difficult climbs should be reserved for people with many years of climbing and mountain experience.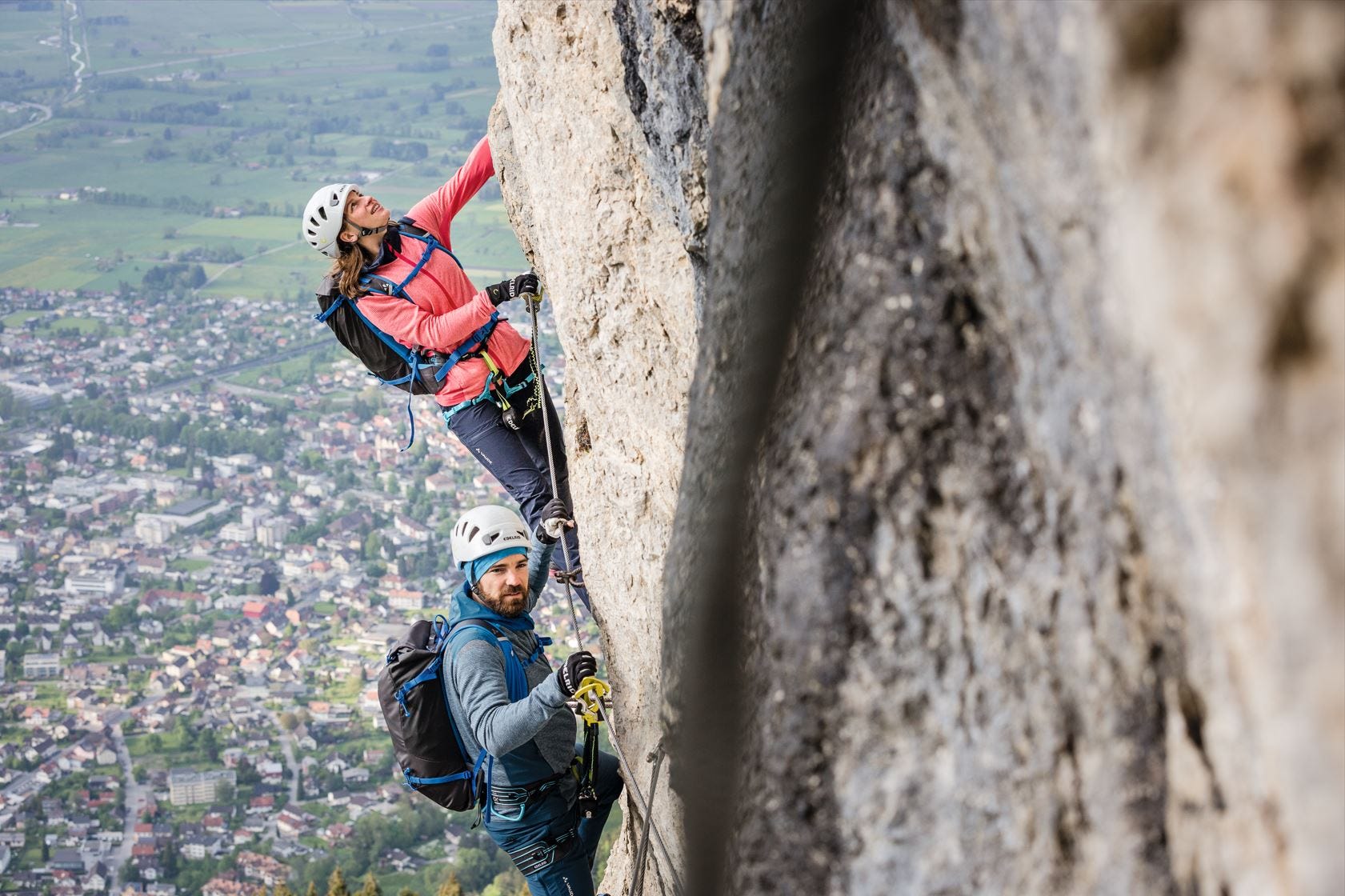 Planning
Once the tour is set, it's time for planning. A good paper map is an immense help here, in addition to the via ferrata guide. It is more fail-safe and, in alpine terrain, more accurate than a navigation app. Nevertheless, a fully charged cell phone is a must for emergencies.
Beginners in particular should allow a good time buffer plus additional breaks for the times given in the via ferrata guides. Via ferrata routes with exit and shortcut options are very helpful, especially for beginners. As always on the mountain, it's better to get up early and get going. This way you avoid running out of time as well as annoying traffic jams on the mountain. In addition, the afternoon is often thunderstorm season in the mountains, especially in summer.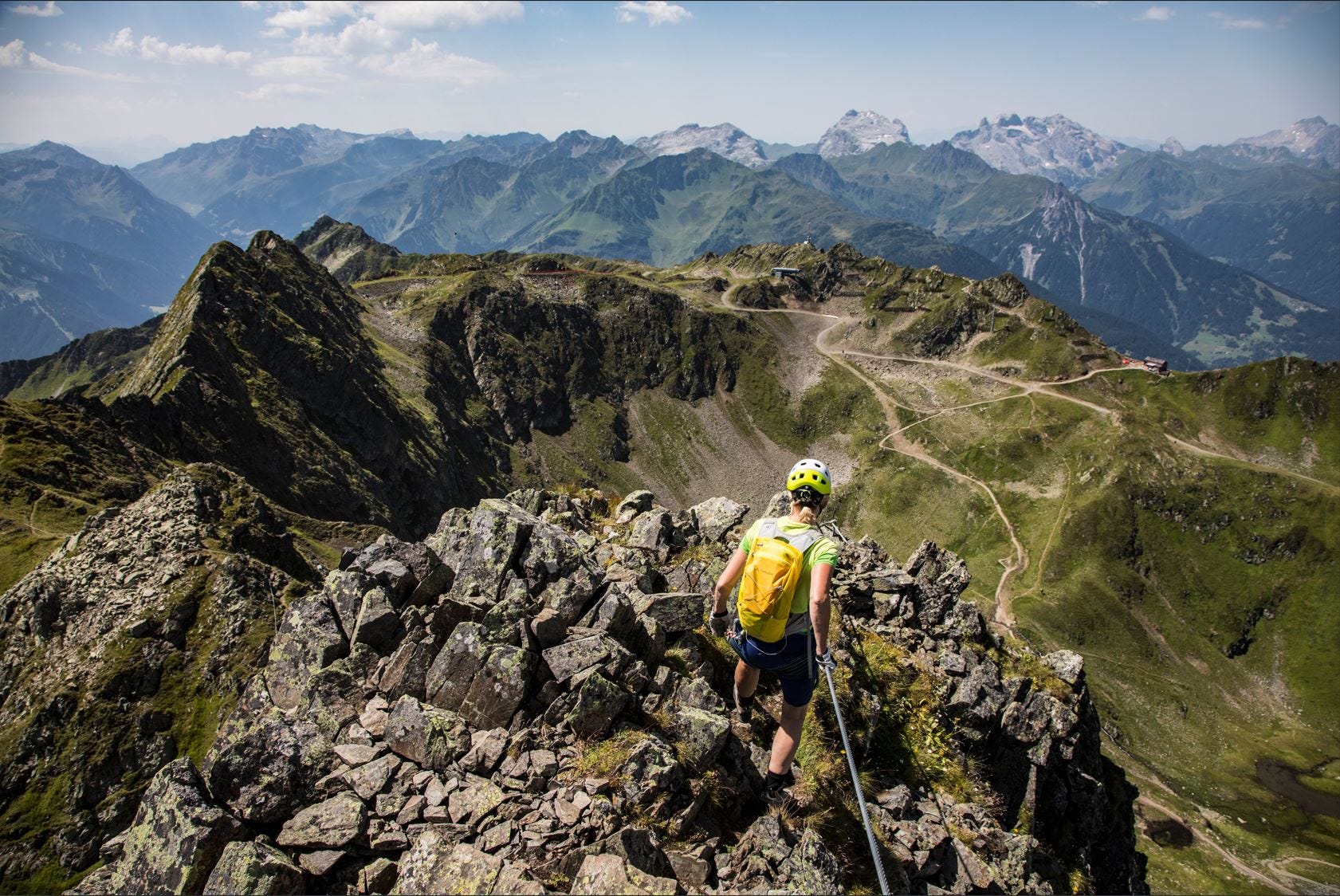 Weather
Mountain weather is dynamic and always on the move. In any case, via ferrata climbers should always keep themselves informed about developments before and during the tour, e.g. via weather app and rain radar, and also actively observe their surroundings.
During thunderstorms, via ferrata routes are absolutely taboo. The metal elements act as lightning rods. Due to their material and exposure, a lightning strike is much more likely.
Via ferratas can also be tricky in the rain because they are very slippery. Wind is very demanding, especially mentally. Against too much sun helps sun cream, a headgear and drink, drink, drink! In case of snow and ice you should look for alternatives.
Know-How
If you already have a bit of climbing experience, you also have an advantage on steep sections in via ferrata. Many techniques can be transferred. For example, putting your feet up early and pushing yourself up using your legs to save energy instead of constantly pulling your body weight up by your arms. If this is not possible, it is always more energy-saving to pull yourself up by the outstretched and not the bent arm.
Frequent breaks are a secret of success in via ferrata. They provide regeneration, allow you to intensively soak up the beauty of the mountains and continue with a strengthened body and mind.
Breaks and friendliness are also the recipes for success if there is ever a traffic jam.
Via ferrata with children?
In principle, via ferrata routes are also suitable for children. However, even more than for adults, the following applies here: start simple, gain confidence, build trust. The basic prerequisite is that even the youngest can operate the via ferrata set and the carabiners absolutely safely themselves.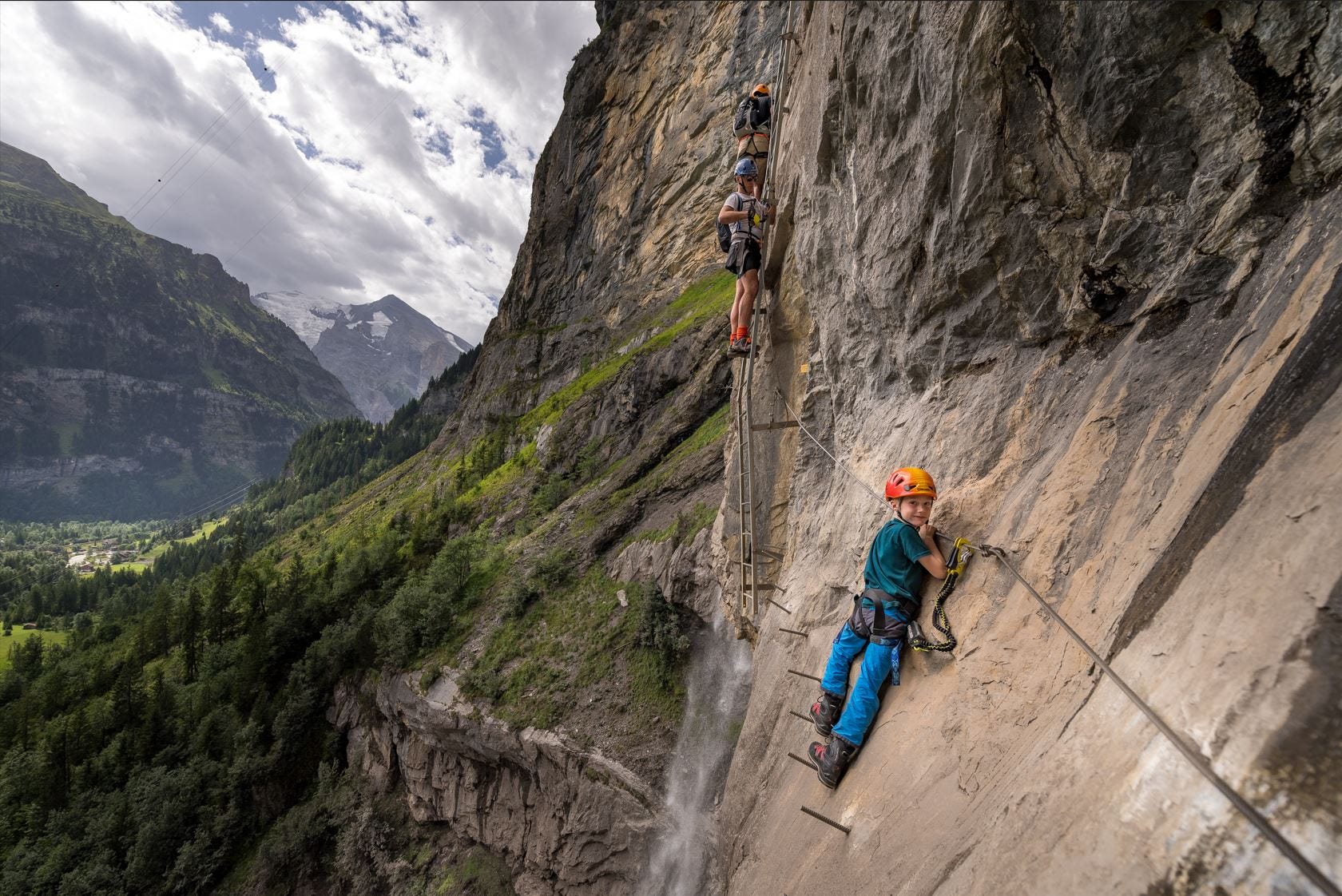 By the way, almost all via ferrata sets on the market are only suitable for weights of 40 kilograms or more, according to the current EN 958:2017 standard. So children weighing 40 kilograms or more can also be independent in via ferrata. Lighter children can be "re-secured" from above by adults with an additional belay set such as the "Via Ferrata Belay Kit" from Edelrid. This is also a good support in steep sections. However, this belaying is an alpine technique that requires experience and knowledge on the part of the adult tour participants.